It's winter and that means I've got a hankering for something that will warm my belly up! My new favorite treat to sip on is this savory beef bone broth. It has a bold beefy flavor but is light and satisfying.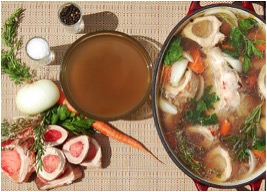 The best part is it is super easy to make and only takes a few simple ingredients! Watch How to Video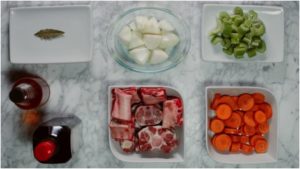 All you have to do is throw these ingredients in a crock pot and there you have it.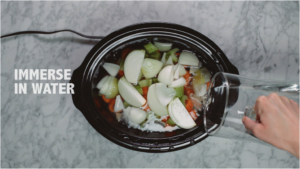 Not only is this broth delicious it is packed full of antioxidants and nutrients to boost your immune system and improve your digestive health!
The nutritional benefit comes from the long simmer time of the bones. But if you are short on time (like I usually am around this time of year) there are some bone broth brands available on the market. My favorite is Kettle & Fire's beef bone broth. I like to keep a few cartons on hand and prefer this brand because they use grass-fed bones and are one of the only brands that have bone broth that is shelf stable.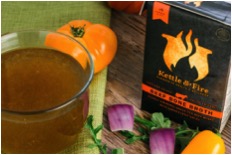 So serve this up in a cup for a savory belly-warming snack or include it in your favorite recipes for a beefy flavor!
Savory Beef Bone Broth
Ingredients:
● 3-4 lbs of mixed beef bones (oxtail, knuckles, neckbones and/or short ribs)
● 2 medium carrots (coarsely chopped)
● 3 celery stalks (coarsely chopped)
● 2 medium onions (coarsely chopped)
● 1 tablespoon of olive oil
● 2 tablespoons apple cider vinegar
● 1 bay leaf
Optional: I threw in a few peppers and mushrooms for a little more flavor.
Directions:
Preheat oven to 400 F. Place bones in a single layer on a sheet or roasting pan. Drizzle with olive oil to evenly coat.
Roast for 30 minutes, then, flip each bone over and roast for an additional 30 minutes.
Chop the vegetables while the bones are roasting. Put bones, bay leaf and cider vinegar in a large crock pot or soup pot. Cover completely with water and bring to a high simmer.
Reduce the heat to low and let simmer for 12-24 hours. Throughout simmering, add water as needed to keep all the ingredients submerged.
Once the broth has reached a dark rich brown color, remove from heat. Discard the bones, vegetables and bay leaf and strain through a cheesecloth.
Cool to room temperature. Pour into jars and let cool in the refrigerator for at least 1 hour.
Skim the condensed fat off the top of the broth and heat to the desired temperature to serve.
PAID ENDORSEMENT DISCLOSURE: In order for me to support my blogging activities, I may receive monetary compensation or other types of remuneration for my patronage and recommendations, testimonial and/or link to any products or services from this blog.