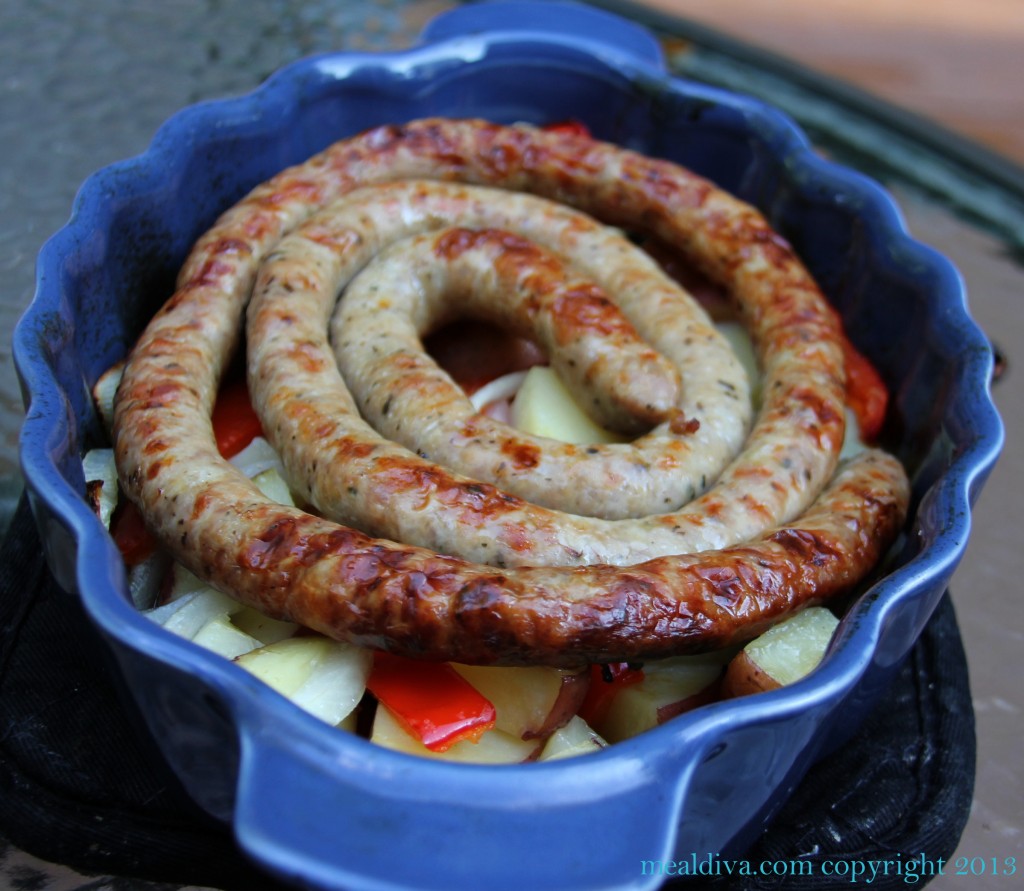 "10 out of 10" raves Spud as she finishes EVERY LAST BITE on her plate. This is the winning dinner of the week… and my children wanted me to share.
"Yum, yummy, yum & delicious." These are direct quotes.
No matter how you cook it: stove top, oven, grill or crockpot, sausage always goes well with peppers, onions and potatoes. I think there is a food truck at Rutgers that serves this combination on a bun:  you know the guy that serves you more sausage, peppers, onions and potatoes then you could ever eat from the back of this truck… but eat you do and then the food coma (or hangover cure) begins…ah college…
Since this dish is not from a "grease truck" and is cooked in a little olive oil, it's not bad for you. In fact, this dish is very easy to make and is  Mealdiva approved,so eat up!
Sausage, Potatoes, Onions and Peppers, a One-Pot Meal
Ingredients:
1 package of cheese and parsley sausage
1 large red pepper, cored and sliced into strips
1 sweet Vidalia (or garden fresh) onion, sliced
2 cloves of garlic, chopped
1 tbs. olive oil
3 red potatoes, diced into cubes
Salt and Pepper to taste
2 tbs. chicken broth/ stock or just water
Directions:
Preheat oven to 425
Set potatoes to boil in water on the stove for 12-15 minutes until tender
In a large, oven-proof dish, layer onion, garlic and pepper on the bottom
When potatoes are done, drain and add them to the oven- proof dish
Add olive oil, salt and pepper and toss to combine
Lay sausage on top
Add chicken stock
Bake at 425 for 40 minutes, flipping the sausage in the middle of the cooking time.
Sausage should be nicely browned and potatoes tender when done.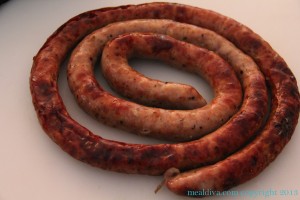 Also, have you tried any of my Mealdiva approved food? If so, I would love to hear some feedback! Just scan down to the bottom and type away! Thanks!