I have a thing for smoky, aged or cured pork products: I love them. Now that I'm gluten free however, I thought most of my cured meat loving days were over – that is until I was invited by Speck Alto Adige PGI to participate in their "Speckulator" program and create a recipe with their GF, Italian dry cured smoked ham.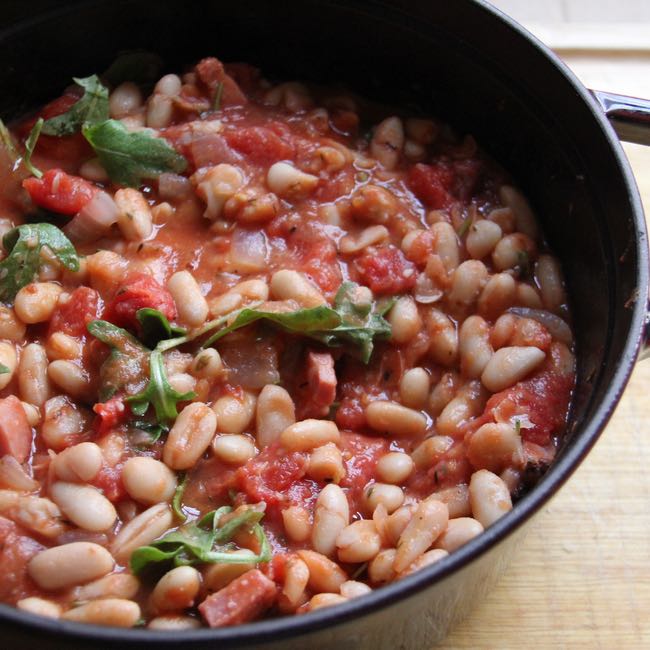 I was super excited for the challenge!
I received the package over Christmas and really LOVED how smoky and peppery it smelled and the delicious, smooth taste of the meat was something to be savored. I wanted to plate it immediately with some figs and eat it all right there, on the spot. It took some self-control to put it in my fridge and start dreaming up the endless recipe possibilities!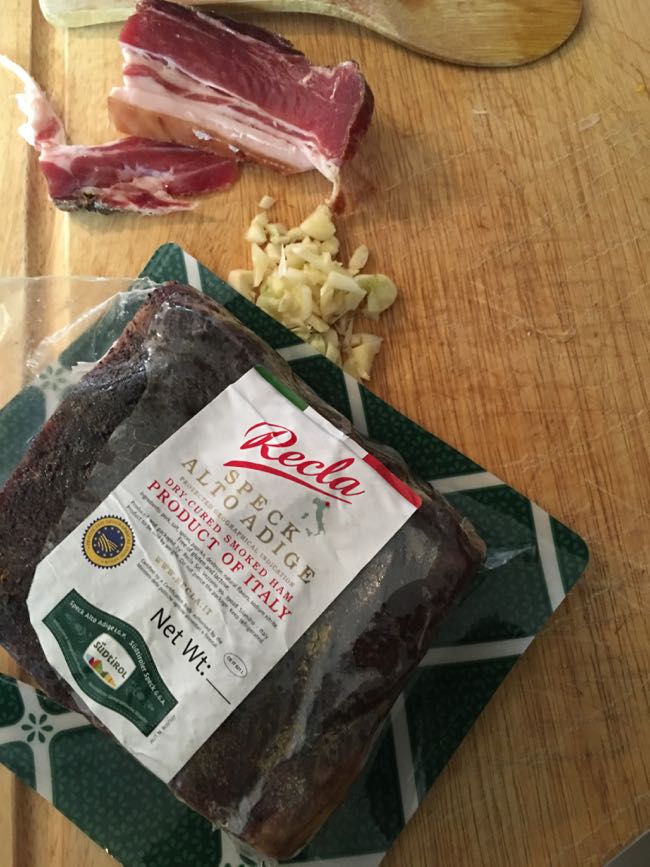 Before we start cooking, what is Speck Alto Adige PGI exactly? It's a merging of Northern European and Mediterranean traditions: the meat is dry cured for three weeks then it's gently smoked at low temperatures. This process ensures that the meat is mildly smoky. The smoking happens gradually, for a few hours at a time over a period of several months. Cooking it low and slow allows the smoke to penetrate through the meat and create a delicious balance of flavors. It's like a precious gem that can be used in a variety of ways to enhance any dish.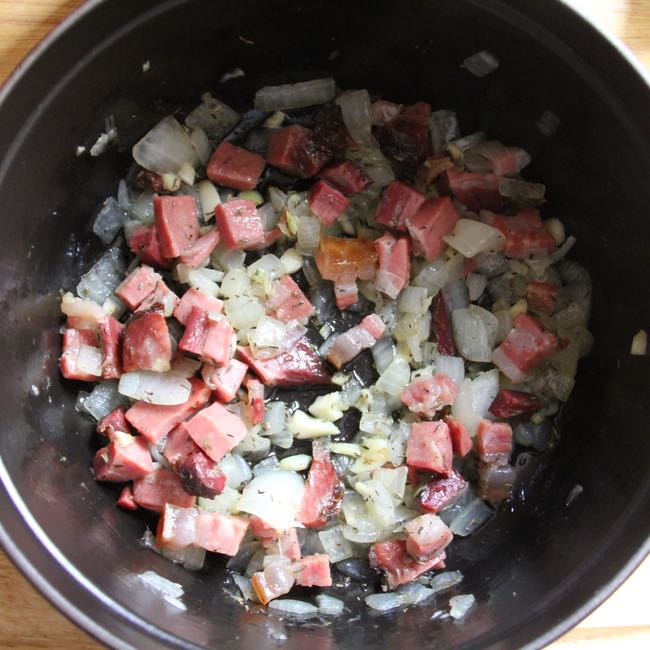 I layered it on white pizza with garlic and caramelized onions; in red sauce to add some depth of flavor; with roasted potatoes and garlic to add a delicious dimension to an ordinary side dish. The dish that I'm sharing with you today was the BIGGEST hit in my house – Winter White Bean Stew. My kids went crazy over this recipe and I know yours will too!
Lets start cooking:
Winter White Bean Stew with Smoky Speck Alto Adige PGI
Ingredients:
4-5 thick slices Speck Alto Adige PGI, roughly chopped into small pieces
1 tbs. olive oil, divided
1 tbs. butter
1 yellow onion, diced small
4 cloves garlic, diced small
2 tsp. dried oregano
A pinch of Sea Salt
½ tsp. black pepper
4 (15 ounce) cans cannellini beans, rinsed and drained
2 (15oz) can diced tomatoes with Italian seasoning
1 lemon, zested
2 cups arugula (or baby spinach)
Directions:
Heat ½ tbs. olive oil in a large Dutch oven, or heavy bottom pot, over medium-high heat and crisp the ham completely.
Using a slotted spoon, remove ham to a paper towel lined plate and set it aside.
Return the pot to medium-high heat and add remaining olive oil and butter.
Add in the diced onion and sauté until it's softened, about 5 minutes.
Add in the garlic, and once it becomes aromatic, add in about 2/3 of the reserved, crisped ham, as well as the oregano seasoning, the sea salt and the pepper.
Add the white beans, and stir to combine, then add the tomatoes.
Gently simmer the stew for 30 minutes with partially covered with lid; stirring occasionally.
Turn the heat off and finish the stew by adding in the lemon zest and the arugula.
Serve the stew with some nice, crusty bread to dip, and garnish with some of the remaining crisped Speck Alto Adige PGI.
Cooks note– slicing up this meat can be a bit of a tricky thing and this one is best served chunky in stews or sliced very thin. A too-thick piece can be tough and chewy with unpleasant big pieces of fat so if you don't have a deli or meat slicer at home, I recommend using a very sharpe knife to slice the meat to your desired thickness.
I did not receive any monetary compensation for this post, just a delicious sampling of their product and all pictures and opinions are my own.