This delicious Southern Style Braised Cabbage with Bacon recipe is inspired from a trip I took to Georgia a few years ago. We visited a BBQ house and I enjoyed their southern style cabbage more then I enjoyed the BBQ (how that's possible, my husband can't figure it out). Ever since that trip, I make this dish a few times a year.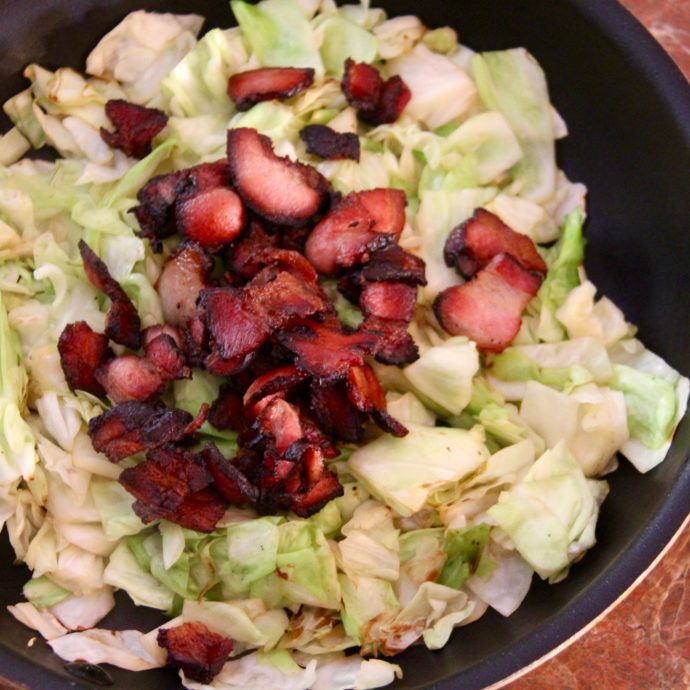 It's southern style, comforting vegetable dish. Save this recipe for a quick weeknight side dish or serve it up for St. Patrick's Day!
I used NJ bacon and cabbage for this recipe. I am totally obsessed with local bacon! Every fall, a few smaller farms by my house send their pigs to slaughter and I always make sure I grab some beautiful pieces of pig produced meat. There's really nothing like – nitrate free, locally and organically grown and from pigs that enjoyed their lives. So delicious. So sustainable. So perfect.
While I was at the farm stand I also picked up a little locally grown cabbage for dinner. Bacon and cabbage are seriously meant to be together. Wait until you try this recipe! Enjoy!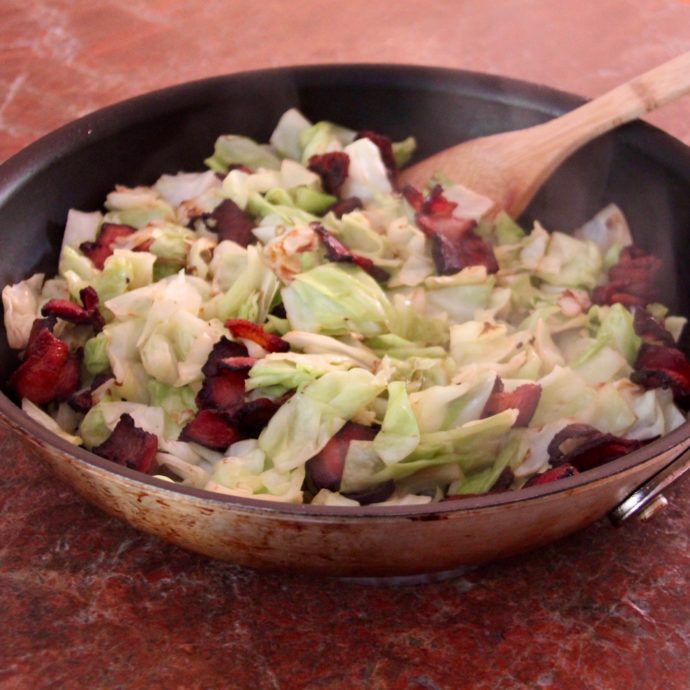 Southern Style Braised Cabbage with Bacon
Ingredients:
5 slices bacon, cut into bite sized pieces
Olive oil, only if needed
3-5 cloves garlic, diced small
1 medium green cabbage, cut through the core and sliced into pieces
1 cup low-sodium chicken broth
1 fresh bay leaf
1 1/2 tsp. sea salt
1 1/2 tbs. apple cider vinegar
Sea salt and pepper to taste
Directions:
Heat a large fry pan or Dutch oven on medium-high heat.
Add the bacon and cook, stirring occasionally, until crispy and most of the fat is rendered, about 8 to 10 minutes.
Remove with a slotted spoon to a paper towel-lined plate.
Turn the heat off of the and let cool a few minutes. If you don't have much bacon grease in the pot, add olive oil to make up the difference.
Place the pot back over medium-high heat and add the garlic and stir.
Place the cabbage slices into the pot (they will not sit in one layer).
Cook undisturbed until the cabbage pieces on the bottom begin to slightly brown, about 4 to 5 minutes.
Using a wooden spoon, bring up the cabbage sitting on the bottom to rotate the pieces on the top to the bottom of the pot. Continue cooking until the cabbage slightly wilts and more pieces brown on the edges, about 8 to 10 minutes.