Pulled pork often shows up for dinner because it's so so so affordable. The large pork butt that I purchased for this recipe was $1.19 a pound! I don't know that there is a more reasonable priced meat out there. Pulled pork can also be made with country-style ribs as well. I like to oven bake mine low and slow over a period of serval hours. How do you like to cook yours?
So now that you've made a GIANT pulled pork and served it up with some Bean And Cornbread Salad, what can you do with the leftovers? If your family doesn't like leftovers ( like my strange kids), why not turn it into a whole new dish and make a Pulled Pork Ragu!
Savory pulled pork, flavorful tomatoes, red wine and spices – does it get any tastier!??
This recipe is SUPER YUMMY and a BIG HIT in my house! Enjoy!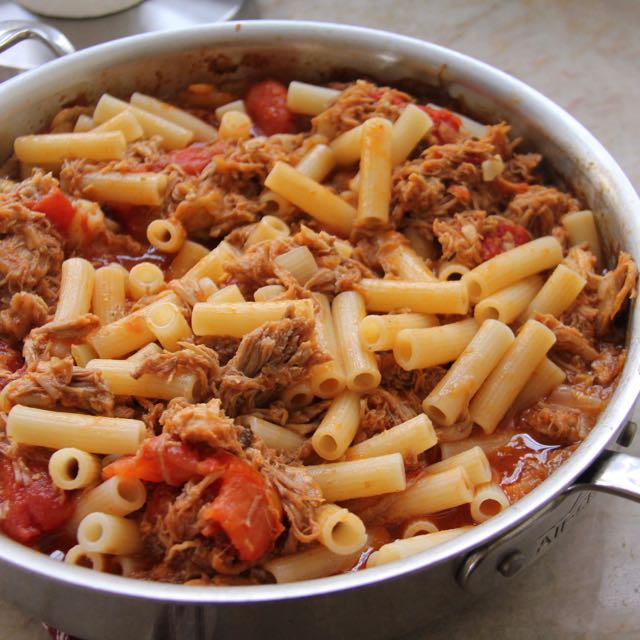 Leftover Pulled Pork Ragu
Ingredients:
1 pound dried whole grain rigatoni
1 tablespoon olive oil
1 small yellow onion, chopped
4 cloves garlic
1/2 cup red wine
2 cups crushed tomatoes
1/4 teaspoon cumin
1/4 teaspoon black pepper
1/2 teaspoon kosher salt
chopped parsley
shredded parmesan cheese
3 cups leftover Pulled Pork ( I like this recipe from Ree Drummond over at the Food Network)
Directions:
Bring a large pot of water to a boil and cook pasta according to package directions. Drain.
While pasta is cooking, heat olive oil in a large skillet over medium heat. Cook onion and garlic just until onions have softened and started to brown, about 5 minutes.
 Pour red wine over the top to deglaze the pan. Be sure to scrape up any of the brown bits that have stuck to the bottom of the pan.
Pour in crushed tomatoes. Mix in cumin, salt and pepper. Add in pulled pork. Mix well. Continue cooking for 5 – 10 more minutes or until sauce is warmed through. Stir in cooked rigatoni. Mix well. Transfer to a serving platter. Sprinkle with chopped parsley and parmesan cheese. Serve.