We all know how to roast vegetables of course but this combination is uniquely delicious. Potatoes mixed with Brussels sprouts and bacon – it's all utterly delicious.
Now, if you think you don't like Brussels sprouts, please give me just a moment of your time. I beg you, I implore you, please try one in this dish. Roasted Brussels sprouts are on of life's simple pleasures and this recipe will convert even the staunchest anti-sprout eaters. Just try it…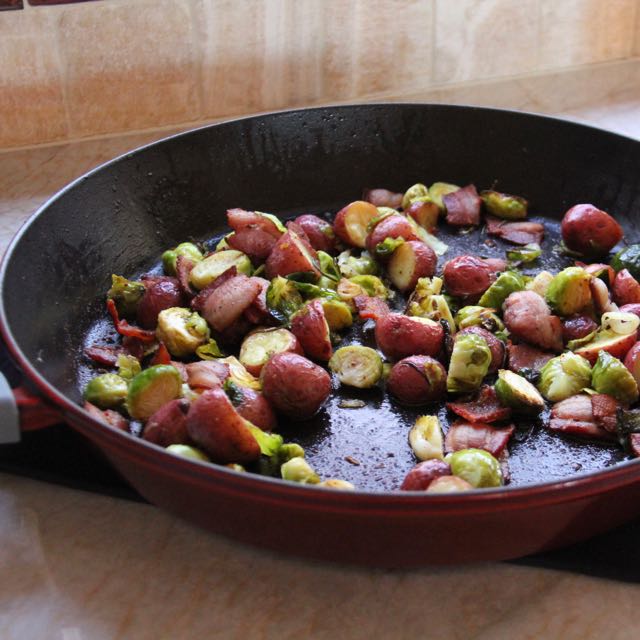 Yesterday I had this with perfectly grilled steak and it was the best dinner I've had in a long time… ok… since yesterday's stir fry!
Easy Roasted Brussels Sprouts with Red Potatoes and Bacon
Ingredients:
2 lbs. red potatoes
1 lbs. Brussels sprouts
1/4 cup olive oil
3 cloves garlic, peeled and minced
1 tsp. rosemary (optional)
1 tsp. sea salt
1/2 tsp. ground black pepper
1/2. lb. thick butcher cut bacon, lightly cooked and cut into pieces
Directions:
Preheat oven to 400-degrees.
Scrub and rinse the potatoes. Pat dry and cut into half pieces.
Wash Brussels sprouts and trim off the ends, slice in half or quarter length-wise.
Whisk olive oil, garlic, rosemary (optional and delicious), salt and pepper in a large bowl until well combined.
Add potatoes and Brussels sprouts and stir until potatoes and Brussels are coated in the oil mixture.
Place potatoes and Brussels sprouts on a baking sheet and sprinkle bacon pieces over the top.
Roast for 35-40 minutes.
Potatoes should be golden and soft and Brussels should be well roasted and lightly charred– bacon should be nice and crispy.