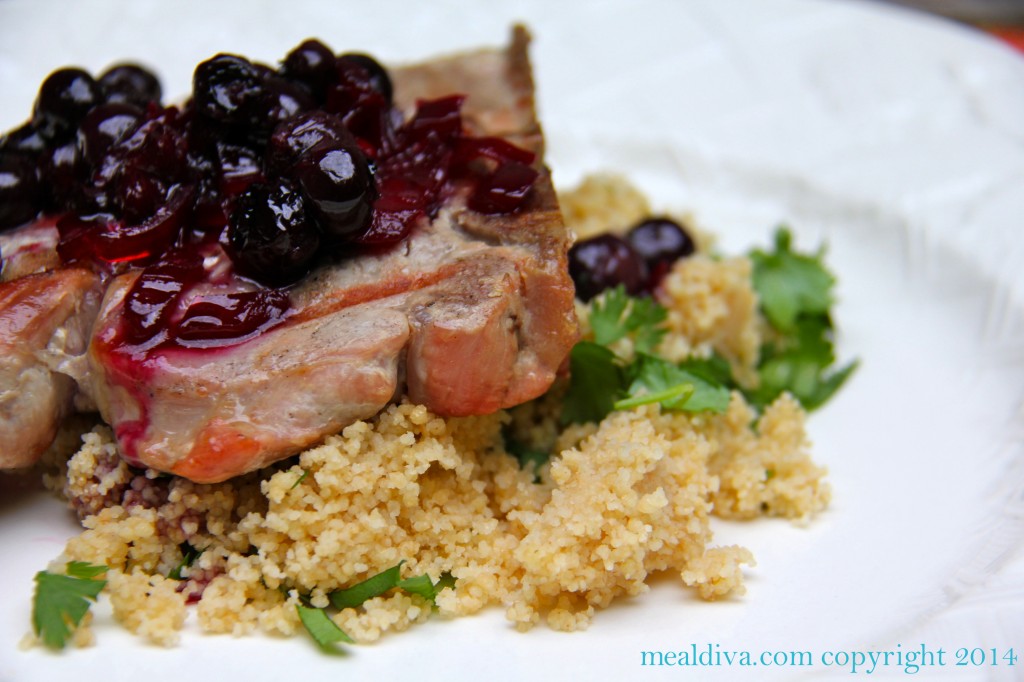 For this week's AmFamFamily healthy fit lifestyles #SundaySupper, I'm taking advantage of summer's fresh berry bounty with this healthy, sweet and savory Pork Chops with Blueberry Compote recipe. I want to take a moment to thank American Family Insurance and our hostess Denise of RunDMT for including me in this weeks fantastic recipe line up – as you know I'm all about healthy, common sense meals for active families – so let's get started!
Today's families are busy: I have three kids and I am forever running them from one activity to the next so it's important that I plan my meals ahead and that they are not only healthy but also quick to make. A healthy meal consists of lean protein, fruits, vegetables and a small amount of healthy grains. These components fuel our bodies properly, helping us to stay energized and healthy. This pork chop recipe is one of our favorites to make during the summer, especially when we pick our own berries!
Have you ever picked your own berries? Fresh fruit, when picked off of a tree, bush or vine tastes incredibly sweet. It's truly a wonder and it's unlike anything found at the grocery store. For me, the best part about picking fruit is going as a family. We spend the afternoon outside, walking amongst the berry patch (apple or peach orchards too), choosing luscious produce and then enjoying the fruits of our labor. There's nothing like getting the family together outside at the farm! In addition, picking fresh fruit is not only economical but it helps the local economy and supports family farmers. Really, it's the perfect activity!
Once you have your berries (whether you picked them yourself or purchased them), it's time to pull this quick, 30 minute recipe together! Enjoy!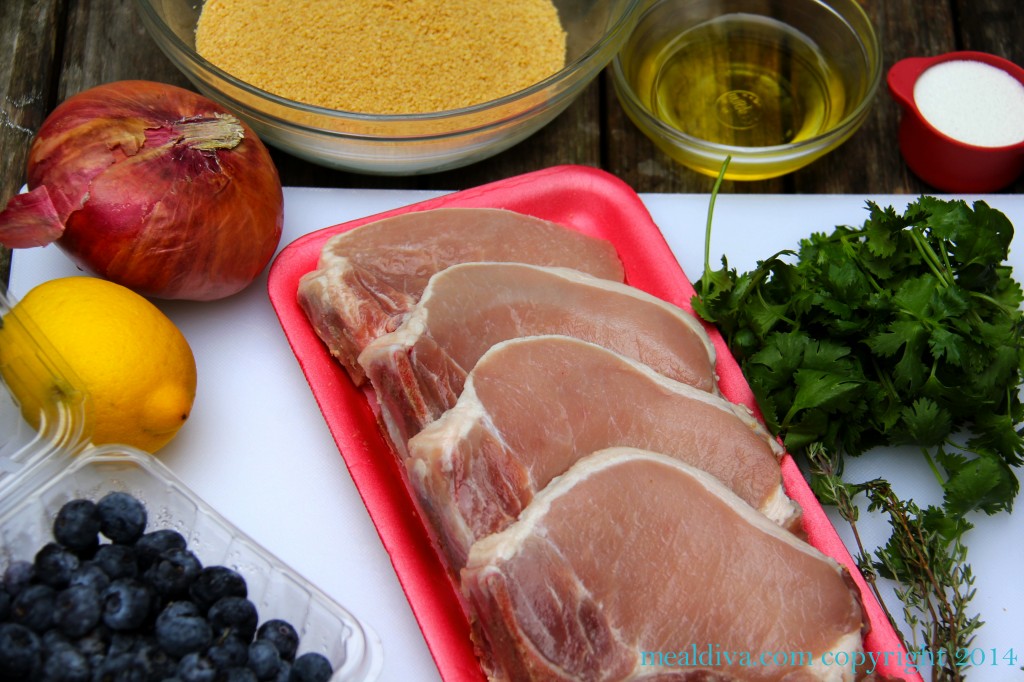 First, get your ingredients together. I realized (after the fact) that cinnamon was missing from the picture. Sorry!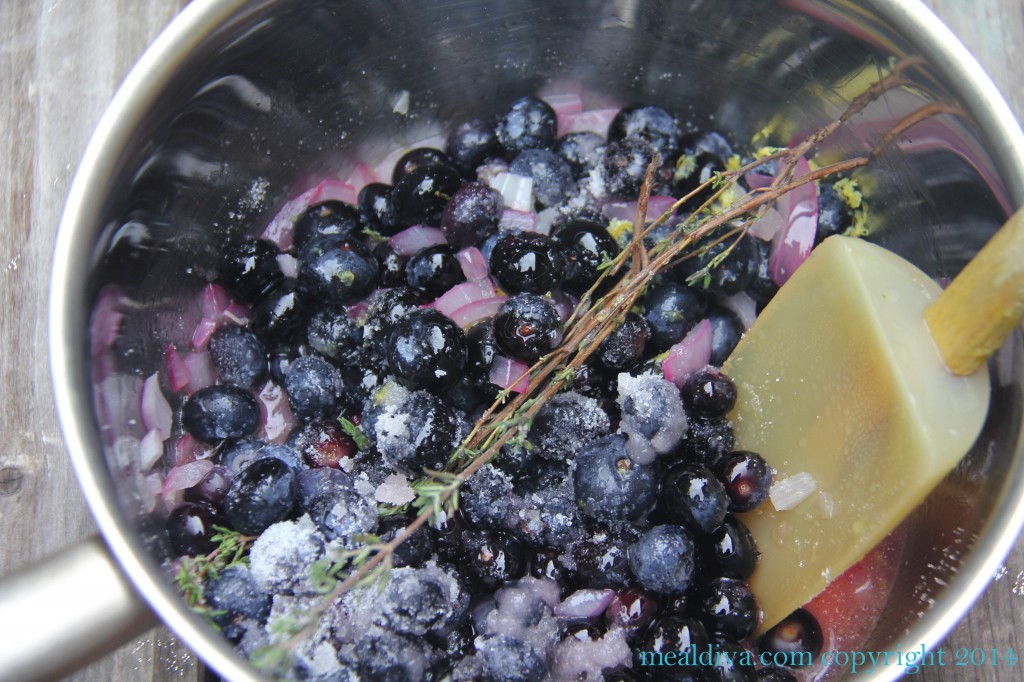 After heating the grill, start by sautéing the red onion for 5 minutes then get all of the blueberry compote ingredients into a small saucepan. The sauce only takes 5-7 minutes to make and WAIT UNTIL YOU TASTE IT! It's so delicious! If you have any leftovers, serve it over fat-free vanilla yogurt for dessert.  As the compote simmers, prepare the couscous according to package directions. I think couscous is the easiest grain to cook with — it's healthy and it only takes 5 minutes! What could be easier?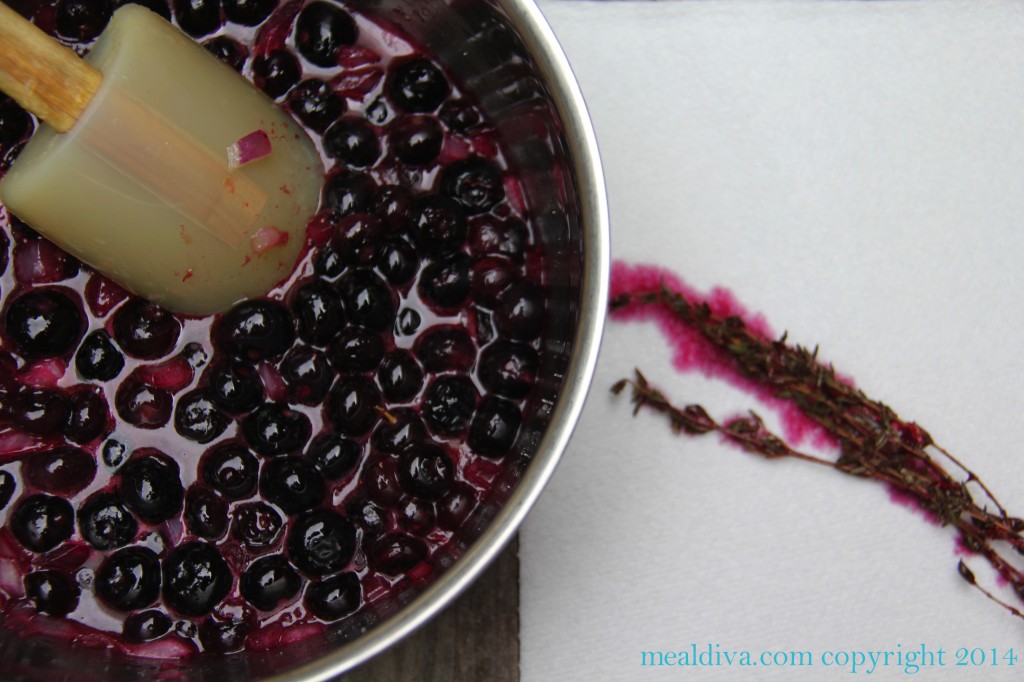 Once the blueberries start to release their juices, turn the heat down low and remove the thyme sprigs. Set aside and keep warm. Mouthwatering!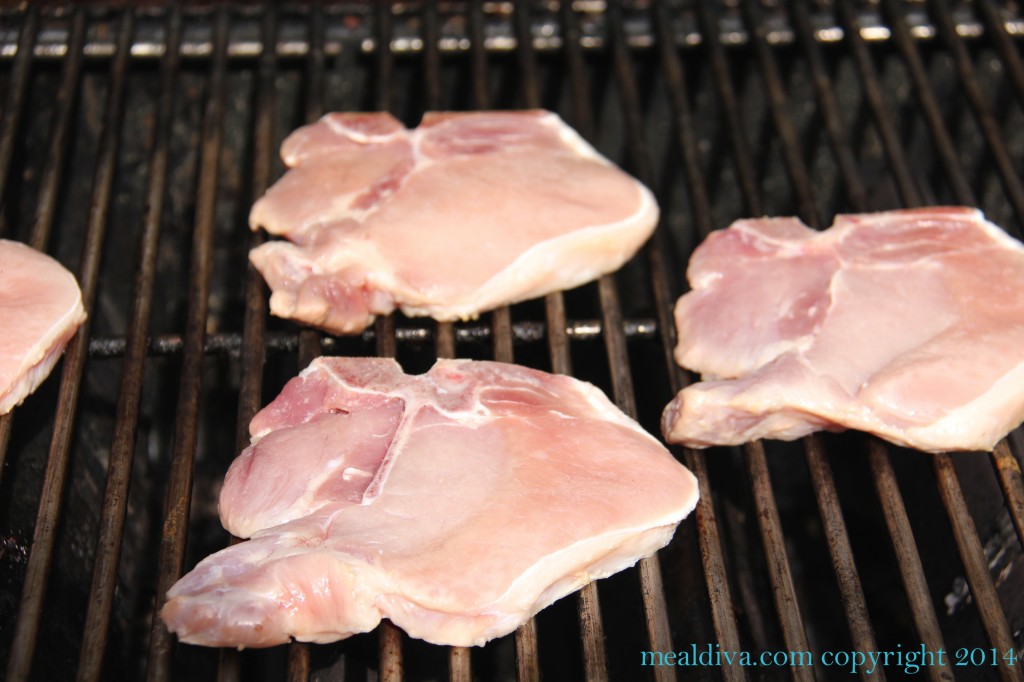 Season the pork chops with olive oil, salt and pepper then grill them for 8-10 minutes, only turning once. While they are grilling, be sure to check on the couscous and compote to make sure they are staying warm.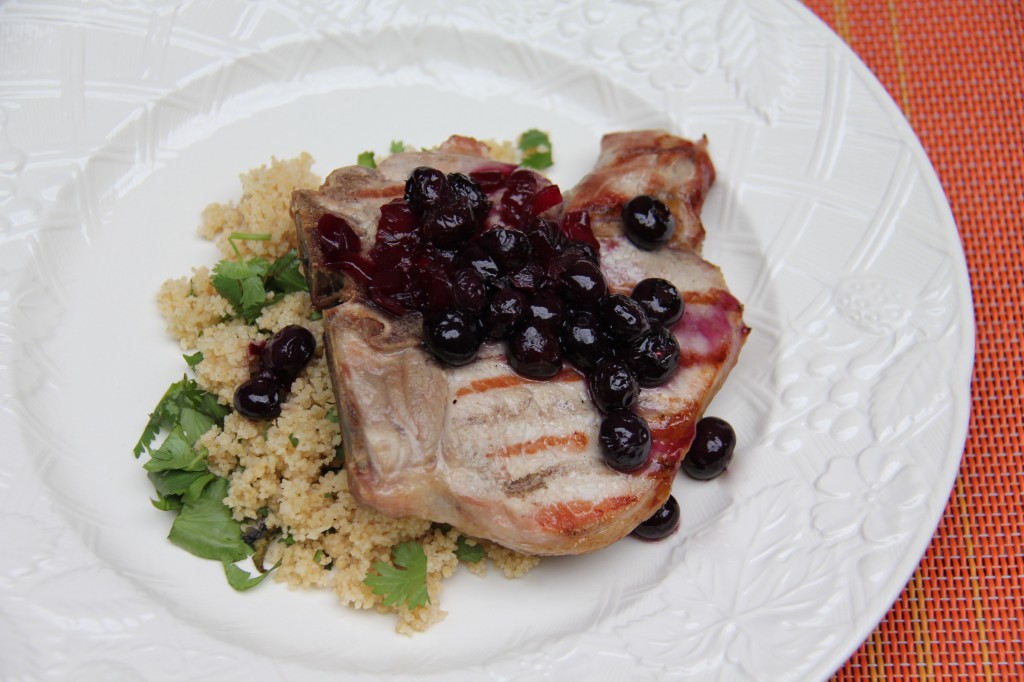 Once the pork chops are grilled to perfection, it's time to pull it all together! First, scoop some couscous onto the plate, followed by a pork chop then the blueberry compote. Serve this with a nice side salad  with chive vinagrette and you have a delicious family dinner!
Blueberry Pork Chops
Ingredients:
3 tbs. extra virgin olive oil, divided
½ red onion, roughly chopped
1 pint blueberries
3 tbs. sugar
1 lemon, zested and juiced
3 fresh thyme sprigs
1 tsp. cinnamon
Salt and pepper to taste
4 bone-in pork chops (1/2 inch thick)
1 ( 7.6oz) box whole-wheat couscous
A small handful fresh parsley, roughly chopped
Directions:
Brush grill grates with 1 1/2 tbs. olive oil and preheat.
On the stovetop, heat 1 tbs. olive oil in a skillet on medium-high heat.
Add the onion and sauté for 5 minutes until it's fragrant and softened.
Add the blueberries, sugar, lemon juice, thyme and cinnamon.
Simmer for 7 minutes until the blueberries begin to release their juice and the sauce starts to thicken.
Meanwhile, prepare the couscous according to package directions then fluff with a fork and stir in lemon zest and parsley and salt and pepper to taste.
Turn the heat to low and remove the thyme sprigs. Keep the sauce warm while you grill the pork chops.
Rub the pork chops with remaining olive oil and sprinkle with salt and pepper.
Grill, turning once for 8-10 minutes and then remove to a platter to let stand for 5 minutes.
Spoon couscous onto plates then top with pork chop and blueberry compote.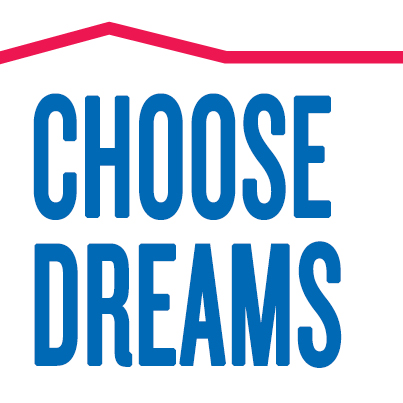 This post is sponsored by American Family Insurance. All opinions are my own.
I am thrilled to be part of the #SundaySupper partnership with American Family Insurance and sharing this pork chop recipe with you today! For even more inspiration, follow the Family Favorite Recipes Pinterest board. They can also be followed on Linkedin, Youtube, Google +, Twitter, Facebook and of course on their website! Also be sure to check out my fellow foodie blogger's healthy recipes below!
Get Up and Go Power Breakfasts
Salads and Healthy Snacks
Healthy Fit Lifestyle Dinners
Healthy Desserts