Today I'm going to let you in on a little secret of mine: I'm obsessed with food magazines. Everytime I stand in line at the super market checkout, I find myself throwing one or two or three of them into my cart. Often times, I immediately sit down with a nice cup of coffee and brows through them after I get home from grocery shopping – yes – some people get massages or pedicures or go shopping but for me, there's nothing better then browsing through a food-magazine. Sometimes, when I have time, I like to cut and paste my favorite dishes into collages and store them in a recipe folder.
Clearly I need therapy.
On to this amazing soup.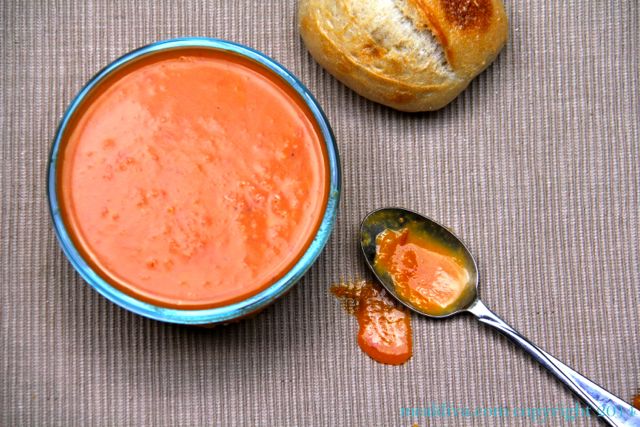 I stumbled upon this recipe from Bon Appetit circa 4 or 5 years ago and wanted to share it with you today! It's such a wonderful way to use up any left over garden tomatoes or in-season butternut squash. The tomatoes bring a nice acidity to the sweetness of the squash and this soup was devoured by all family-dinner-goers in my house yesterday. Enjoy!
First, get the squash and garlic roasted in a 400 degree oven for 45- 60 minutes. The squash is ready when it's fork tender. Set the squash aside to cool and roast the tomatoes and onion with a little olive oil, salt and pepper for 15-20 minutes. Set the tomato/onion mixture aside and scoop out the flesh of the squash and reserve it with the roasted garlic.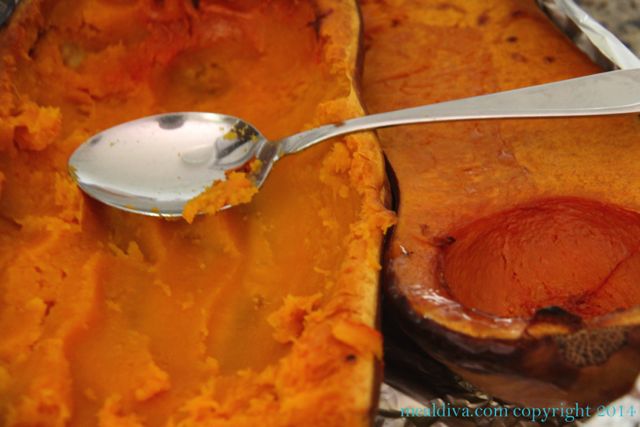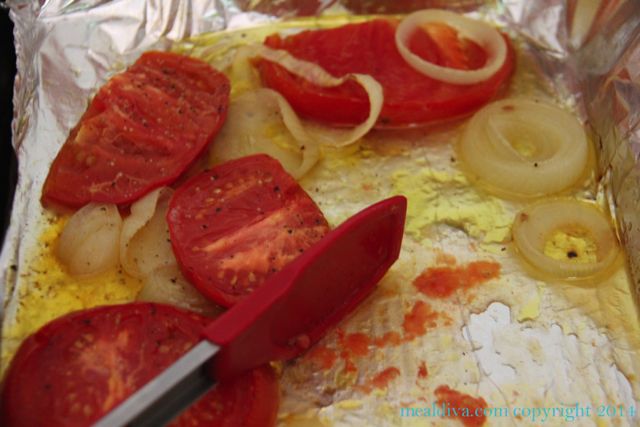 As a side note, have you enjoyed roasted garlic with crusty bread recently? OMG, I had some at lunch today and WOW! Make some with this soup!
Lastly, get all of the ingredients into a large soup pot and bring to a boil then reduce to a simmer for 20 minutes. Using an immersion blender, purée soup until smooth. (Alternatively, allow soup to cool slightly and purée in small batches in a blender).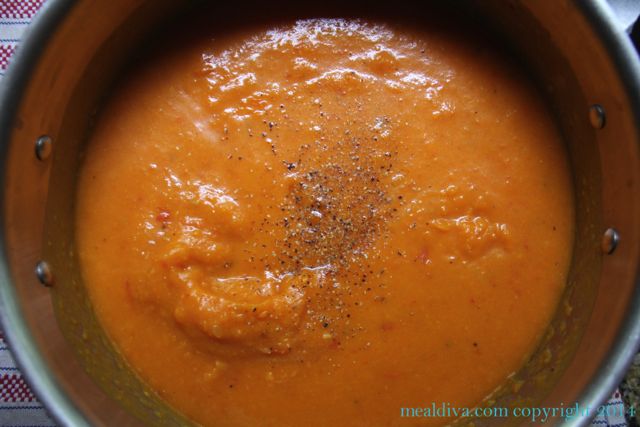 Butternut Squash & Tomato Soup – Bon Appetit
Ingredients: 
2 tablespoons olive oil, divided
1 medium butternut squash, halved, seeded
2 garlic cloves, peeled
2tbs. olive oil
3 large tomatoes
1 onion, chopped
1/2 teaspoon dried ground ginger
2 teaspoons kosher salt plus more for seasoning
1/2 teaspoon ground turmeric
1 1/2 cups cups low-sodium chicken broth
Freshly ground black pepper
Directions:
Preheat oven to 400°. Brush a baking sheet with 1 Tbsp. oil. Place squash halves, cut side down, on baking sheet and tuck a garlic clove under the hollow of each half. Roast until squash is tender all the way through, about 45 minutes. When cool, scoop out squash flesh and reserve, along with roasted garlic. Discard squash skins. DO AHEAD: Squash and garlic can be roasted 1 day ahead. Cover and chill.
On a separate baking sheet toss onion and tomatoes with olive oil and a pinch of salt. Cook until softened, about 15-20 minutes. Stir in ginger, 2 tsp. salt, and turmeric.
Place roasted squash, garlic cloves, onions and tomatoes into a large soup pot and add remaining ingredients. and stir to coat.
Bring to a boil then reduce heat and simmer to allow flavors to meld, about 20 minutes.
Using an immersion blender, purée soup until smooth. (Alternatively, allow soup to cool slightly and purée in small batches in a blender.) Season with salt and pepper then serve!