Perfectly seasoned steaks topped with spicy peppers and onions. A delicious wintertime meal.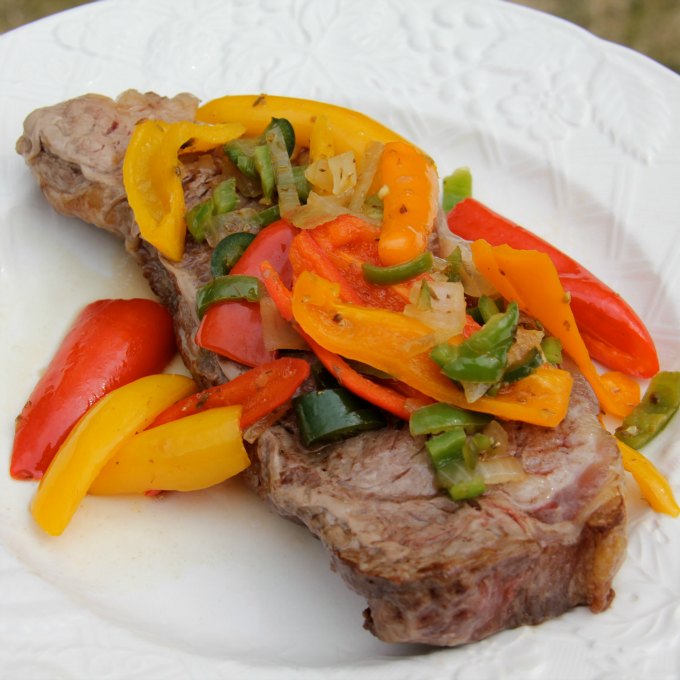 A little tip about cooking with hot peppers: because hot chile peppers contain volatile oils that can burn your skin and eyes, avoid contact with chiles as much as possible. When working with chile peppers, wear plastic or rubber gloves. If your bare hands do touch the chile peppers, wash your hands well with soap and water.
Enjoy!
Oven Baked Steak with Peppers and Onions
Ingredients:
1 medium onion, chopped
2 bell peppers of choice, seeded and sliced
1 poblano pepper, seeded and diced
1 jalapeno pepper, seeded and diced
1 tbs. olive oil
2 garlic cloves, peeled and diced
1 tbs. brown sugar
2 tsp. chili powder
1 tsp. sea salt
2 strip steaks ( about 3 lbs. total)
Cooking spray
Directions:
Preheat oven to 350 degrees.
In a large skillet, over medium heat cook onion in oil for 3 minutes then add the peppers and sauté for an additional 3-5 minutes then add the garlic and cook for an additional 5 minutes until tender.
Set onions and peppers aside.
Combine the sugar, chili powder and salt.
Rub mixture over steaks.
Coat an oven proof skillet with non stick spray and heat it over medium heat.
Add the steaks to the skillet and cook for 5 minutes each side.
Transfer to the preheated oven and cook for 20 minutes or until desired doneness ( 145 degrees for medium rare), turning once.
Serve steaks hot topped with peppers and onions.