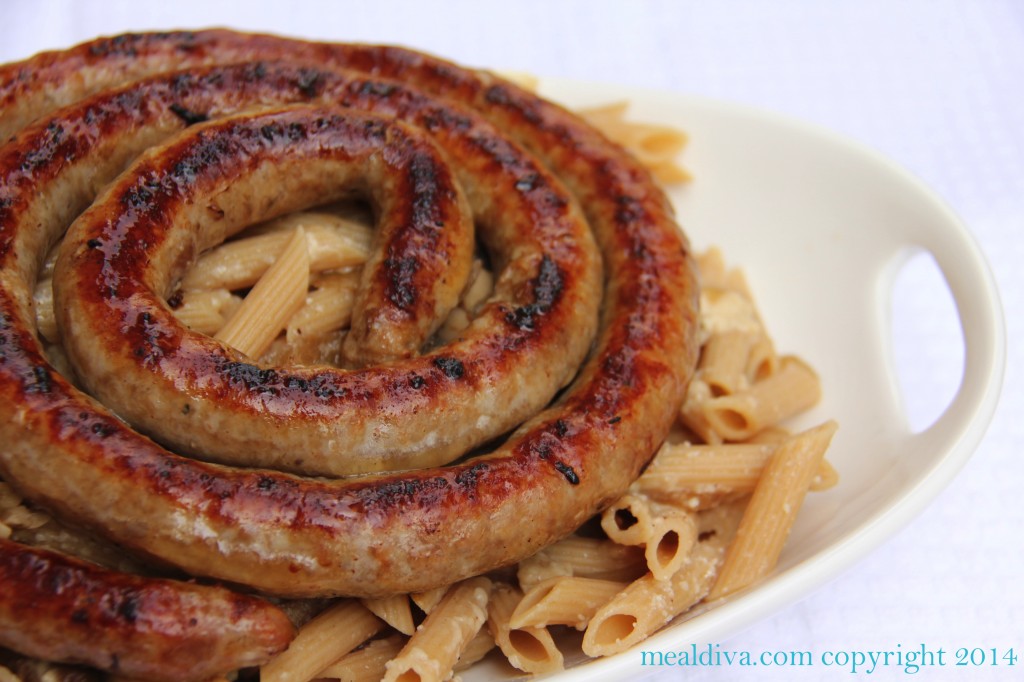 Ok, so the title says it all – this is out-of-this-world-yummy delicious—and it's so simple that you will be wondering where it's been all of your life. Honestly, this Sausage and Mushroom Pasta recipe is simply damn delicious.
I don't think I could be more convincing then that!
So how did I come up with the recipe? Peanut plays LAX and before practice she always wants pasta. I've made pasta with eggplants, turkey meatballs, chicken and in the form of lasgana but we were in the mood to try something new. I looked in my fridge and pulled this together and my family devoured it — I mean it was gone in 5 minutes and they were asking for more. Next time I'll have to double it up! To make this a MealDiva Approved meal, serve it with a delicious salad and remember to make your own dressing!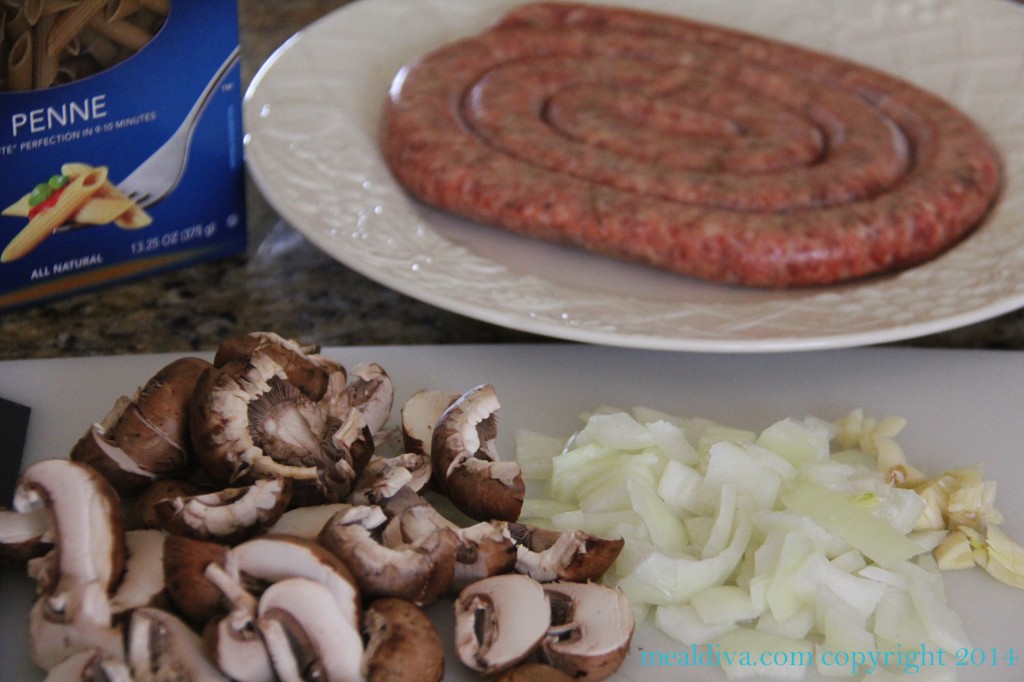 Did I tell you how simple this recipe is? Here's how to pull it all together:
First,  get your sausage into the skillet.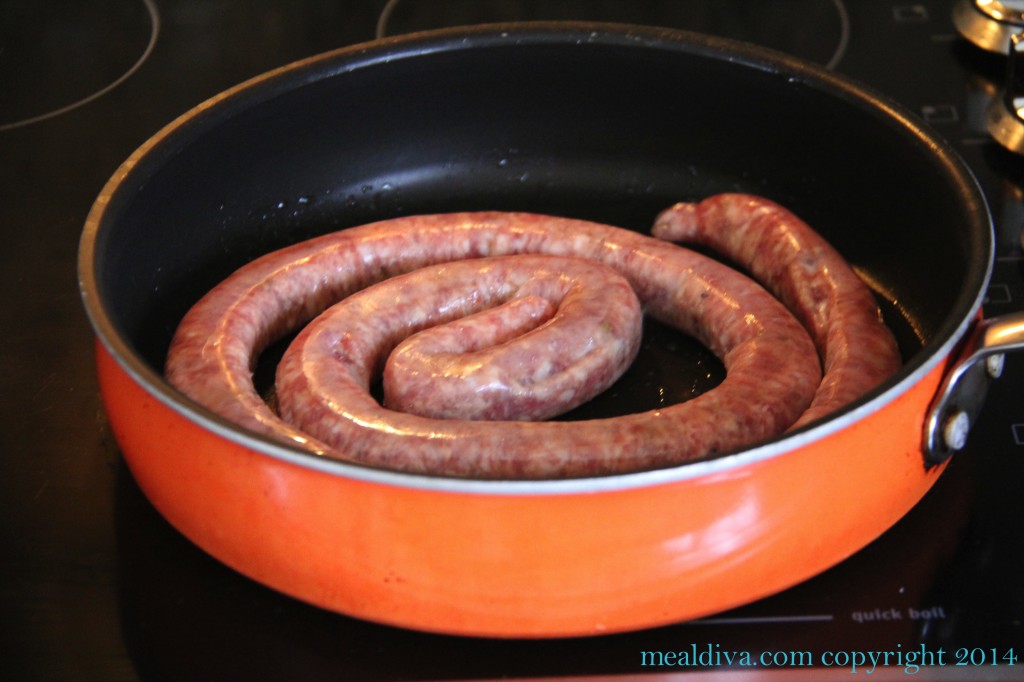 Once the sausage is cooked through, remove it to a plate and cook the onion in the left over pork fat. Once the onion starts to soften, add the mushrooms followed by the garlic then the chicken stock. I love onions, mushrooms and garlic together — so yummy!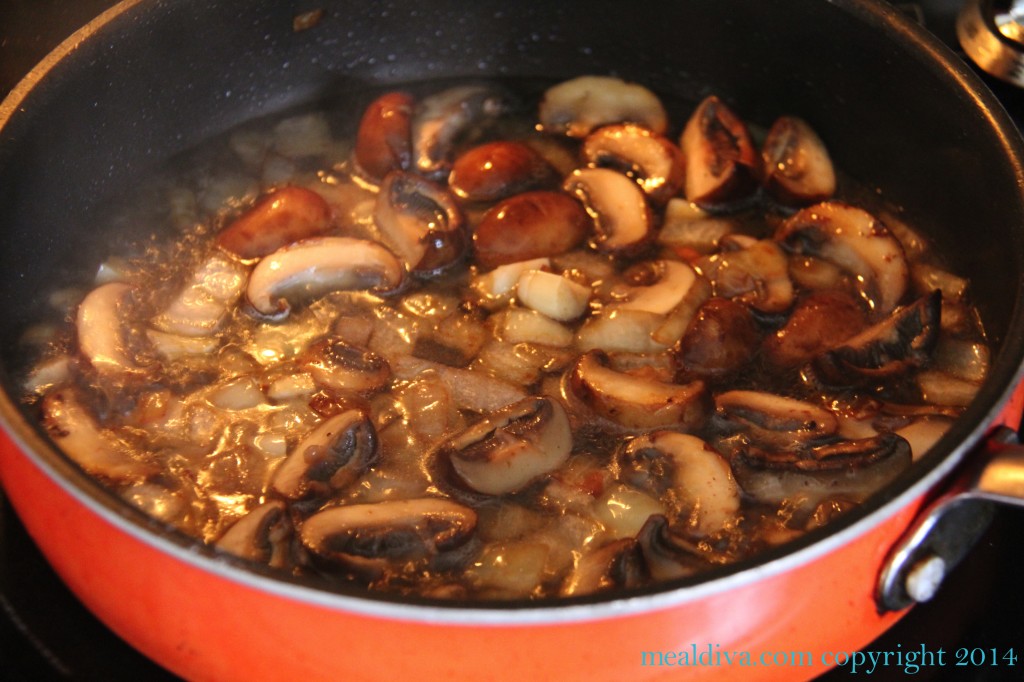 So this is when I start to get excited about dinner — the smell is incredible –now it's time to simmer all the ingredients together until the chicken stock is reduced by half. Add salt and pepper to taste then toss it with the cooked pasta and serve it with the sausage! Simply Out-Of-This-World delicious! Enjoy!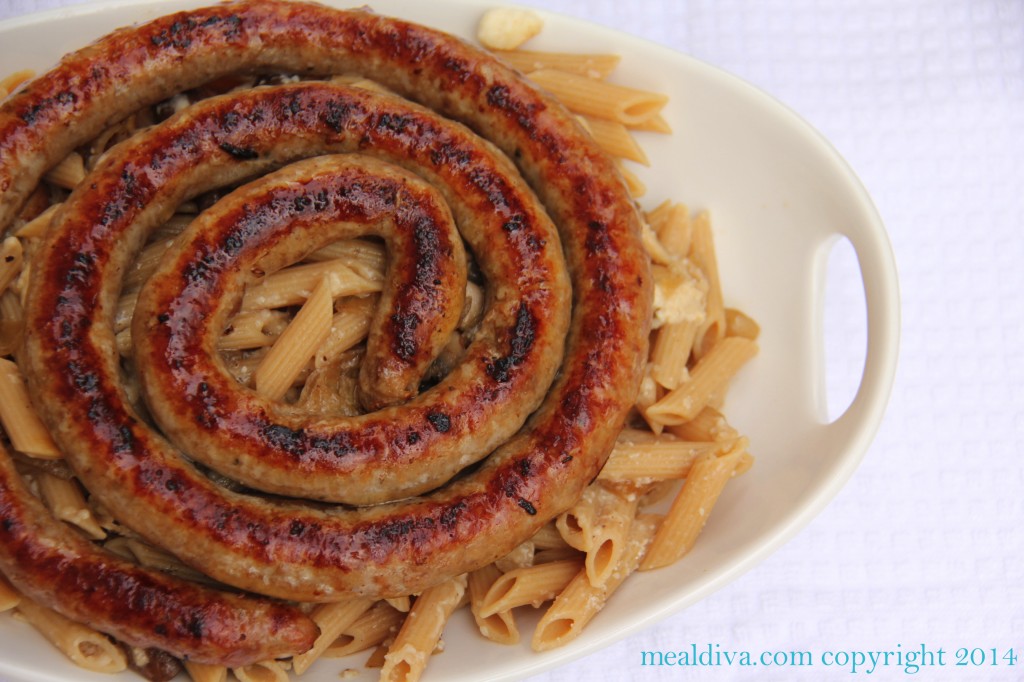 Out-Of-This-World Sausage & Mushroom Pasta
Ingredients:
1 ½ lbs. sausage
1 medium yellow onion, roughly diced
1 package baby bella mushrooms, cleaned and sliced
2 cloves garlic, peeled and diced
¼ cup chicken stock
Salt and pepper to taste
1 box whole- wheat penne pasta, cooked according to package directions
½ cup Parmesan cheese
Directions:
Prepare pasta
In a large skillet over medium-low heat, cook sausage, turning every few minutes until cooked through, about 8-10 minutes.
Remove sausage from pan and set aside
Turn up the heat to medium-high and sauté onion for 4 minutes then add mushrooms and sauté for an additional 4 minutes.
Add the garlic and sauté for 1 minute then add the chicken stock, scraping any brown bites off of the bottom of the pan.
Let the mixture simmer until the chicken stock is reduced my half.
Spoon the pasta into the skillet with the onion mixture and toss to combine.
Add the cheese and toss to combine.
To serve: plate the pasta mixture then top with the sausage and enjoy!