This healthy, one pan chicken dinner is simple to make and packed full of family friendly scrumptiousness.
Simple chicken breasts are cooked on the stove top and jazzed up with savory seasoned flour, onion, garlic, zucchini, tomatoes and peppers. We enjoy this dish straight out of the pan but it tastes delicious served over pasta or rice as well.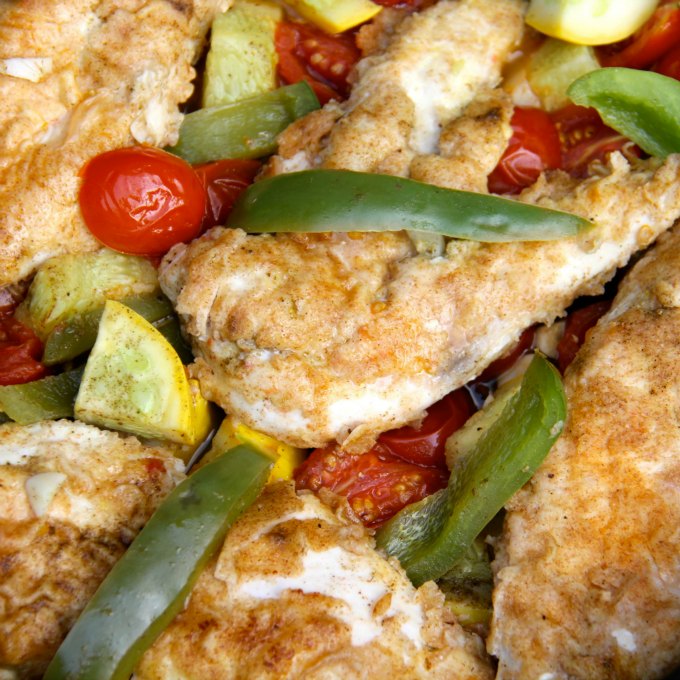 A few recipe cooking tips:
Flour can be messy so make sure you use a large, flat bowl or pie dish and place parchment paper underneath for easy clean up ( just remember to keep parchment away from open flame).
If you do not have a pan lid, feel free to use foil to cover the pan.
Feel free to add more chicken breasts to the pan, just remember that the more chicken in the pan, the longer the cooking time.
Remember to always check the chicken to make sure it's cooked completely through by slicing one of the chicken breast and making sure the juices run clear.
I love when healthy and yummy come together. Enjoy!
One Pan Chicken with Vegetables
Ingredients:
4 large chicken breasts
½ cup flour
½ tsp. paprika
½ tsp pepper
2-3 tbs. olive oil
1 yellow onion, diced
3-4 garlic cloves, peeled and sliced
1 medium zucchini, sliced and quartered
1 pint cherry tomatoes
1 green bell pepper, sliced into strips
Directions:
Heat oil in a large pan with a lid
Add the paprika and pepper to the flour and stir to combine.
Dip the chicken in the seasoned flour then fry in oil until brown, about 5 minutes.
Flip the chicken and repeat then remove chicken to a plate.
Place the onion in the pan and sauté for 3 minutes then add the garlic, zucchini, tomatoes and pepper, sautéing for 5 minutes.
Place the chicken back in the pan and lower the heat and cook until the vegetables and chicken are cooked through, about 40 minutes.