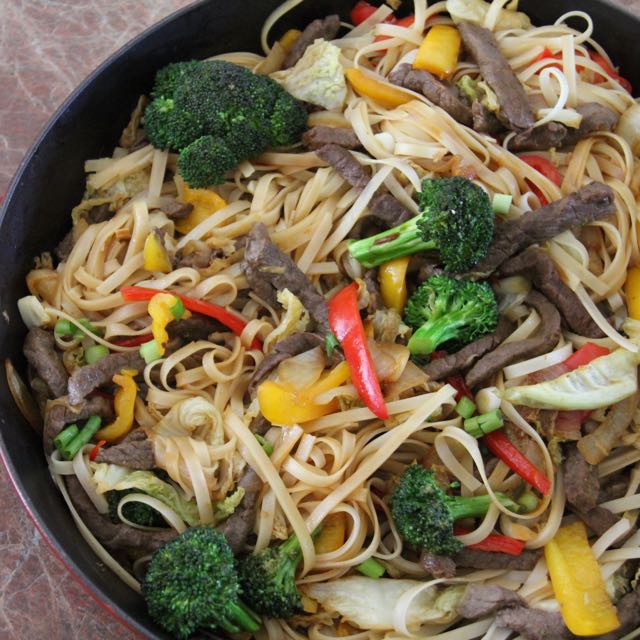 Stir fry is a wonderful thing: adults love it, kids love it and even my boxer goes crazy in the kitchen over the smell.
Ah, life can be so awesome sometimes – especially when everybody LOVES dinner!
To celebrate all things that are great about stir-fry, I wanted to share with you my three favorite sauces. When your making stir-fry, always customize the dish with whatever you like or whatever you happen to have on hand. The only thing to remember when changing the ingredients is to add them in the order of the cooking time needed: so the things that'll require more time to cook like protein or tougher veggies should be added earlier followed by the ingredients that need less or no cooking time at a (like corn or sprouts).
The key to a good stir-fry is rice noodles. I like the straight cut kind and they can be found in the Asian section of most super markets. Remember to soak the noodles in HOT water before adding them to the stir-fry or else they will be HARD.
When it comes to sauces, you can always use a standard garlic and soy sauce combination but I like to add a few extras from lemon to rice vinegar to a little ginger or hot sauce… so good…
Everyone's tastes are different so you will likely want to tweak the sauces to your tastes. If you print out the list, you can simply make notes as you go to develop your perfect sauce. If you try one of these sauces, leave a comment below! I'd love to know what you think! Enjoy!
My Three Favorite Stir Fry Sauces
Instructions for all of these recipes … just combine the ingredients in a small bowl, stir well to combine, then add to your stir fry.
Lemon Stir-Fry Sauce – Great with seafood stir fries, such as shrimp and/or scallops, as well as chicken.
1/2 cup lemon juice
2 tsp. lemon zest
1/2 cup chicken broth
2 tbsp. soy sauce
1/4 cup sugar
Basic Stir-Fry Sauce – good all-round sauce, especially with beef or chicken.
2/3 cup soy sauce
1/2 cup chicken broth
1/3 cup rice wine or rice vinegar
3 1/2 Tbsp. sugar
1 Tbsp. sesame oil
1 tbs. minced garlic
1 tbs. minced ginger
2 tbsp. cornstarch
Sweet and Sour Stir-Fry Sauce – great with chicken and pork.
1/2 cup chicken broth
1/4 cup soy sauce
1/4 cup cider or rice wine vinegar
2 tbsp. brown sugar
1 tsp. hot red pepper flakes
• • • Note – since I have a child who is Gluten Free with a sesame allergy, I use GF soy sauce and olive oil in place of regular soy sauce and sesame oil and my sauces ALWAYS turn out fabulous!