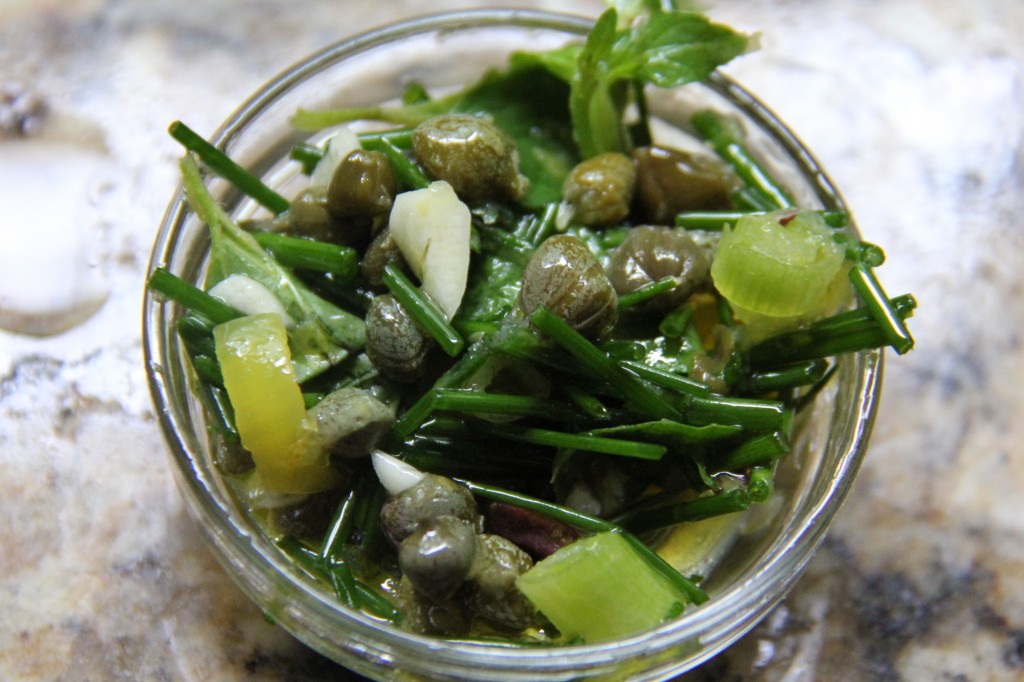 This dish a real favorite in my house as my little guy, Stew, gobbles it up in the blink of an eye. Everything from the fish to the veggies is devoured in a flash! It's almost like magic! The Mahi-mahi is dense, so when it's combined with the tender boiled potatoes and the crunchy broccoli, the texture combination is outstanding. Once the sauce is added to the mix, this dish will satisfy all of your taste buds as it bursts with tons of flavor as well. In addition, if you have some left over potatoes, broccoli and sauce, toss it all together and lunch the next day is a fantastic potato-like salad.
Also, as a time saver, you can make the sauce in the morning and let it "merry" in the fridge all day. That way, dinner will come together in a snap!
Fresh and Tangy Mahi-mahi
Ingredients:
4 tbs. olive oil
1 lemon, zested and juiced
1 fresh banana pepper, seeded and chopped (If you can't find a fresh one, 5 slices of pickled banana pepper will do).
2 scallions, chopped
2 small garlic cloves, chopped
1 1/2 tbs. capers (more capers, less juice)
8 black olives, chopped
1 small handful of fresh mint, leaves torn
2 tbs. fresh chives, roughly chopped
4 red potatoes, cubed
1 head broccoli
Four Mahi-mahi filets
Salt and pepper to taste
Directions:
Combine 2 tbs. olive oil, lemon zest and juice, pepper, scallions, garlic, capers, olives, mint and chives in a bowl and set aside.
Bring a large pot of water to a boil.
Cook the potatoes in boiling water for 12 minutes, until tender when pieced with a fork.
Add broccoli to the potato pot and cook together for 4 minutes.
Drain potatoes and broccoli and then return them to the pot and season with salt and pepper. Put aside.
Heat the other 2 tbs. olive oil in a skillet over high heat.
Season fish with salt and pepper and add to pan. Turn heat to medium-high and cook 1 ½ minutes per side. Mahi-mahi is thick but I assure you it will cook fast.
Turn off the heat and slide skillet away from the hot element and allow the fish to finish cooking for 3 minutes in the hot pan. Fish is done when it flakes easily with a fork.
Plate the fish first then top with broccoli and potatoes. Spoon sauce generously overtop and YUM!