Sometimes it's the little things that brighten your day – like when you serve dinner and everyone asks for seconds.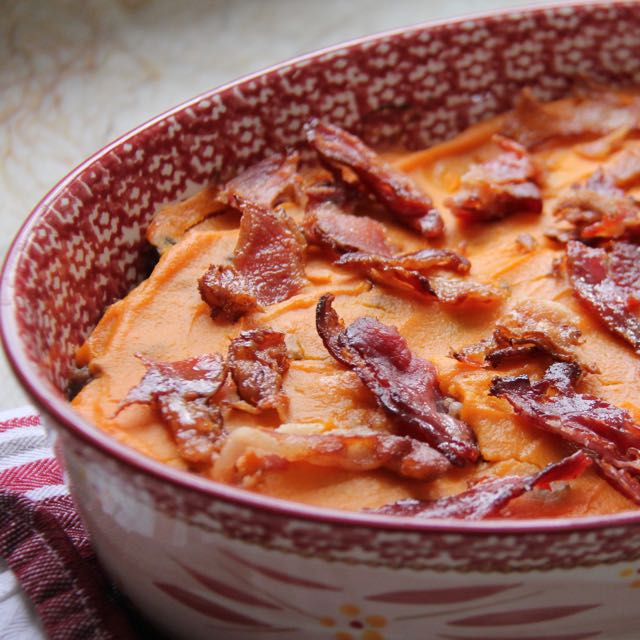 Talk about delicious – this Sweet Potato Ground Turkey Casserole has layers of ground turkey, onions, mushrooms, cauliflower, sweet potatoes and crispy bacon. It's like heaven in a Paleo, family friendly casserole. Yum.
This recipe is inspired by Juli Bauer & George Bryant's cookbook The Paleo Kitchen and their recipe Four-Layer Beef & Bacon Casserole. I changed their recipe up a little, replacing ground beef with ground turkey. Why? Simply because Peanut isn't a ground beef fan. Beef – Turkey – either way, I promise you that your family will go crazy over this casserole recipe!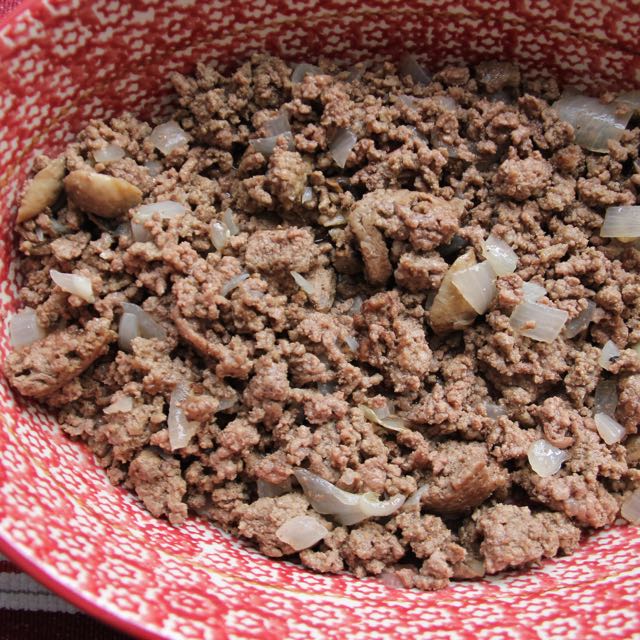 This casserole takes a bit of work – you have to cook the bacon first then bake the sweet potatoes and steam the cauliflower first. Once your bacon is ready, your sweet potato and cauliflower mashes are all set to go, the casserole comes together in minutes.
Start with layering your browned ground turkey, onions and mushrooms on the bottom of a greased casserole dish.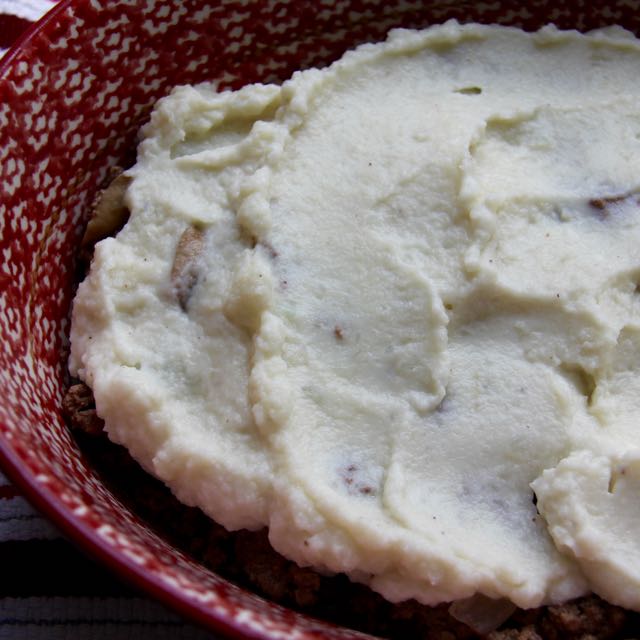 Add a layer of cauliflower mash.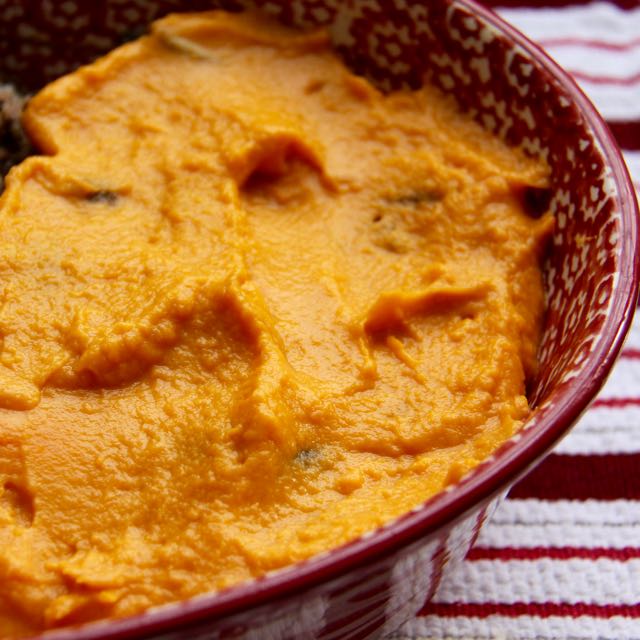 Then more ground turkey followed by sweet potato mash. Pop the casserole into the oven for 30 minutes until it's warm and bubbly then top it with crispy bacon. Sweet, savory and crunchy. Each mouthful is amazing. Enjoy!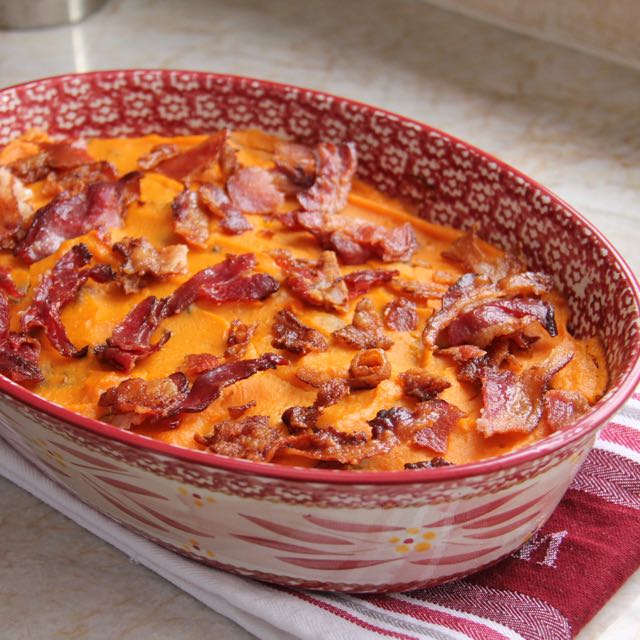 Layered Ground Turkey and Potato Casserole with Bacon
Ingredients:
Olive oil
1/2 lbs. extra thick bacon
Sweet Potato Mash:
4 sweet potatoes
1/3 cup coconut milk
Sea salt and pepper to taste
Cauliflower Mash:
1 head cauliflower
1/3 cup coconut milk
Sea salt and pepper to taste
Ground Turkey:
2 1/2 lbs. ground turkey
1 garlic clove, diced
1 small yellow onion, diced
1 package white button mushrooms, sliced
Sea salt and pepper to taste
Directions:
Preheat oven to 350 degrees. Grease a medium-large casserole dish with olive oil.
Place bacon in a foil-lined baking sheet and bake in the oven for 25- 30 minutes tunnel it's cooked to your licking. Crumble the bacon and set it aside to drain.
Turn up oven to 400 degrees and poke holes in the sweet potatoes with a knife. Bake potatoes on a foil lined baking sheet ( for easy clean-up) for 40-45 minutes until cooked through and easily pierced with a fork.
Meanwhile, steam the cauliflower (you can save time here by purchasing cauliflower in a steerable microwavable bag but I think the nutrients tend to stick around more if you do it on the stove top). Once the cauliflower is fork tender, let it cook for a few minutes then puree it in a blende. Add the coconut, milk, salt and pepper and blend it with the cauliflower until it's smooth. Remove from blender and set it aside.
When the potatoes are done, peel them and place them into a clean blender and puree with coconut, salt and pepper until the mixture is smooth. Set it aside.
Heat 1 tbs. olive oil in a large skillet and brown the ground turkey. Once the turkey turns brown, add the onion, garlic and mushrooms. Sprinkle with salt and pepper and cook until the meat is completely cooked through then remove from the heat.
Turn the oven temperature to 350 degrees.
In the casserole dish, layer 1/2 the meat mixture on the bottom followed by all of the cauliflower mash then the remaining meat then the sweet potato mash. Spread everything out evenly.
Place the casserole into the oven and bake for 30 minutes. Let the casserole rest for 5 minutes to thicken then top with bacon pieces and serve hot.