Risotto is a labor of love. It takes roughly an hour to make and I love spending the time making a delicious labor of love. Traditional risotto calls for Arborio rice but I like using quinoa once in a while to mix things up.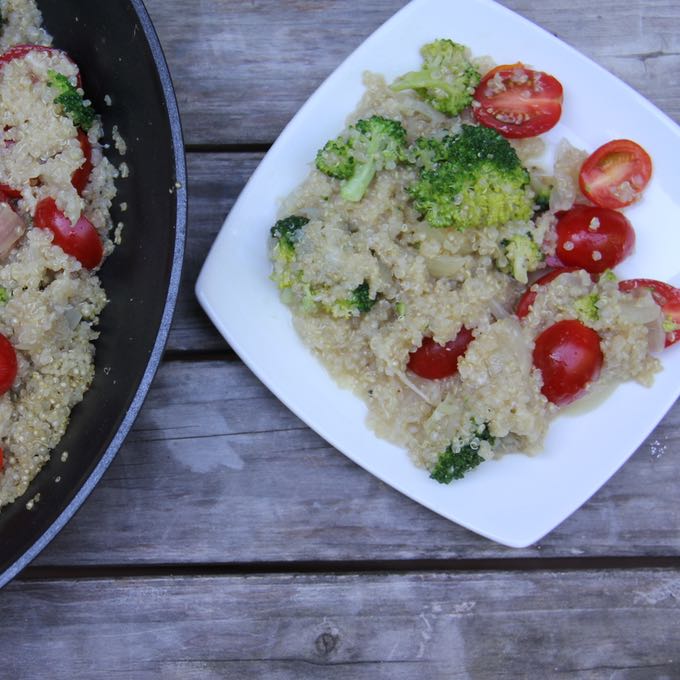 Whether you are using rice, quinoa or barley, the process is always the same – a ritual of stirring, adding liquid, more stirring, adding more liquid until the consistency turns rich and creamy. This recipe is classic, creamy and packed full of healthy broccoli and tomatoes to add additional flavor! Enjoy!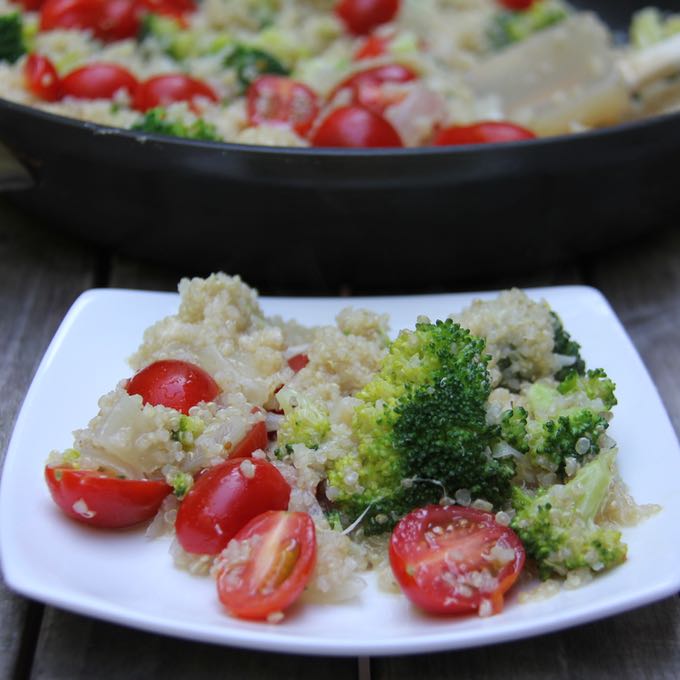 Healthy Quinoa Risotto with Broccoli & Tomatoes
Ingredients:
2 1/2 cups vegetable broth
2 cups water
1 tbs. olive oil
1 cup medium onion, chopped
1 cup uncooked quinoa, rinsed and drained
½ cup white wine
1 large head of broccoli, trimmed and cut into florets
1 pint cherry tomatoes
¼ cup parmesan cheese, shredded
Salt and pepper to taste
Directions:
Combine broth and water in a small saucepan and bring to a steady simmer ( do not boil).
Keep liquid warm over low heat.
Heat oil in a large skillet over medium-high heat.
Add the onion and cook for 3 minutes.
Add quinoa and sauté for 1 minute then add wine.
Cook for 60 seconds until liquid is nearly absorbed.
Stir in 1 cup broth mixture and cook until liquid is almost absorbed, stirring continuously.
Add remaing broth mixture, 1 ladle scoop ( ½ cup) at a time until each portion is absorbed before adding the next portion ( should take 20 minutes).
Add broccoli and tomatoes with the last ½ cup of broth.
Remove pan from heat and stir in cheese and salt and pepper to taste.