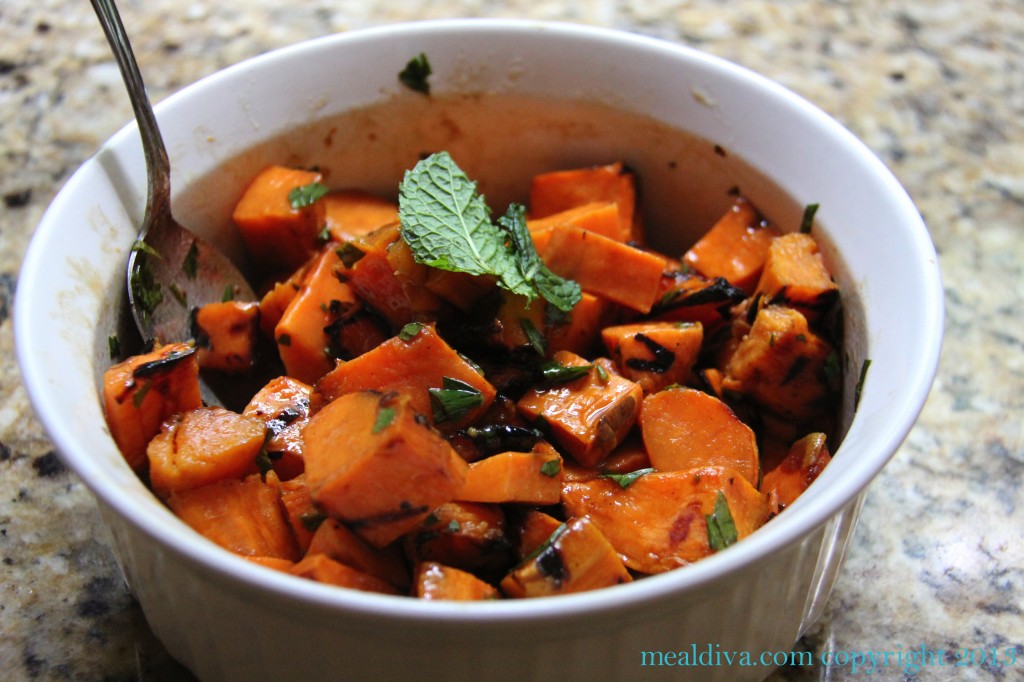 Have you ever grilled a sweet potato? It's really yummy! In fact, I don't think sweet potatoes can get any better then this – Bobby Flay's Grilled Sweet Potato Salad! Yum!
Grilling sweet potatoes is really just like grilling  any other vegetable — so don't be nervous. First, cut the sweet potatoes into pieces, maybe quarters cut lengthwise (just make sure they are big enough so that they don't fall down through the grill grates). Then brush the pieces with olive oil and grill over a medium to high heat until they brown on the outside and can be easily pierced with a fork. For this salad, they are finished off with a light dressing and served. Enjoy!
Bobby Flay's Grilled Sweet Potato Salad
Ingredients:
4 large sweet potatoes
2 tbs. chives (Bobby Flay uses grilled scallions but I like chives better)
2/3-cup extra-virgin olive oil
2 tsp. Dijon mustard
2 tbs. apple cider vinegar
1 tbs. balsamic vinegar
1 tsp. honey (sometimes I add another ½ tsp)
Salt and pepper to taste
¼ cup chopped fresh parsley
Directions:
Preheat oven to 375
Wrap each potato individually in aluminum foil and bake for 45 minutes
Let cool and cut into large pieces
Preheat grill to medium-high
Brush the potatoes with 1/3-cup olive oil and arrange on grill
Grill until potatoes are just tender, about 5 minutes per side.
If using scallions, grill them with the potatoes, about 1 minute per side.
Remove potatoes from the grill.
In a large bowl, whisk the remaining 1/3-cup olive oil, mustard, vinegars and honey together. Season with salt and pepper.
Add the potatoes, chives (or scallions) and parsley.
Gently toss to combine until all of the potatoes are coated.
Now take a bite and savor the sweet and tangy flavors!