Thank you David Crowley of Cooking Chat for inviting me to participate in the first Wine Pairing Weekend blogging event! I am so excited to be participating! Welcome!
Today's pairing is wine with grilled meat. With grilling season in full swing, I'm excited to see what all of my fellow bloggers came up with! I love a good backyard BBQ and delicious wine! What could be better??
Today I went with a very easy, no marinade-needed sausage kabob that is layered with sweet apples and red onion. To bring out the flavors of the savory sausage, sweet apples and onions, I paired it with two white wines: a hard to find bottle of sweet German 2008 Ruppertsberger Riesling Kabinett Trocken and an easier to find 2012 Sella & Mosca La Cala Vermentino Di Sardegna, a white wine from northern Italy. The wines are very different but they both compliment the grilled sausage, apples and onions beautifully.
Keep in mind here: I am no wine expert but there is nothing I enjoy more then a scrumptious glass of wine that enhances my meal. What do you think of my pairing? I would love to hear!
First up is the 2008 Ruppertsberger Riesling Kabinett Trocken that was given to me by my in-laws (so thank you). It is a medium bodied wine with a sweet and slightly salty finish. Riesling's are always sweet and that's why they are the perfect match for the savory sausage. Mmmmm so good! I get excited just thinking about it– seriously — it was that wonderful of a pairing!
Next up is the 2012 La Cala Vermentino Di Sardegna – a fantastic under $20.00 bottle of wine with flavors of apple, pear and a mouthwatering savory finish. It smells wonderful and tastes crisp. When I initially tasted this wine, I thought of grilled fish but I was pleasantly surprised when it enhanced the flavors of the savory sausage while complimenting the sweet apples and onions. Simply delicious.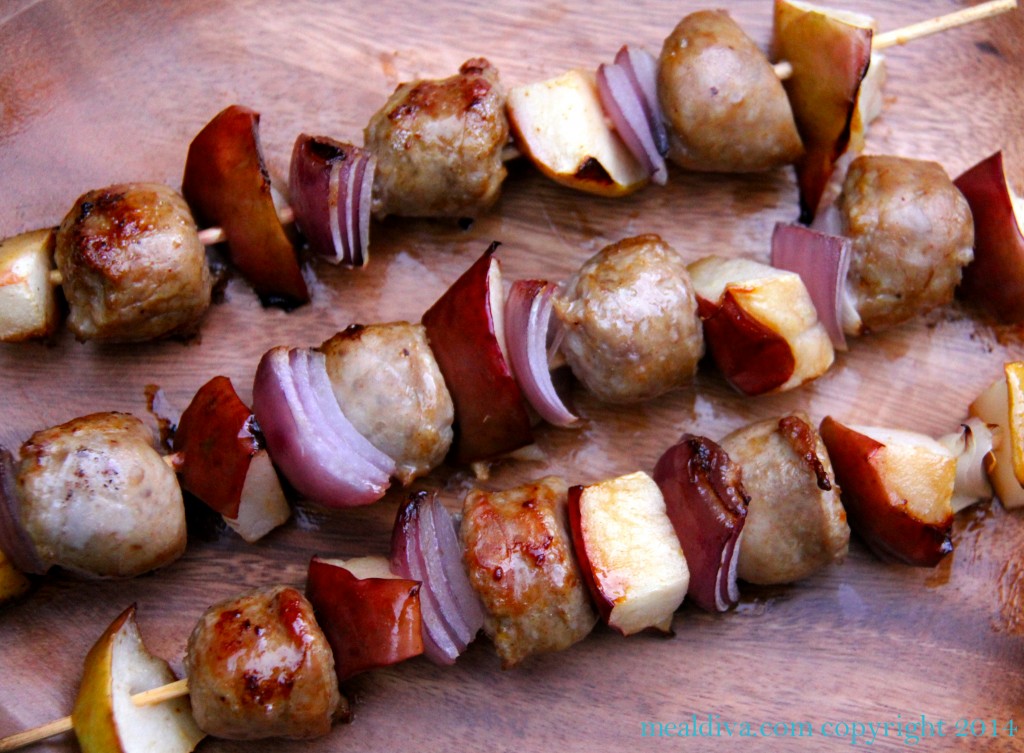 So go fire up your grill this weekend and relax with a delicious glass of wine! Cheers!
Easy Grilled Sausage Kabobs & White Wine
Ingredients:
1 (12oz) package sweet Italian sausage, cut into 1 ½ inch pieces
2 medium gala apples, cored and cut into large chunks
1 large red onion, cut into 1-inch wedges
1/2 tsp. salt
½ tsp. pepper
Directions:
Brush gas or charcoal grill grates with olive oil and preheat grill to medium heat (you can hold your hand there about 3 seconds at that heat.)
Thread sausage, apples and red onion onto skewers, alternating, and putting the skewer through the skin of the sausage and apples so they won't spin around.
Grill kabobs over medium heat, turning the skewer frequently by lifting one end of the skewer with tongs and turning it with a fork.
Kabobs are done when sausage is browned but apples and red onion are barely tender, about 15 minutes. Serve hot.
If you are looking for some more great wine and food pairing, be SURE TO CHECK OUT THE LINKS BELOW! They are all absolutely mouthwatering!
Wine Pairing Weekend #1 Bloggers: Be sure to check out the great pairings my fellow bloggers have come up with for the first Wine Pairing Weekend! 
The Tasting Pour is posting "Pairing Food and Wine: Cabernet Cliché"
Culinary Adventures with Camilla is pairing "Lemon Marmalade-Glazed Duck Legs + Holman Ranch's Off-Dry Pinot Gris"
Vino Travels – An Italian Wine Blog will share "Food and Wine Pairing: BBQ with Montepulciano d'Abruzzo"
Grape Experiences is sharing "Wine and Dine: Sinfo Rosado 2012 with Chicken Enchilada Burgers"
Pull that Cork posted "Rolled Pork Florentine on the Grill, Which Wine Pairs Best?"
From Cooking Chat, "Grilled Pork Tenderloin Paired with a Bonny Doon Syrah"
Meal Diva blogged about "Grilled Sausage Kabobs and White Wine"
Curious Cuisiniere paired "Wine Grilled Chicken with Lewis Station Winery's Oaked Chardonnay"
Join the #winePW conversation: Follow the #winePW conversation on Twitter throughout the weekend and beyond. If you're getting this early enough, you can join us for a live Twitter chat on our theme "Wine Pairings for Grilled Meat" on Saturday, June 14, 10 to 11 a.m. Eastern Time. You can also visit our group Pinterest board to pin some great pairing ideas for later! Stay tuned for the July Wine Pairing Weekend, which will focus on "Refreshing summer wine pairings" on Saturday, July 12.