Pure genius. That's what this Balsamic Tomato Bruchetta Chicken dish is. Pure-genuis-beauty.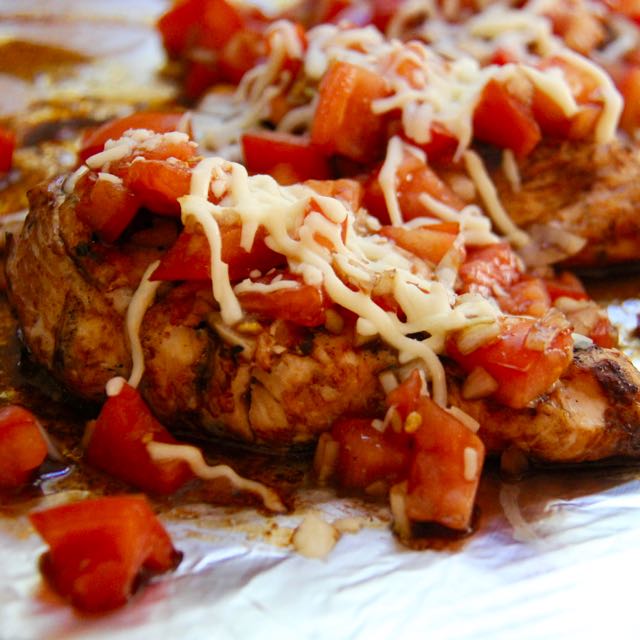 Time to admit that I'm not a huge fan of raw tomatoes. Shocked? Yeah, most people are. Maybe it's the texture or maybe I ate to many of them while trying to loose baby weight. Goes right up there with my distate for ketchup and plumbs. However, put a dish in front of me with these slightly roasted balsamic tomatoes and I'm happy.
The key to making this dish extra delicious is using super ripe tomatoes and good quality balsamic. If you really LOVE balsamic, it wouldn't hurt to add a squeeze of ready made balsamic reduction right before serving. One of my favorite things is a ready made balsamic vinegar reduction. Sweet, stick balsamic reduction has a less acidic bite than regular vinegar while mimicking the rich flavor of expense vinegar. In fact, I always recommend healthy home cooks keep some in their kitchen to build flavor. You can also make it from scratch by simmering 1 cup of balsamic with 1 tbs. honey or sugar. It goes great on salads, meat, poultry and roasted veggies as well. My kids like it on broccoli.
Enough about the wonderfulness of reduced balsamic vinegar! Here is the recipe for chicken!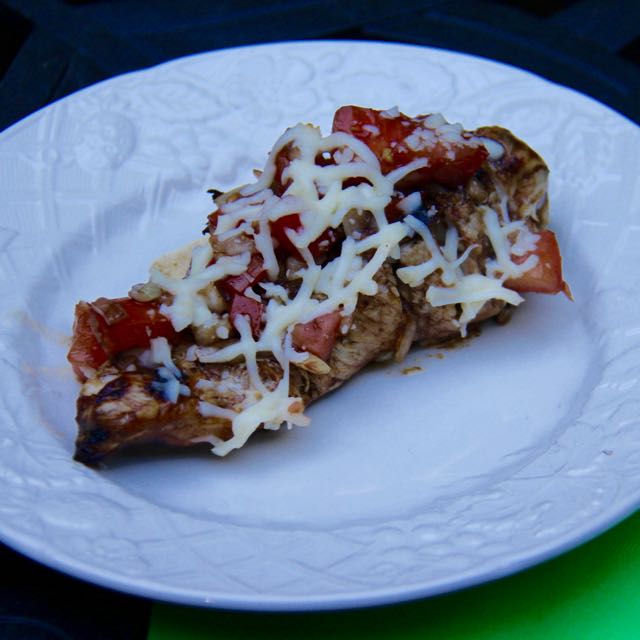 Enjoy!
Genius Balsamic Tomato Bruschetta Chicken
Ingredients:
2 large chicken breasts
¼ cup balsamic vinegar
½ tbs. olive oil
1-2 garlic cloves, finely diced
Salt and pepper to taste
BRUSCHETTA TOPPING:
4 medium, ripe tomatoes
½ medium sweet onion
1 garlic clove, minced
2 tbs. balsamic vinegar
1 tbs. olive oil
Salt and pepper to taste
1 cup shredded mozzarella
Directions:
Place the chicken pieces in a container or zip top bag along with ¼ balsamic, ½ tbs. olive oil, 1-2 garlic cloves and salt and pepper. Mix everything around to make sure the chicken is coated in the marinade. Marinate chicken for at least 20 minutes to over night.
Prepare the bruschetta topping:
Combine tomatoes and onion in a bowl with the minced garlic, balsamic vinegar, and olive oil.
Toss to combine, taste, and add salt and pepper to your liking.
Grill the chicken until cooked through ( 5 minutes each side on my grill).
Turn the oven on to broil and adjust the rack so that is about 6 inches below the heating element.
Line a baking sheet with foil and place chicken on sheet.
Top each piece of chicken with plenty of tomatoes and cheese (it's okay if some falls off, you can scoop it onto your plate along with the chicken).
Place the baking sheet in the oven under the broiler. Cook just until the cheese is fully melted (5-10 minutes). Serve hot (drizzled with balsamic reduction if you desire).