What could be better than the wonderful aroma of homemade red sauce simmering on the stove? I have a big pot of it on as I write this and I'm salivating. Maybe I should have been born to an Italian family because I really LOVE to cook Italian food. I can remember the first time I made lasagna with homemade red sauce: my base was pancetta, fresh from the butcher, with onions, garlic and roasted tomatoes. I was so proud and can remember simmering the sauce almost all day and then making lasagna.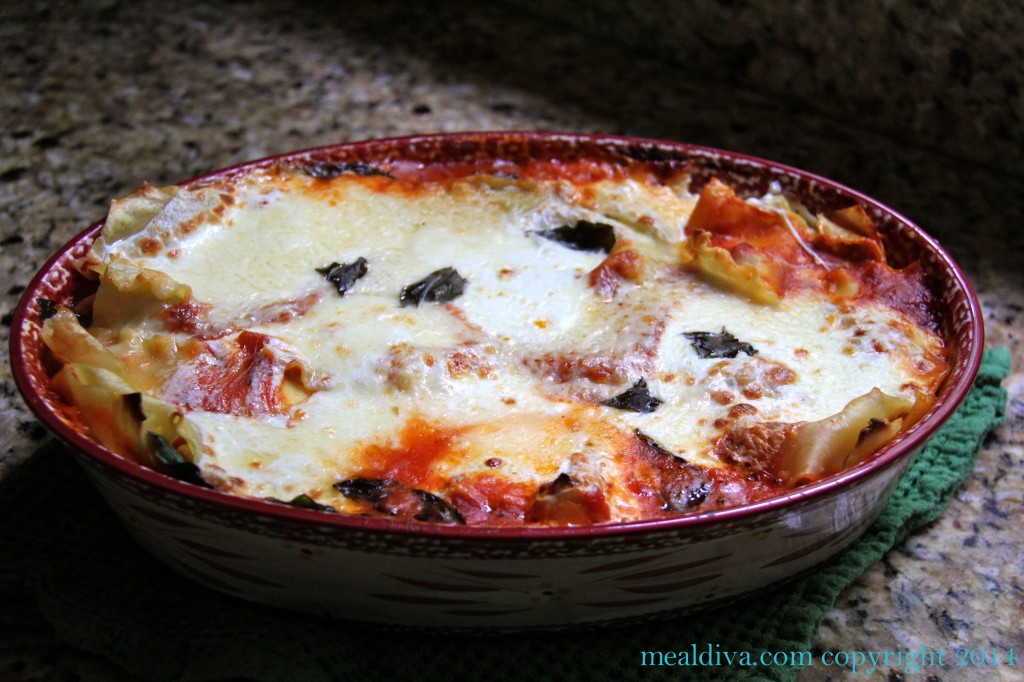 Simple pleasures. I know it's August and I'm talking about a wintertime comfort food but I really can't help it. Peanut requested chicken and spinach lasagna this morning and I don't like to disappoint! This version of lasagna is one of my all-time favorites because it is an easy recipe to follow and will consistently impress even the most particular dinner guest. Simply delicious. I made this lasagna in a smaller pan than usual. If you can believe it, I don't have a great kitchen and it's slowly falling apart around me. I dug out my usual lasagna pan this morning to find it cracked. The shelf above it collapsed last week and I did not see the crack in the middle of my glass lasagna pan until this afternoon. The curved edges of my dish did not pose a problem however as I simply trimmed and tucked the noodles to fit. Also, you don't have to use homemade sauce for this recipe. If you are making it from scratch, check out my recipe for quick red sauce under turkey meatballs or use a jar of marinara sauce. Here's how to make the ultimate chicken lasagna: First, cook the lasagna noodles until they are al dente. Over-cooked noodles turn out soggy.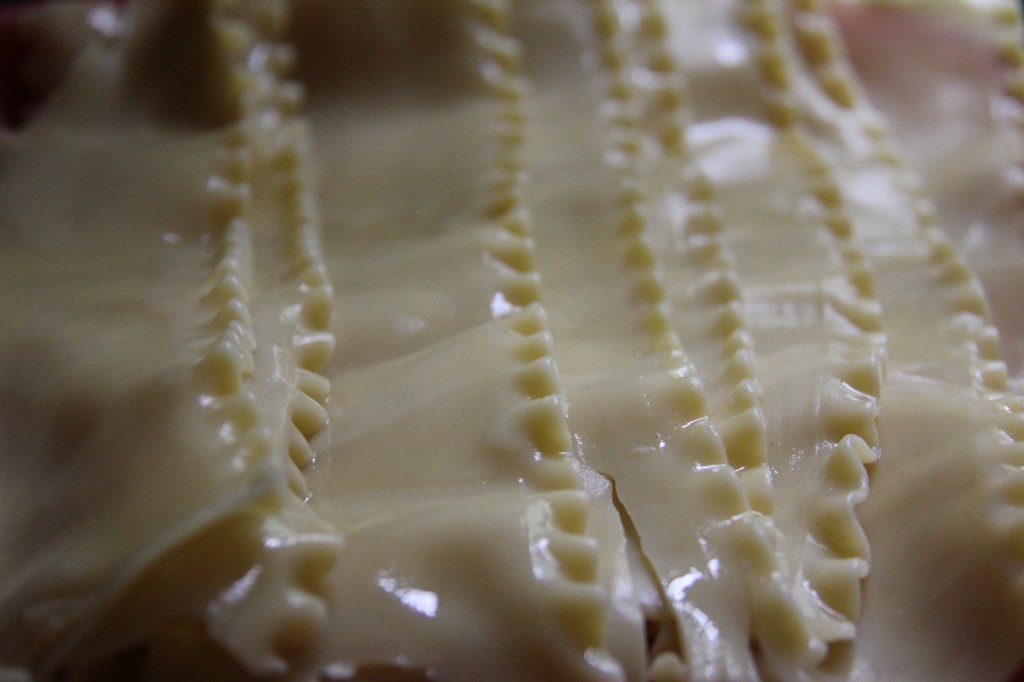 Next, cook bite size chicken pieces with onion and garlic (and a little garlic powder too) until done.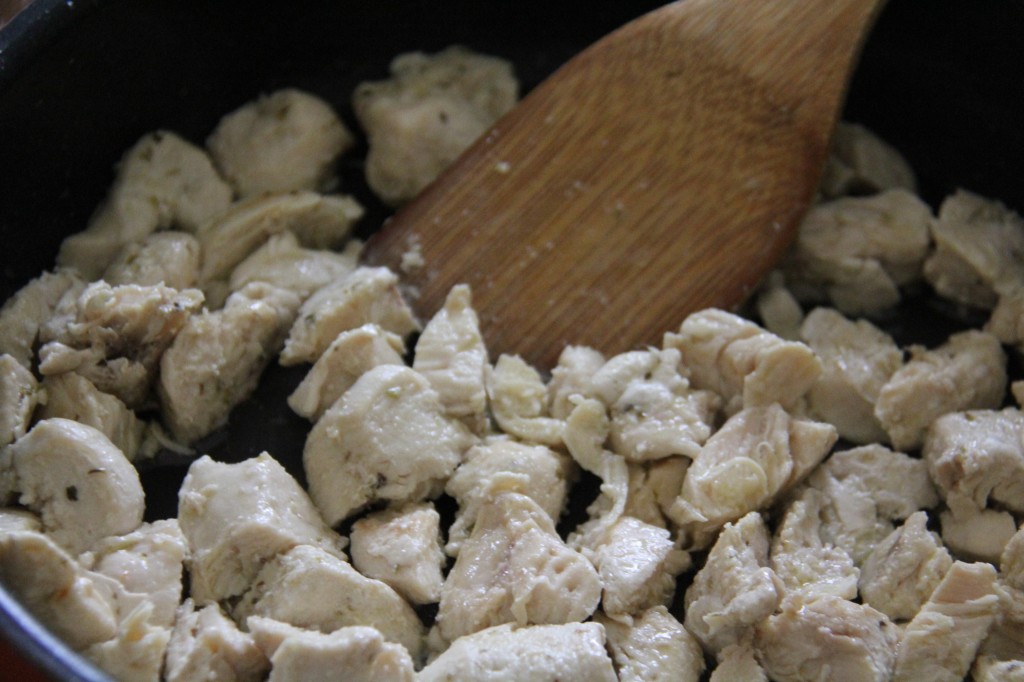 As the chicken finishes cooking, make the ricotta mixture and set it to the side. Next, measure out the spinach and then pre-slice the mozzarella cheese. In a baking dish, layer the bottom with red sauce to prevent the noodles from sticking. When I first started making lasagna, I never did this and the noodles always stuck to the pan. Next, layer the ricotta mixture followed by chicken then spinach, parmesan and more red sauce. Top with noodles. Repeat.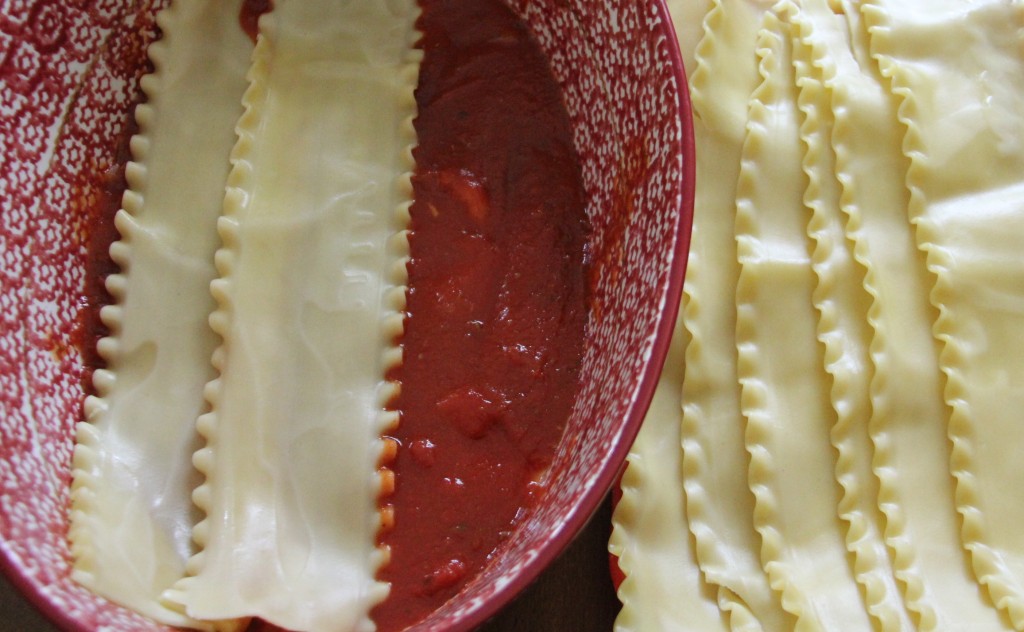 The last layer will be noodles, the rest of the red sauce, then mozzarella cheese and a nice sprinkle of parmesan cheese on top. I like to add a few pieces of torn basil leaves as well.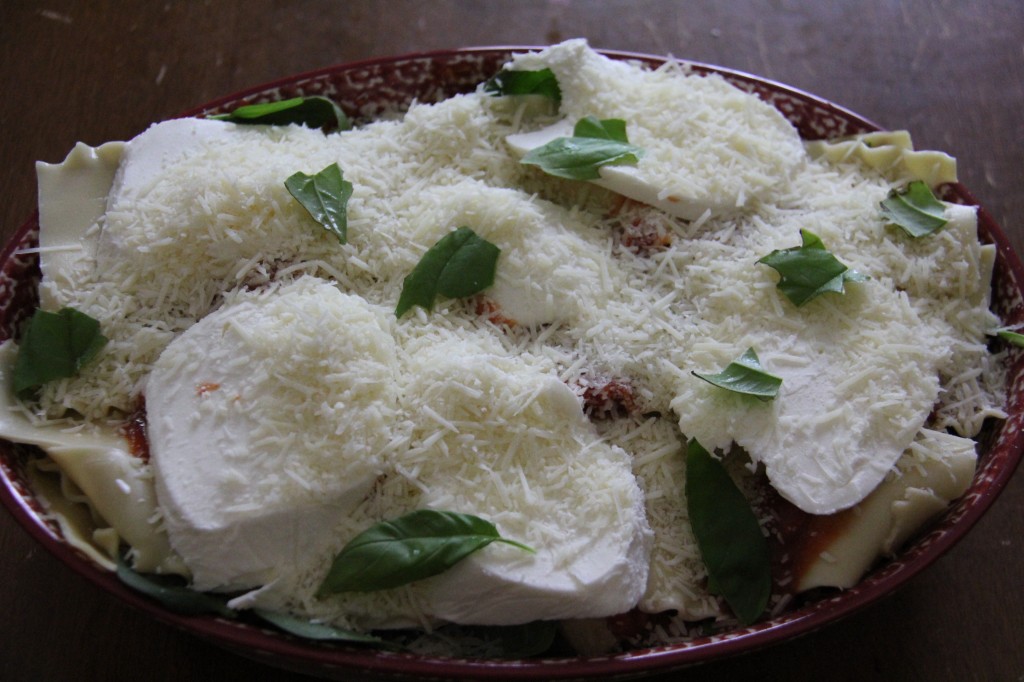 Cover with aluminum foil and bake at 375 for 50 minutes. I went outside and weeded my garden while it cooked. After 50 minutes, remove foil and bake for an additional 5 minutes. Turn oven up to broil for 2 minutes and brown the cheese a little more. Remove from the oven and let it stand for 10 minutes before serving. Peanut chose dinner so Spud chose the side dish. No surprise here, tonight we are eating this with a side of Kale Chips. If you like this recipe, I invite you to sign up to receive MealDiva recipes and tips delivered right to your inbox by clicking here. Enjoy!
Chicken and Spinach Lasagna
Ingredients:
2 chicken breasts, chopped into small, bite-size pieces
Salt and pepper to taste
1/4 tsp. garlic powder
2 tbs. olive oil
1 medium onion, diced
1-2 cloves of garlic, diced
1 pan of homemade red sauce or 1 (24oz) jar of marinara sauce
8 oz ricotta cheese
1 egg, beaten
8-12 Lasagna noodles, cooked to al dente
2 cups fresh spinach
1 small ball of fresh mozzarella cheese, sliced or 1 cup shredded
1/2 cup grated Parmesan cheese
Directions:
If using homemade red sauce, try my recipe under Turkey Meatballs, prepare.
Cook lasagna noodles and drain. Set aside.
In a large skillet, over medium-high heat, add 1 tbs. olive oil.
Add onion and sauté until soft, about 8 minutes.
Add garlic and sauté for one minute.
Next, add chicken, salt and pepper and garlic powder.
Sauté until chicken is cooked through, about 8 minutes.
When done cooking, set aside.
Make ricotta mixture: combine ricotta and egg, stirring to combine.
In a baking dish, spoon out a layer of pasta sauce so that it coats the bottom of the pan.
Top with lasagna noodles so that they cover the sauce completely.
Spread one half of the ricotta cheese over the noodles then add a small amount of chicken, then spinach and a sprinkle of parmesan cheese.
Layer 1/3 cup red sauce and repeat layers. I usually get three layers.
The last layer will be noodles, the rest of the red sauce then mozzarella cheese and finally a nice sprinkle of parmesan cheese.
Optional: sprinkle with fresh basil leaves.
Cover with aluminum foil and bake at 375 for 50 minutes.
Remove the foil and bake for an additional 5 minutes.
I like to broil it on high for an additional 2 minutes to really brown the top layer of cheese.
Let lasagna stand for 10 minutes before serving.