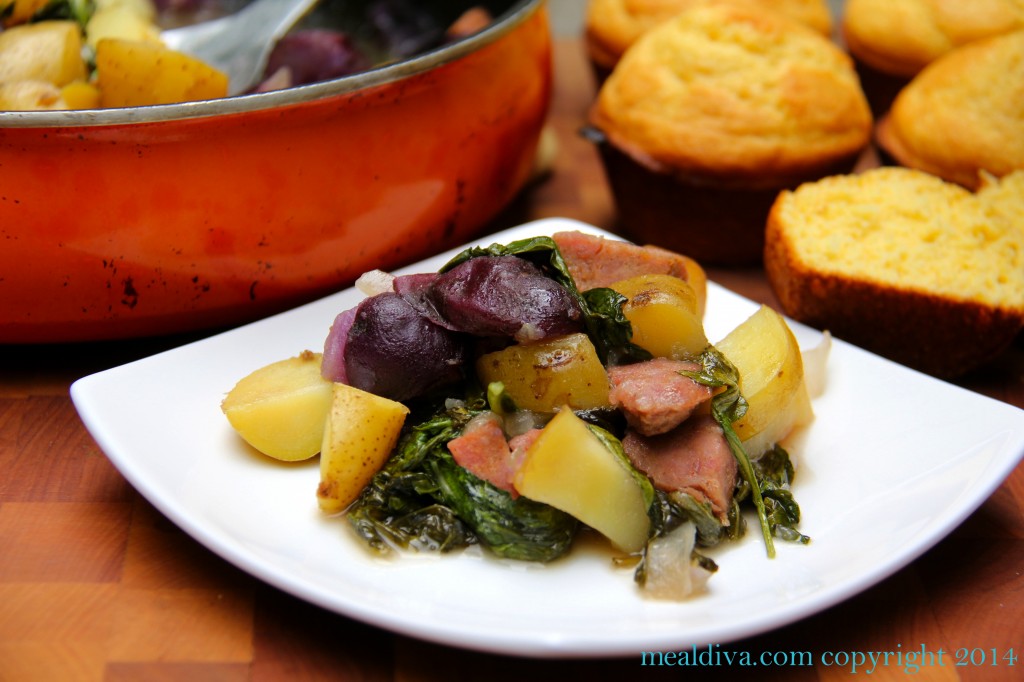 This is an ultra delicious and flavorful Skillet Kielbasa recipe that comes together in a snap! I used fresh spinach from a local farmers market – Mmmmm – I love farmer's markets and the abundance of delicious,  in-season vegetables.
Don't you love all of the colors in this dish? We eat with our eyes and I find that my kids eat more if their plates are full of colors: greens, purples, pinks and yellows. It's like painting by numbers but with food. In addition, there is plenty of flavor in this dish: both savory, tangy and sweet.
Delicious!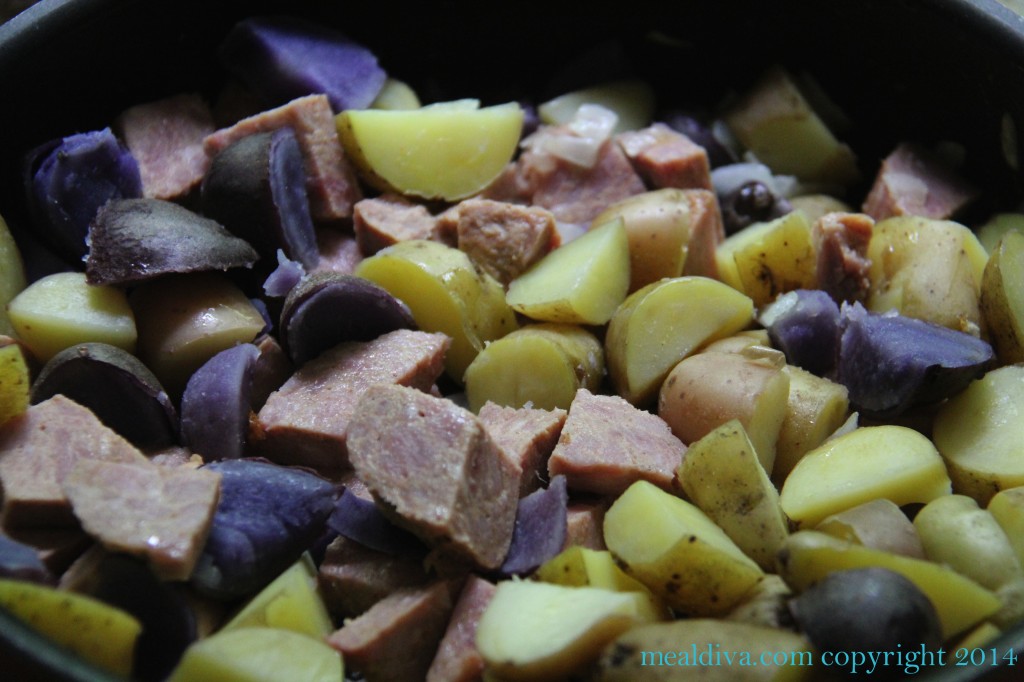 First, par-boil the potatoes in the microwave or on the stop top for 5-7 minutes. You want them to be fork tender. Once the potatoes are tender, sauté them with the kielbasa and onions. Meanwhile, whisk together the maple syrup, vinegar, mustard, thyme, salt and pepper.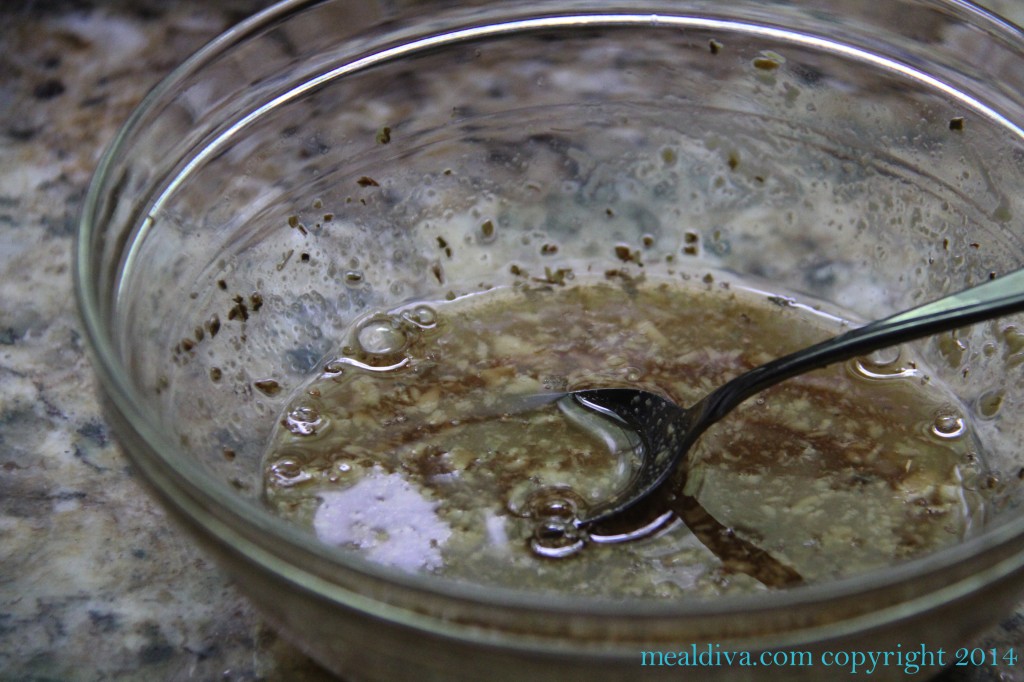 Add the sauce ingredients to the skillet and simmer for a few minutes to bring the flavors together then add the spinach and bacon. Holy Moly — the smell is crazy amazing! Continue simmering (and sneaking some tastes) until the spinach is wilted then dig in! Yummy!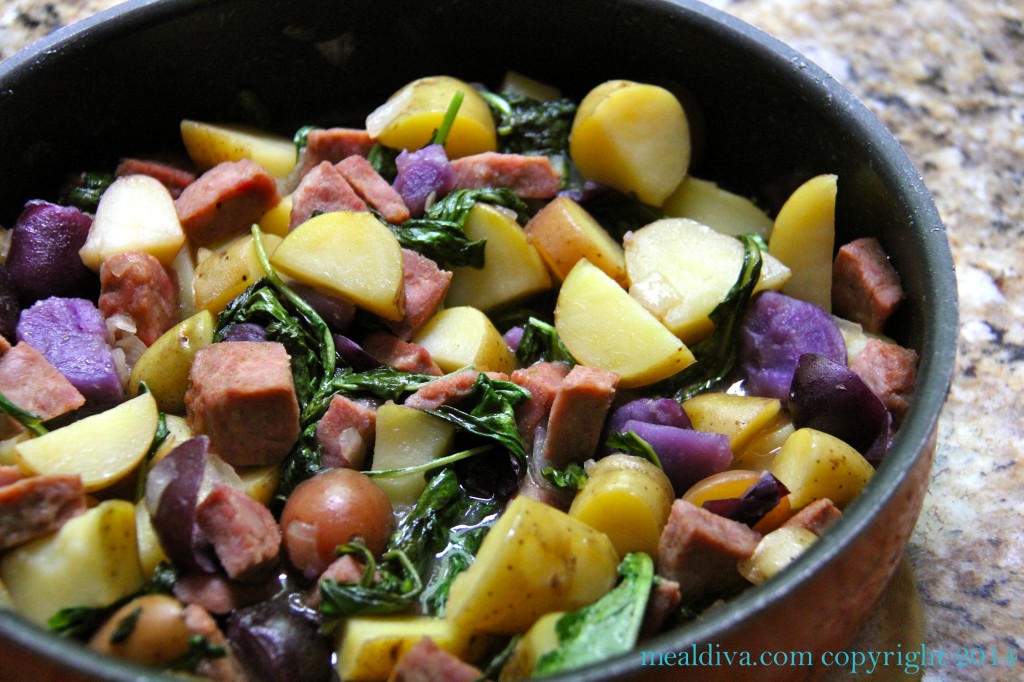 To make this a MealDiva Approved meal, serve it with Cornbread and a side salad with Chive Vinaigrette . Enjoy!
Skillet Kielbasa
Ingredients:
1 pound colorful potatoes, cubed
3 tablespoons water
1 package Kielbasa, cut into 1/4-inch slices
1 yellow onion, roughly chopped
2 tbs. olive oil
2 tbs. maple syrup
2 tbs. cider vinegar
1 tbs. dijon mustard
1/2 tsp. dried thyme
Salt and pepper to taste
4 cups fresh spinach
5 bacon strips, cooked and crumbled
Directions:
Place potatoes and water in a microwave-safe dish. Cover and microwave on high for 4 minutes or until fork tender; drain and set aside.
Heat the olive oil in a large skillet, saute kielbasa and onion for 5-7 minutes until onion is tender.
Add potatoes and sauté for 3-5 minutes longer, until kielbasa and potatoes are lightly browned.
Whisk the maple syrup, vinegar, mustard, thyme, salt and pepper together then pour into the skillet and bring to a boil.
Reduce heat; simmer, uncovered, for 2-3 minutes or until heated through.
Add spinach and bacon; cook and stir until spinach is wilted.