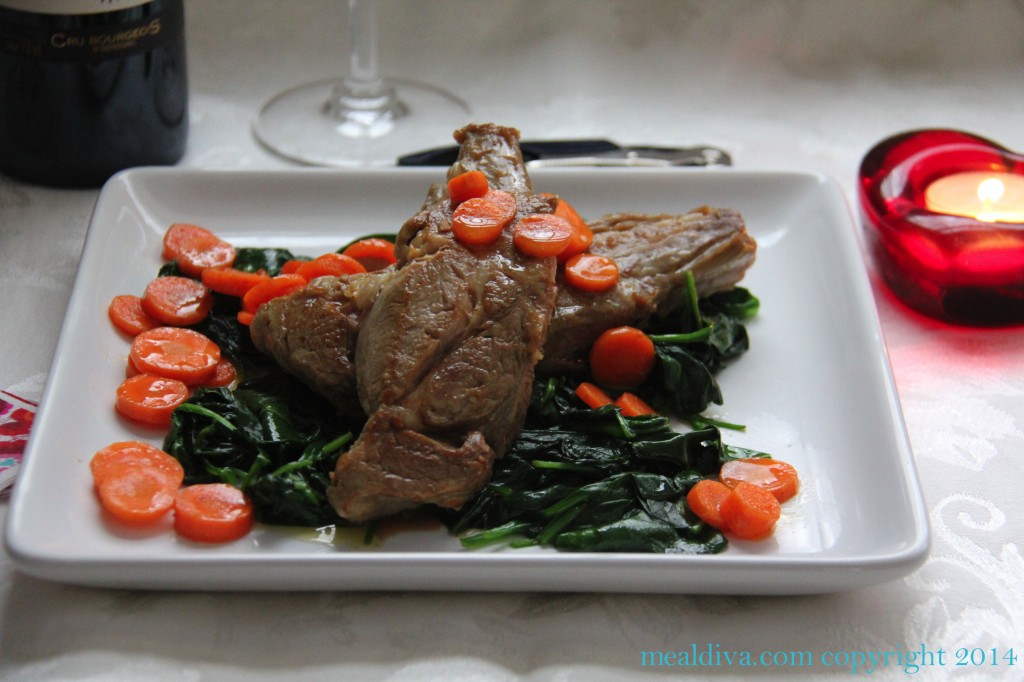 Sunday Supper with family and friends is an important time of connection. It's amazing how food brings people together. In honor of this, with Valentines Day is right around the corner, it's time to celebrate a different kind of connection — a romantic one. Go put the kids to sleep, pull out a nice bottle of wine and make some romantic, homemade Valentines Day food for two. For this #Sunday Supper, I'm serving up a dramatic, easy and downright sexy dish: Flambéed Veal Chops.
Flambé: French for "flaming" or "flamed." To Flambé means "to ignite foods that have liquor added." Simply, it's when alcohol is added to a sauté pan then set on fire with a match. The technique is used to burn off raw alcohol flavor from a dish– and it's so much fun!
Happy Valentines Day from my table to yours! I also want to thank Susan at The Girl in the Little Red Kitchen for hosting today's event! For more fantastic Valentines Day food for two, be sure to check out all of the #Sunday Supper contributors recipes linked below.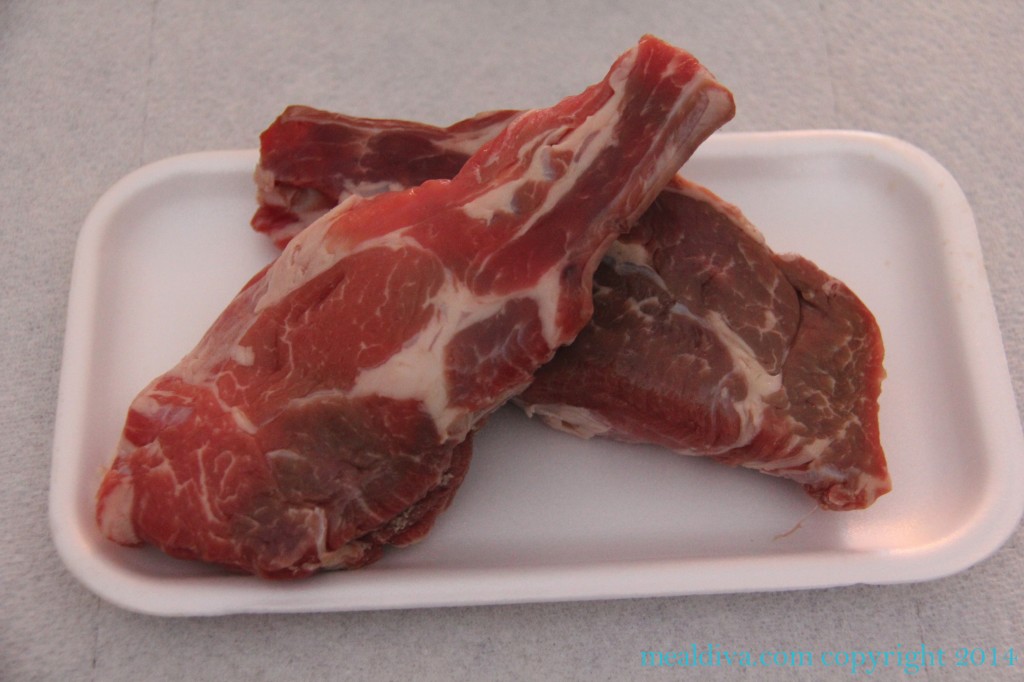 First, prepare your veal chops. Remove them from the packaging and sprinkle with a little salt and pepper.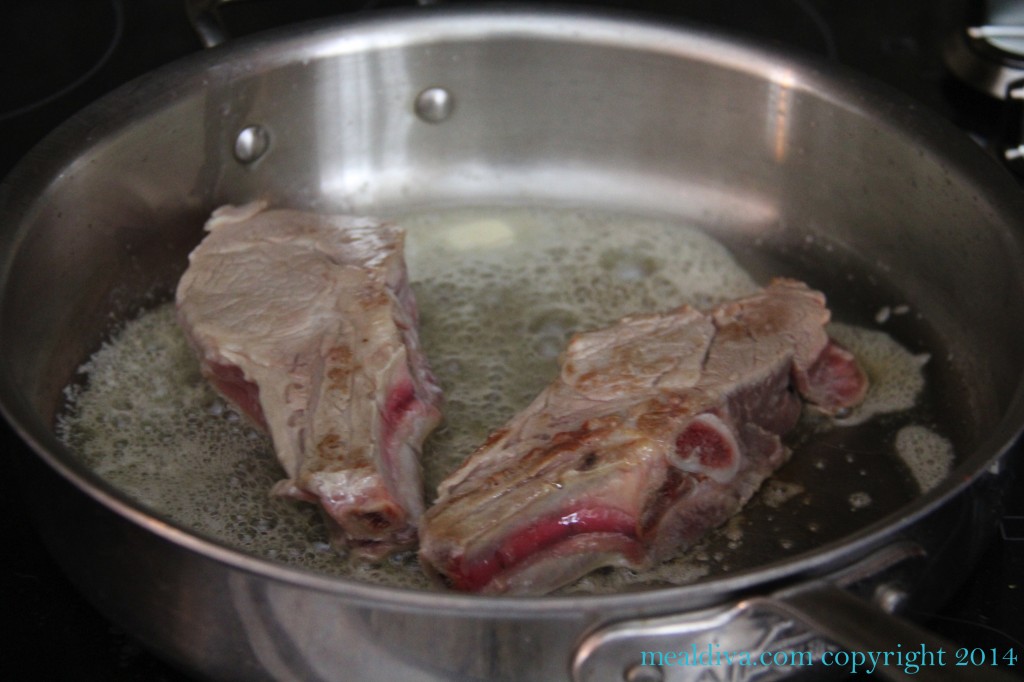 Melt butter in the pan and sauté the chops until they are well browned on both sides.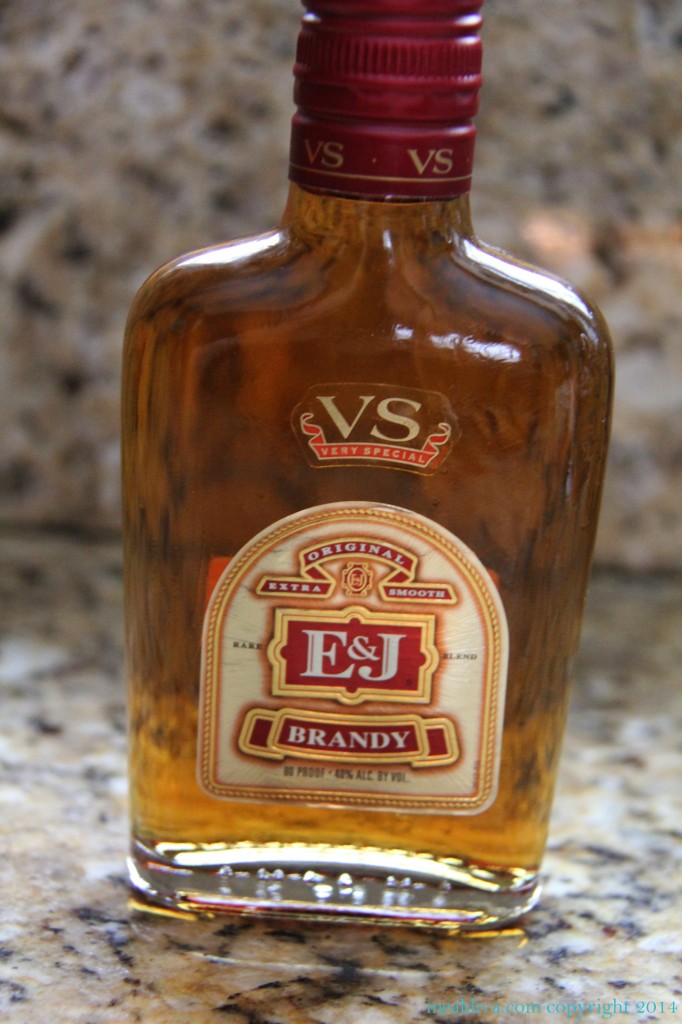 Fire time! Add the brandy to the pan and get your matches ready….I'm sorry I don't have a picture of the flames. Since this recipe only calls for 1 tbs. of brandy, the flame only burned for a few seconds.
Have you ever set your food on fire? It's fun! Seriously, you shouldn't shy away from it.
There are a few rules for flambéing:
Heat the liquor in a small saucepan before using it in your dish. Cold liquor will not ignite but you don't want to bring it to a boil either. Simply warm it before hand in a small saucepan.
Remember to use caution.
Do not carry the dish around your kitchen while it's flaming.
Keep a metal lid handy to cover the dish if your flames get out of hand.
You can light the dish at your table but you might want to practice first.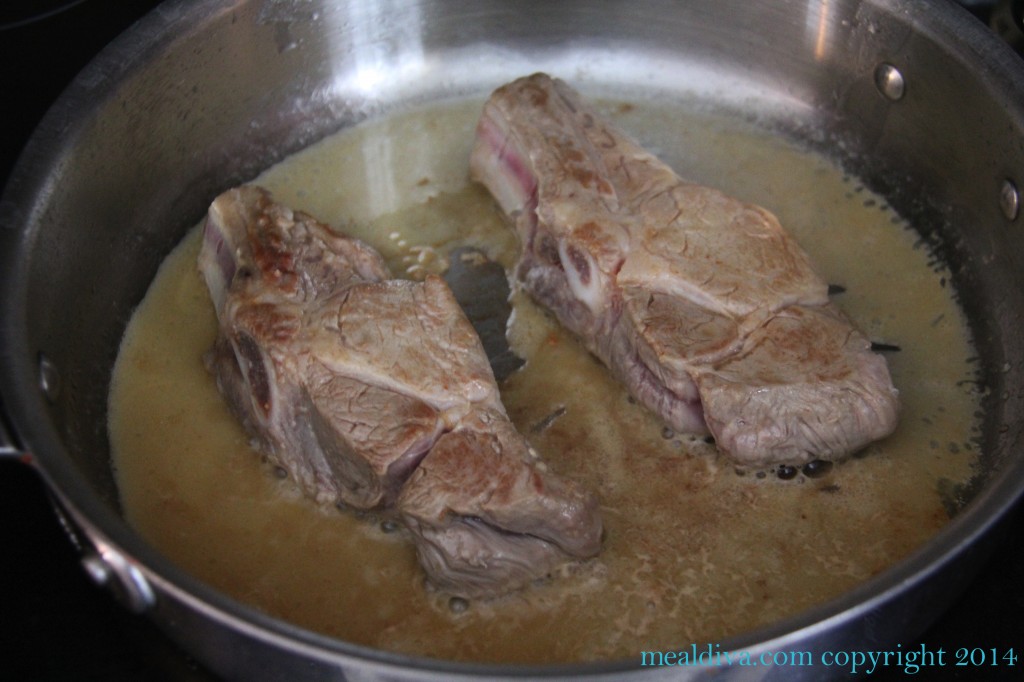 To finish the dish, add the peeled and chopped carrots to the pan and cover to cook for 30 minutes. Wait until you smell the deliciousness… oh my goodness…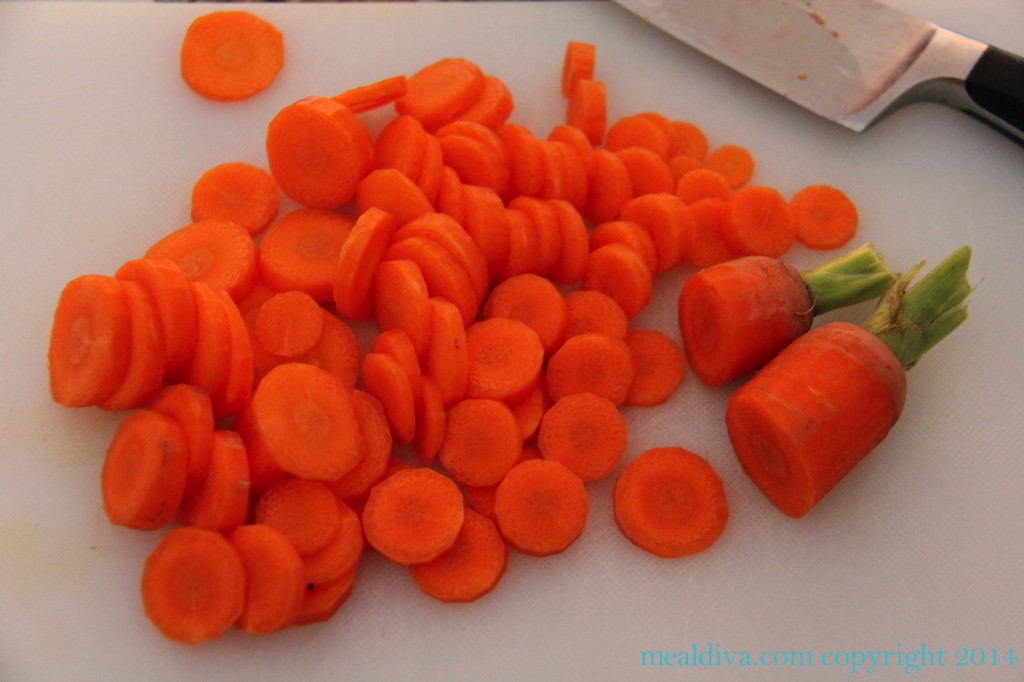 While the veal and carrots continue to cook, saute 1 bag of spinach in a little olive oil until wilted. Place cooked spinach on a platter.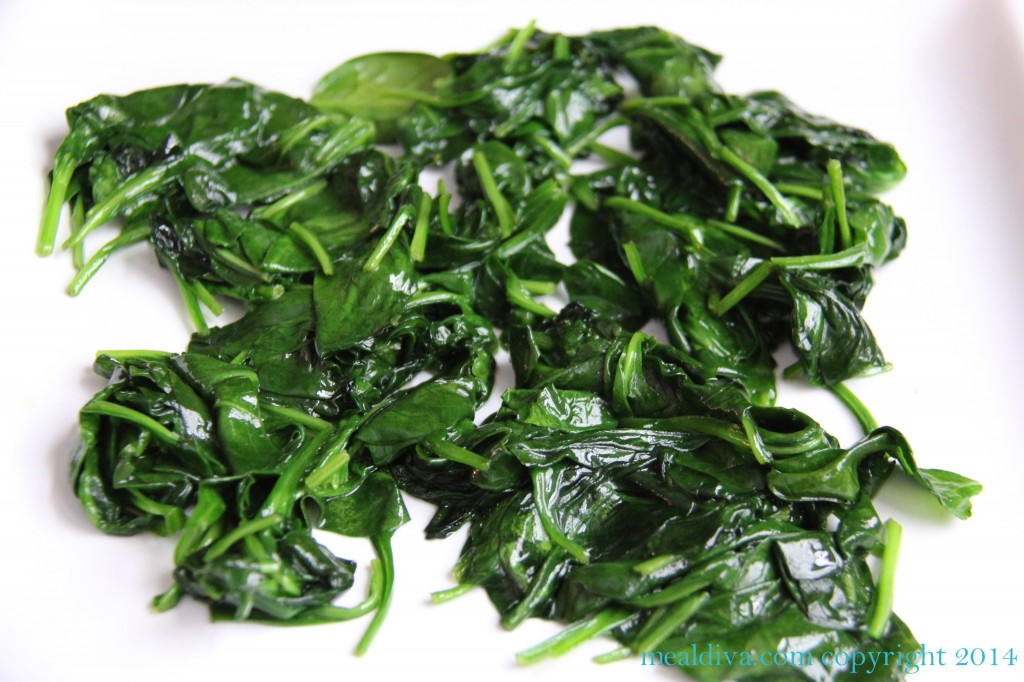 Plate the veal chops by placing them on top of the spinach. Next, spoon the carrots and remaining sauce over the chops. Serve this with a beautiful bottle of red wine and enjoy!
Flambéed Veal Chops
Ingredients:
2 Veal Chops, ½ lbs. each
2 tbs. butter
1 tbs. warmed brandy
2 carrots, peeled and sliced
Salt and pepper to taste
1 tbs. olive oil
1 bag of baby spinach
Directions:
Brown the chops in butter.
Add brandy and ignite.
Add carrots
Reduce heat to low, cover and cook for 30 minutes until the chops are tender.
In a separate pan, heat olive oil over medium-high heat and add spinach.
Saute spinach until wilted then transfer it to a serving plate or platter.
Place the chops and carrots and sauce over the spinach and enjoy!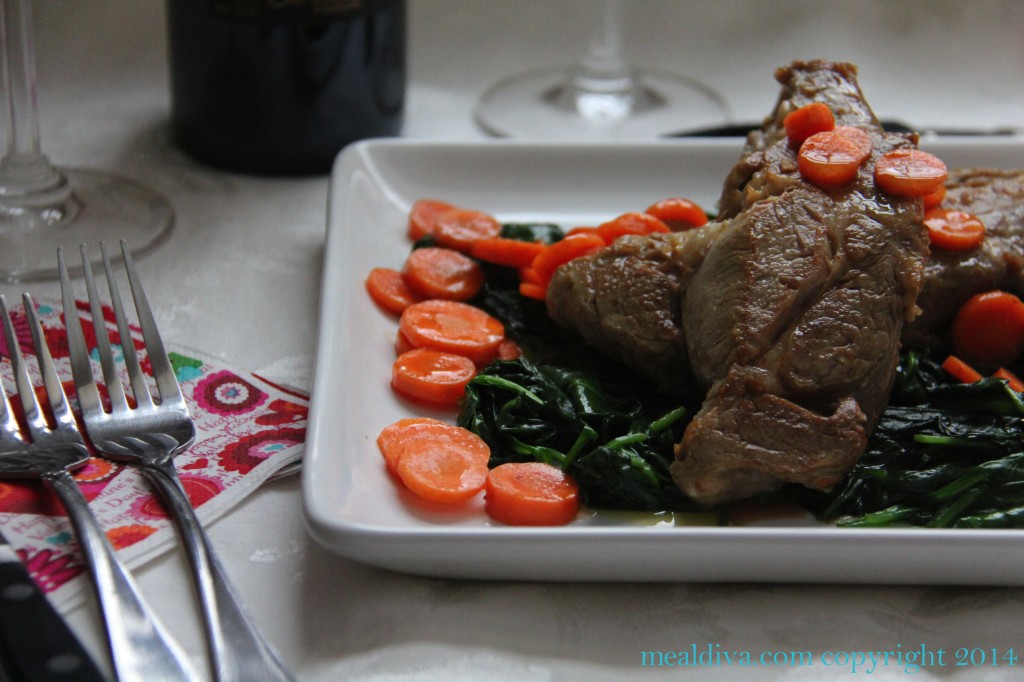 Make sure you check out all the Valentines Day deliciousness we are sharing this Sunday on #SundaySupper!
Alluring Appetizers:
Exquisite Entrees:
Decadent Desserts and Drinks:
Join the #SundaySupper conversation on twitter every Sunday! We tweet throughout the day and share recipes from all over the world. Our weekly chat starts at 7:00 pm ET. Follow the #SundaySupper hashtag and remember to include it in your tweets to join in the chat.
Check out our #SundaySupper Pinterest board for more fabulous recipes and food photos.
Would you like to join the Sunday Supper Movement? It's easy! You can sign up by clicking here: Sunday Supper Movement.