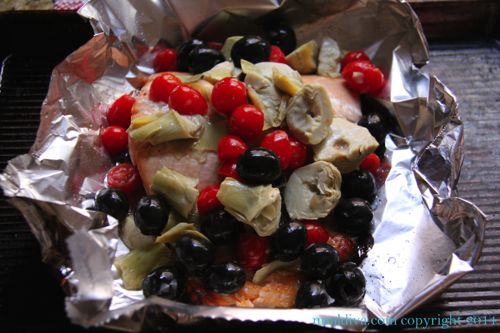 Here's an easy and amazingly simple yet delicious salmon recipe for your repertoire: Greek Salmon, Olives & Artichokes. Mmmmm, Mmmm, good!
I wanted to start today's post off by talking a little bit about salmon: Consumption of this tasty fish is increasing as our awareness grows about the health benefits of eating fish. Of all the different types of fish, salmon has received the most praise for being a nutritional marvel. Salmon is best described as anatropous; born in fresh water before spending a large portion of their lives navigating the open sea only to swim back to their birthplace in order to spawn. This extraordinary homing mechanism is said to be attributed to their memory of smell. Yes, their noses lead them back to where they were born! I don't think I could smell my way home blind-folded – could you?
It's no wonder salmon is considered "brain food."
Fish and shellfish are nutrient dense and salmon is no exception. It is an excellent source of high-quality protein, vitamins and minerals (including potassium, selenium and vitamin B12) but it is their content of omega-3 fatty acids that receives the most attention.
With that said, what's the best kind of salmon to buy? Here are 3 healthy tips to help you buy the best salmon:
The six species of North American salmon vary in price, color and taste, but all are healthy choices. The largest is the king or chinook, prized for its high fat content, rich omega-3s and buttery texture. Sockeye, an oilier fish with deep-red flesh, has a stronger flavor and stands up well to grilling. Coho is milder and often lighter in color. Pink and chum are smaller and most often used in canning or smoking.
The most common fish you will find at the market is a farmed species known as Atlantic salmon, now endangered in the wild and not a recommended choice.If possible, choose wild salmon over farmed. Groups like Seafood Watch and the Environmental Defense Fund have put nearly all farmed salmon on their "red" or "avoid" list for multiple reasons. Many farms use crowded pens where salmon are easily infected with parasites, may be treated with antibiotics and can spread disease to wild fish (one reason Alaska has banned salmon farms). Also, it can take as much as three pounds of wild fish to raise one pound of salmon. However, salmon producers are in talks with environmental groups about improving practices and a proposal is being drawn up and will be presented before Congress to set standards for aquaculture. Stay tuned….
When it comes to buying fresh salmon vs. frozen salmon, I don't think one is better for you then the other. Like frozen fruit and veggies, most fish is flash-frozen when caught to preserve it for shipping. Frozen salmon is good for up to four months, just make sure you properly defrost it overnight in the refrigerator. In addition, canned wild salmon is an excellent and economical choice. Look for BPA-free cans or, better yet, pouches.
Ok, now that I've given you some healthy salmon tips, time to check out this yummy, fast and healthy recipe!
Greek Salmon, Olives & Artichokes
Ingredients:
1 lemon, halved
4 (6oz) salmon filets, skinless
Prepare Greek Vinaigrette dressing
½ cup pitted black olives
½ cup canned artichoke hearts, roughly chopped
½ cup cherry tomatoes cut into ½
Optional: ¾ cup crumbled feta cheese for serving
Directions:
Squeeze ½ the lemon over salmon then cover with Greek dressing. Marinate in the fridge for at least 30 minutes.
In a bowl, combine the remaining ingredients (except feta cheese). Squeeze the remaining lemon half over and then add vinaigrette to taste.
Preheat oven to 375 degrees.
Place salmon on a foil lined baking sheet and top with mixed veggies.
Bake on the center rack for 15-20 minutes until the salmon flakes with a fork.
Top with feta cheese (if using) and serve.
Ready to try some more yummy  recipes? Be sure to sign up for my newsfeed to have delicious recipes delivered right to your in box. Also be sure to check out my Quick & Easy Salmon recipe, Baked Salmon with Honey-Mustard Sauce recipe & Easy Salmon in White Wine Sauce recipe!
Happy Cooking! XO