A Martha Stewart recipe that I stumbled upon last year inspired this salmon recipe. In fact, I'm always searching for great fish-meal- inspirations as the MealDiva house is a fish lover's.Salmon is Peanut's favorite food. If she had it her way, she'd eat raw salmon sashimi or baked salmon at least 5 nights a week. Unfortunately, if that was the case, there would be mutiny in the kitchen as my other 2 kids like meatballs and chicken more. What's your kid's favorite dinner?
I like to glaze salmon with a variety of toppings from brown sugar to capers to wine. Today, it's all about using dry white wine and butter–when simmered together, these two ingredients create a mouth watering flavor combination that you will not be able to get enough of. Serve this over a little brown rice (be sure to spoon extra sauce over top) and with some string beans or cabbage and make it a healthy, wonderful, MealDiva Approved dinner!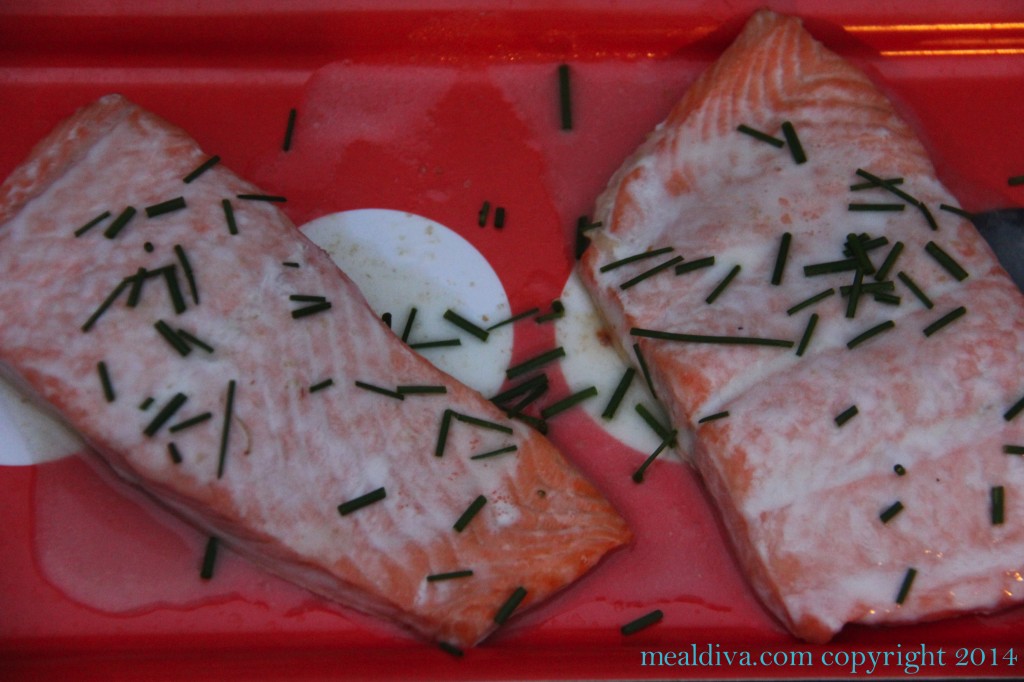 Easy Salmon in White Wine Sauce
Ingredients:
4 (4-6 oz) salmon filets
Sea salt and pepper
2 tbs. butter
2 tsp. whole-wheat flour
1 cup dry white wine
2 tbs. chives
Directions:
Preheat oven to 450 degrees.
Place salmon on a rimmed baking sheet and season with salt and pepper.
Roast until cooked throughout, about 15 minutes.
Meanwhile, in a small saucepan, melt butter over medium.
Add flour, and cook, whisking, 1 minute.
Add wine, and bring to a boil
Reduce heat to a simmer, and cook until liquid is reduced by half, about 8 to 10 minutes.
Stir in chives and season with a little more salt and pepper.
With a fork, gently break salmon into large chunks, and serve topped with white-wine sauce.