Enchilada Stuffed Poblano Peppers are the bomb, easy to make and really are crave-worthy. Truth be told, I can't get enough of  this stuffed pepper recipe this time of year. The poblano's are in season, so are the tomatoes and eggplant and onions. It's like a farmers harvest stuffed into a spicy little nugget of deliciousness.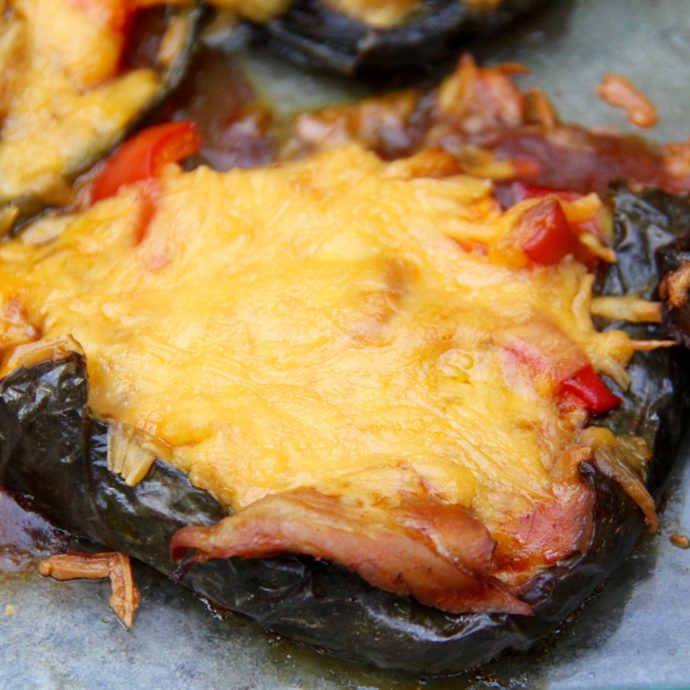 I think poblano peppers are my favorite pepper. They are perfect for roasting because it brings out the fruitier flavor of the pepper and eases in removing the skin ( which can be tough and difficult for some people to digest).
Do you love Poblano's like me? If so, be sure to check out my recipe for Rice and Beans Stuffed Poblano Peppers as well! You taste buds will thank you!
You can serve this up as a football Sunday appetizer or make a Mexican Salad and some Easy Spanish Rice as side for dinner! Enjoy!
Check out the recipe:
Enchilada Stuffed Poblano Peppers
Ingredients:
6-8 poblano peppers, cut in half and seeded
1 rotisserie chicken breast ( or leftover cooked chicken) shredded
1 small eggplant, diced
1 tomato, seeded and diced
1 jalapeno pepper, seeded and chopped
½ red bell pepper, seeded and chopped
1 cup enchilada sauce (or more)
1 cup Mexican blend cheese + more to sprinkle
Directions:
Preheat oven to 400 degrees and bake the poblano peppers until soft, about 30 minutes. Remove peppers and set a aside to cool.
In large bowl, combine the rotisserie chicken, eggplant, tomato, jalapeno, red bell pepper, enchilada sauce, and cheese and stir well to mix.
Remove skin from poblano peppers
Place a scoop of chicken filling onto each poblano pepper half.
Sprinkle with more cheese and bake at 375 degrees F. for 15-20 minutes or until it is heated through and the cheese is melted.
If you like your cheese extra crispy, broil for 1-2 minutes at the end of cooking time.