This week's #SundaySupper is being hosted by Kimchimom and it's all about little bites of mouth-watering bliss that have been stuffed, rolled or wrapped. Don't you just love eating eating "stuffed" food? Every bite tastes a little different and I tend to over indulge a little. That is why, today, I'm serving up a healthy twist on Eggplant Rollatini.
This is not your typical Italian Style Eggplant Rollatini—I didn't use any cheese or breadcrumbs –but trust me, it's yummy! ! Instead, I used brown rice and vegetables. I love this recipe because it reminds me of one of my favorite comfort foods and it's super healthy. This recipe is derived from the Forks Over Knives Cookbook  and is exactly the kind of thing I could eat every night of week and never get enough.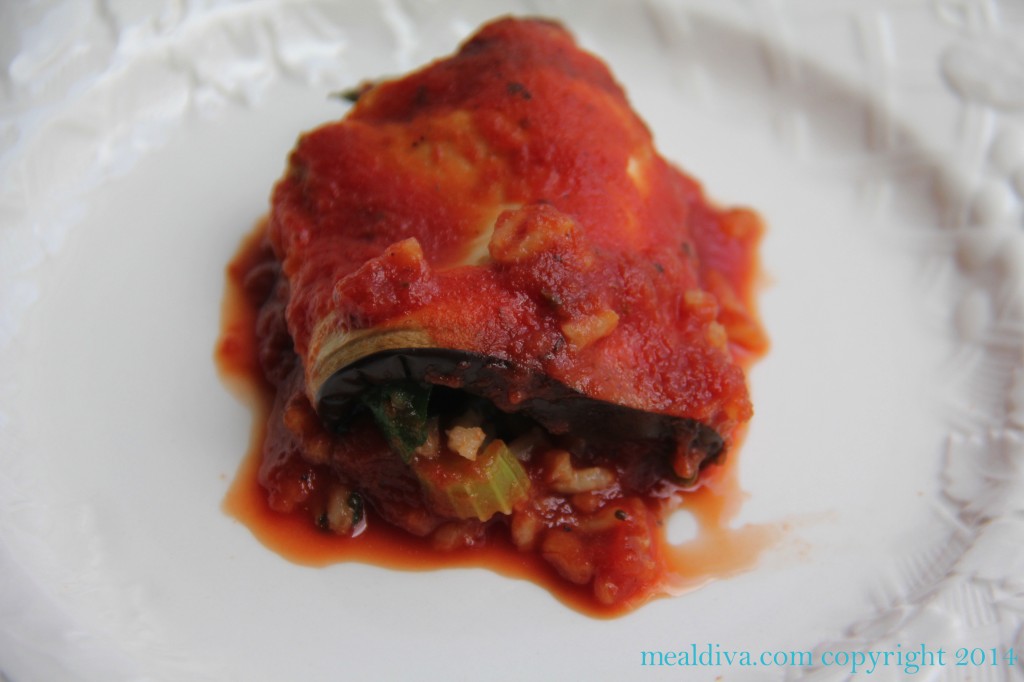 You might want to consider doubling up the recipe because these go fast!
Now lets get down to business:
Start by slicing the eggplant. There is something about eggplant that I just love…it's just one of those vegetables that I get excited about eating!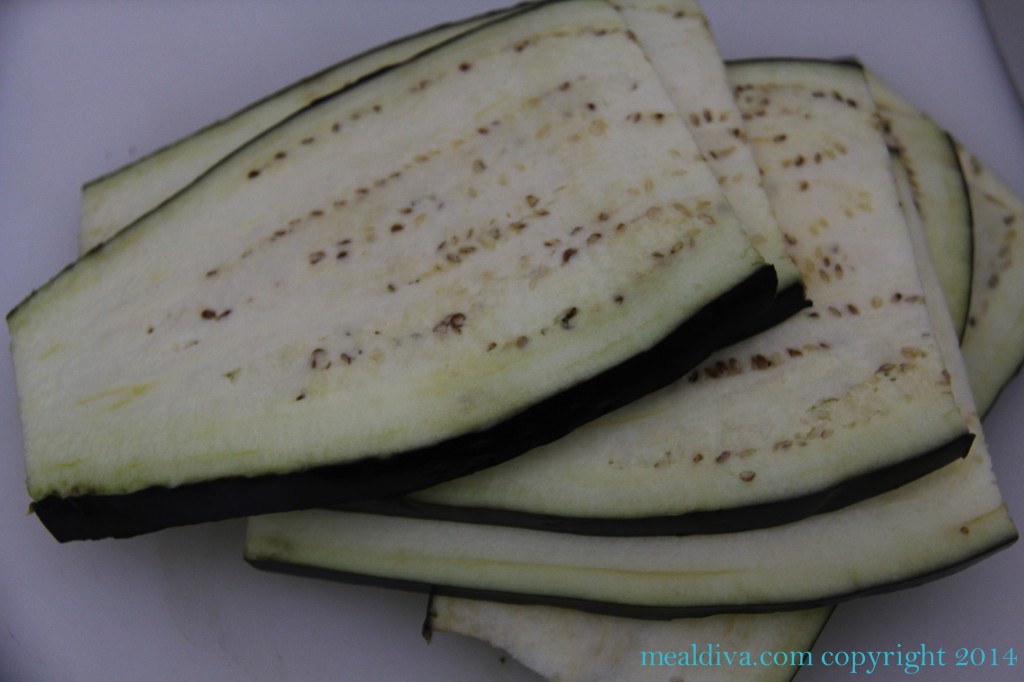 Next, combine the garlic and soy sauce to make your eggplant's marinade. Garlic and soy sauce just belong together — a match made in heaven. Once the marinade is well combined, brush it onto both side of the eggplant slices. Really get the sauce on there — yummy!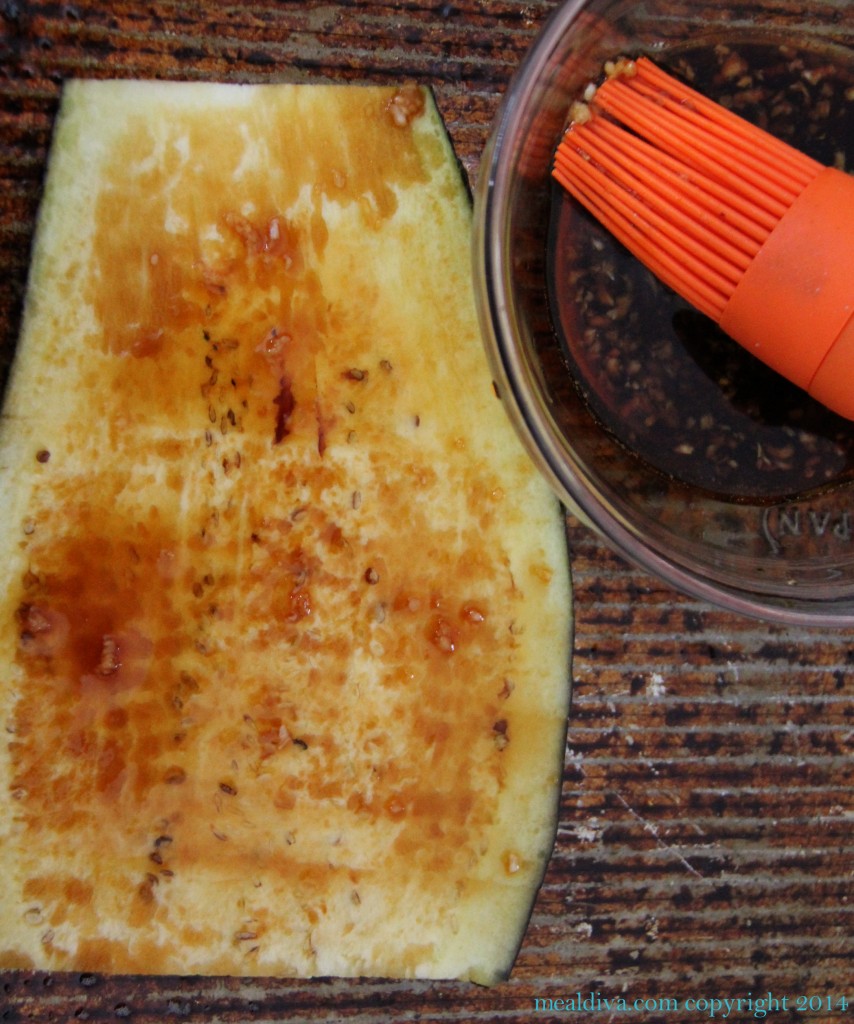 Pop the eggplant slices into the oven for 12 minutes. While they are baking, get your stuffing ingredients into a pan and sauté. Isn't this spinach beautiful? I really love cooked spinach!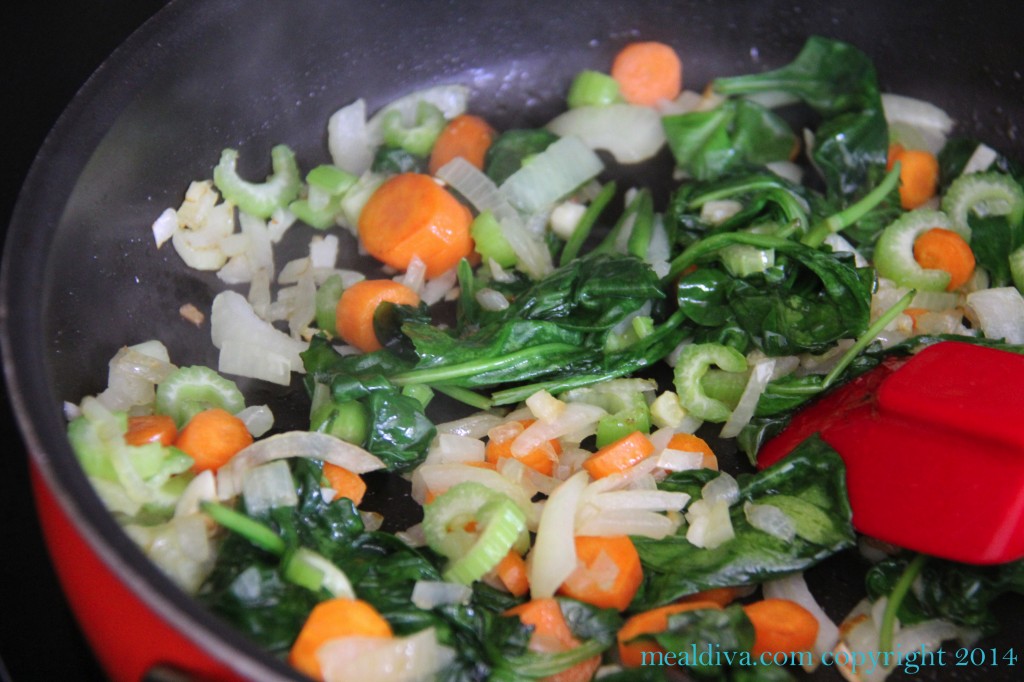 Next add the rice ( I used a microwavable bag to save time). Sauté it all together… wait until you smell this cooking… Mmmmmmm…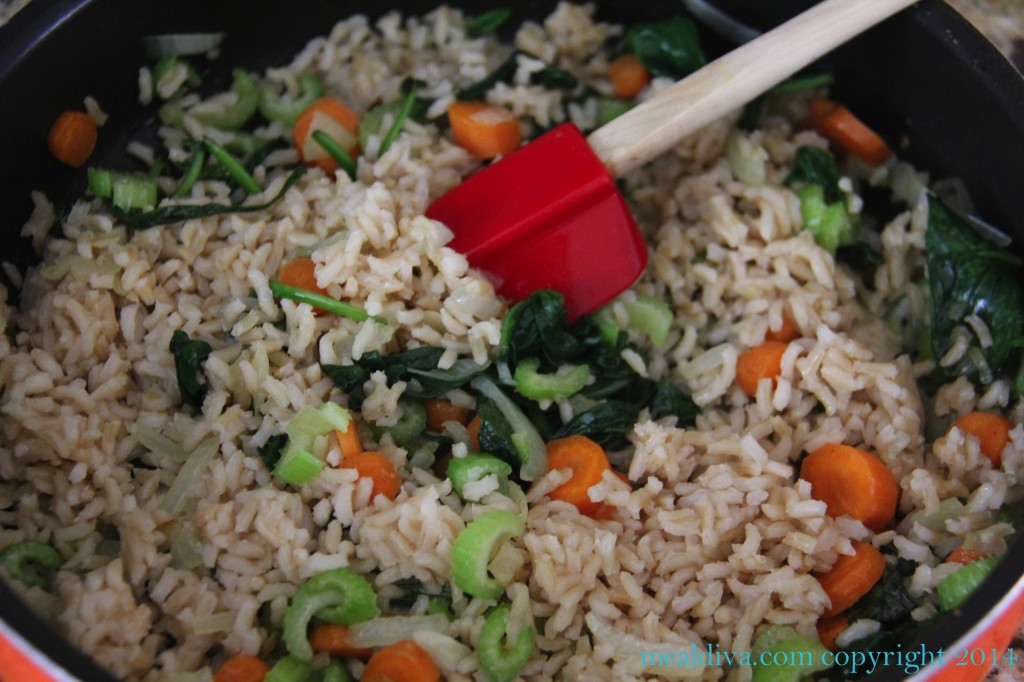 Time to put it all together: Cover a baking dish with 1/2 of the canned tomato sauce.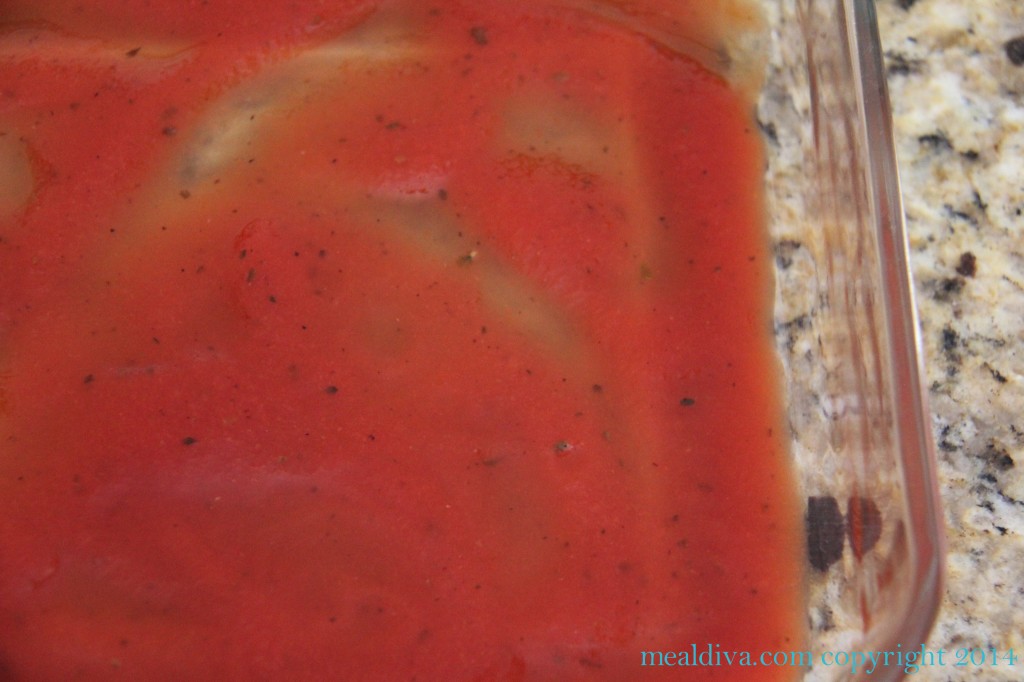 It was impossible to photograph the process ( stuffing and rolling eggplant with one hand on the camera proved to be impossible). To stuff the eggplant, simply layer 1/4 cup of the rice mixture onto one end of the eggplant slice and roll. It's Just like making a wrap sandwich. Once it's rolled together, place it seam- side down in the baking pan.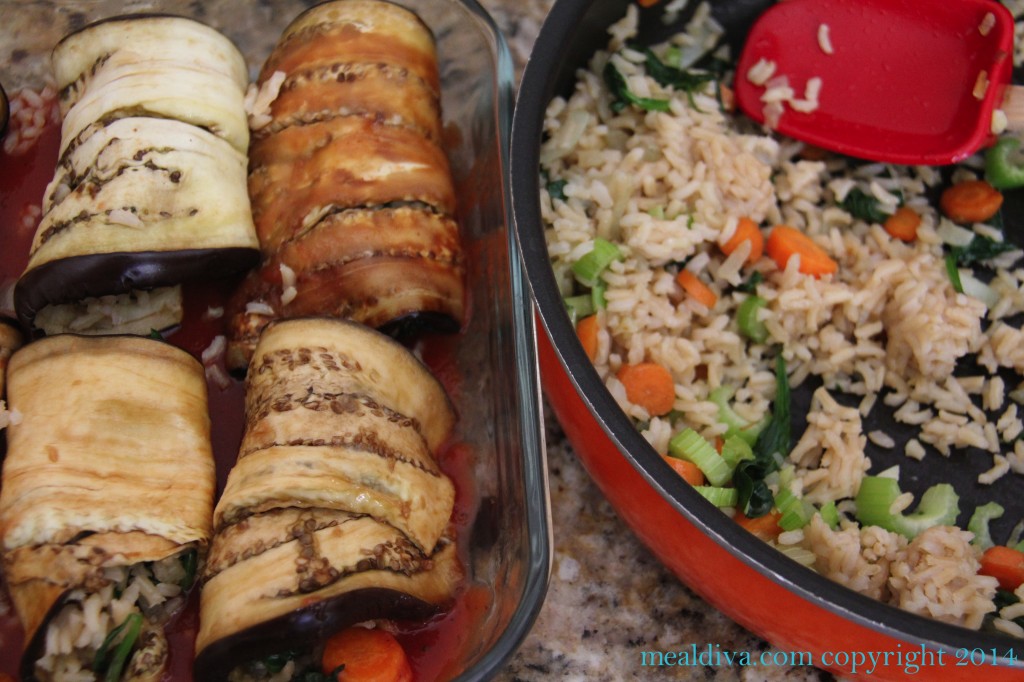 To finish, cover the rolled eggplant in the remaining tomato sauce and pop it in a 350 degree oven for 20 minutes or until it's nice and bubbly.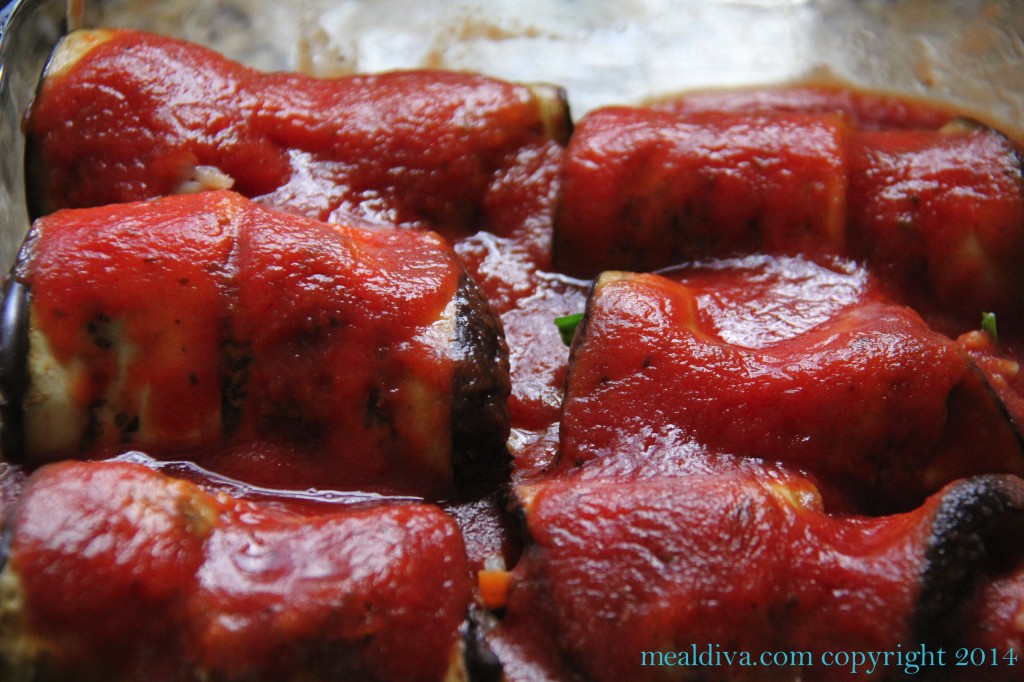 If the smell of this Eggplant Rollatini doesn't bring your family to the kitchen in search of dinner, I'll fall off my chair: there is nothing better then eggplant, garlic, onions, rice and tomato sauce all rolled together. Did I say "yummy" yet?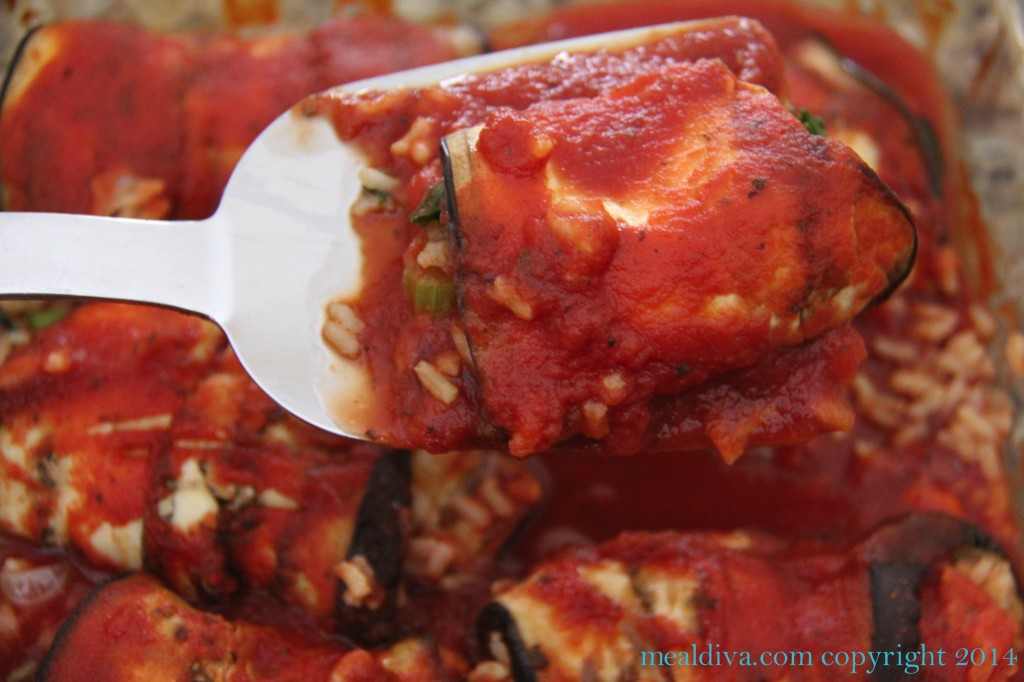 Trust me when I say that this is an awesome, whole-foods dinner! Enjoy your #SundaySupper!
Eggplant Rollatini
Ingredients:
5 garlic cloves, 4 peeled diced or crushed and one peeled and diced
3 tbs. soy sauce
1 large eggplant, sliced
1 cup cooked brown rice
2 tbs. olive oil
Sea salt and pepper
1 yellow onion, peeled and roughly chopped
2 celery stalks, chopped
1 carrot, chopped
1 package fresh spinach, washed
Small handful of fresh basil, leaves town
1 (14 oz) can tomato sauce with Italian Seasoning
Directions:
Preheat oven to 350
Cook rice according to package directions.
In a small bowl, mash the 4 garlic cloves together with the soy sauce to make a marinade
Lay eggplant slices down on a baking sheet and brush with marinade.
Bake for 12 minutes or until the eggplant is tender and then remove from the oven to cool.
In a large skillet over medium heat, add olive oil and onions and sauté for 3 minutes.
Add celery and carrots and remaining garlic, sauté for 5 minutes then add the spinach.
Once the spinach is wilted, add the rice to the pan and sauté for 3 minutes.
Season with salt and pepper to taste and mix well.
Spray a large baking pan with cooking spray and then spread ½ the tomato sauce in the bottom.
Divide rice mixture between eggplant slices and roll.
Place eggplant rolls seam down in the pan.
Cover with remaining tomato sauce and bake, covered for 20 minutes.
For some more fantastic stuffed, wrapped and rolled #SundaySupper meals, be sure to check out these other yummy recipes:
Starters and Snacks
Entrees and Mains

All things Sweet
Join the #SundaySupper conversation on twitter on Sunday! We tweet throughout the day and share recipes from all over the world. Our weekly chat starts at 7:00 pm ET. Follow the #SundaySupper hashtag and remember to include it in your tweets to join in the chat. Check out our #SundaySupper Pinterest board for more fabulous recipes and food photos.
Would you like to join the Sunday Supper Movement? It's easy! You can sign up by clicking here: Sunday Supper Movement