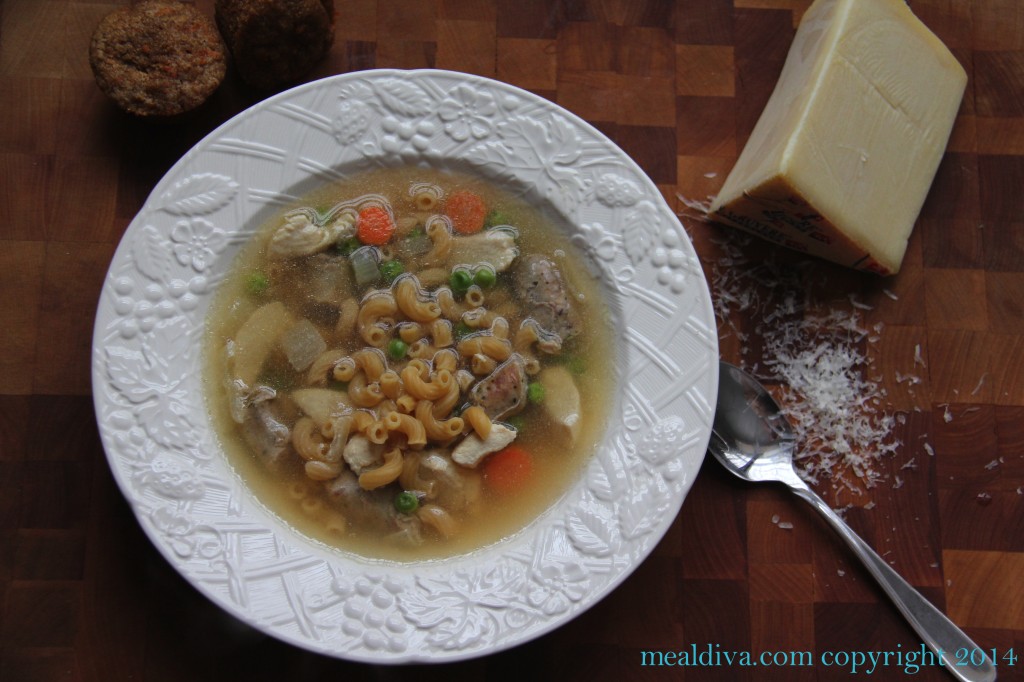 This Sausage and Chicken Soup recipe is just great food: It's hearty, it's flavorful and it's simply delicious- need any more reasons to make it? I used sweet Italian Sausage from butcher but the packaged kind from the super market works well too (I find that almost any type of meat tastes good when it's tossed in a soup).
To make this extra tasty, I served it topped with Gruyere cheese (my favorite) and some carrot muffins.
Easy Peasy Sausage and Chicken Soup
Ingredients:
2 tbs. olive oil
1 package sweet Italian sausages (about 1 lbs.) cut into pieces
1 medium onion peeled and chopped.
3 garlic cloves, peeled and chopped
1 rotisserie chicken, meat shredded or chopped into chunks.
2 medium carrots, chopped
2 medium celery stalks, chopped
6 cups chicken stock
½ tsp. dried Italian seasoning
1 bay leaf
1-2 cups pasta noodles of choice (I used rice pasta)
A pinch of sea salt to taste
A pinch of black pepper to taste
1 cup frozen pas, defrosted
Gruyere cheese, grated
Directions:
In a large Dutch oven or soup pot, heat olive oil over medium-high heat.
Add the sausage pieces and cook, stirring often for 7 minutes. Once cooked, remove the sausages to a paper-towel lined plate to drain.
Add onion to the pot and cook for 3 minutes, stirring often.
Add garlic and sauté for 1 minute then add carrots and celery and sauté for 5 minutes.
Add chicken stock, shredded chicken, sausage, seasoning and bay leaf. Bring soup to a boil then reduce heat to a simmer for 15 minutes.
Add salt and pepper to taste.
Add pasta to the pot and simmer for 10 minutes then add the peas and simmer until the pasta is cooked to al -dente.
Remove bay leaf and serve soup topped with a handful of Gruyere cheese and enjoy!