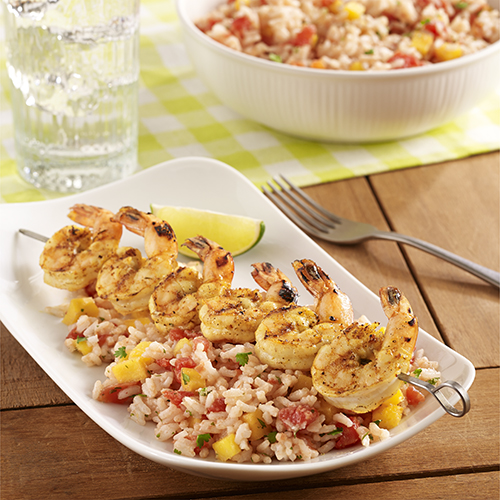 This recipe is from Julie, a recipe developer who writes recipes for Hunt's! Not only is her recipe gorgeous, healthy and delicious but it features an ingredient that you will not find on MealDiva: Shrimp! Shrimp is a favorite of mine but my daughter has life threatening shellfish allergies and sadly, I can no longer cook it in my house. So thank you Julie!
Julie writes:
I love seafood. It's easily my favorite food group. Unfortunately, I live deep in the Midwest and fresh seafood is quite hard to come by at a reasonable price. Shrimp is the only option that really fits into my weekly grocery budget (aside from the occasional tilapia) so I've taken up a hobby in experimenting with new shrimp recipes. Shrimp is so versatile and so perfect for the summer grilling season!
This recipe is new to my household, but is already a favorite. My husband and son both asked for seconds, which I consider to be a great accomplishment. The seasoning on the shrimp is heavy with curry, but I urge you to try out some seasoning variations that fit for your family. For instance, next time I make this shrimp I'll probably decrease the curry powder and add a small bit of cumin.
This dish is so incredibly flavorful between the spices, herbs, and fruit, that you probably won't have any leftovers. Though, if you do have leftovers, I've found that the rice keeps pretty well overnight.
Curry Shrimp Kabobs with Mango Rice
Ingredients:
1 cup long-grain rice, uncooked (white or brown rice would work)
1-1/4 cups water
3/4 cup reduced fat coconut milk
1/4 teaspoon salt
1 can (14.5oz) Hunt's Petite Diced Tomatoes, drained
3/4 cup chopped fresh mango
2 tablespoons chopped fresh cilantro
1 pound peeled and deveined large shrimp (26/33 count) with tail, thawed if frozen
1 tablespoon canola oil (or olive oil)
3/4 teaspoon curry powder
Lime wedges, optional
Directions
Spray cold grate of gas grill with grilling spray and preheat for medium heat.
Stir together rice, water, coconut milk and salt in medium saucepan. Bring to a boil. Cover, reduce heat and simmer 15 to 20 minutes or until liquid is absorbed and rice is tender. Stir in drained tomatoes, mango and cilantro.
Meanwhile, toss shrimp with oil and curry powder in large bowl; set aside. When rice is done, thread shrimp evenly onto metal skewers. Grill shrimp 2 to 3 minutes on each side or just until shrimp turn pink. Serve shrimp and rice with lime wedges, if desired.
Note
If using bamboo skewers, soak them in water for at least 15 minutes, but preferably longer, so they do not catch fire on the grill.
Try out this great summer meal and let us know how it turns out in the comments section. If you make any alterations to the recipe, particularly the seasoning, share the insight.
About the Author
Julie S. is a Midwestern mom from Chicago, IL. She wishes every day was 80° and sunny. This summer you'll see her cheering for several little league and junior swim teams. She writes recipes on behalf of Hunt's. Check out the Hunt's website for great tomato recipes and summer grilling recipes for your next family dinner.