Welcome to my final fall #CrockpotThursday post ( for this year anyway)! Let me know if you enjoyed my crockpot tips and all of the other wonderful recipes that I shared. Did you have a favorite?
For this recipe, you don't have to sear the meat unless you want to – it adds a richer taste to the meal.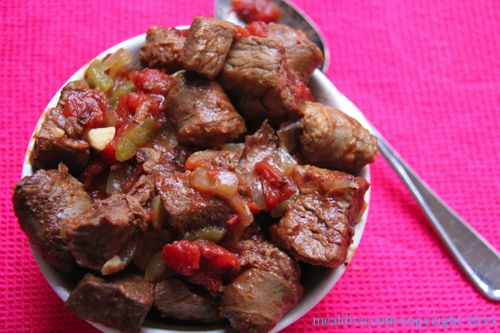 Enough said, lets start cooking! Enjoy!
Crockpot Hungry Man Stew
Ingredients:
1 lbs. beef stew meat
1 lbs. sweet Italian sausage, cut into bite sized pieces
1 yellow onion, sliced
2 cloves of garlic, diced
A pinch of salt and a sprinkle of pepper
1 (24oz) can diced tomatoes
1 (6 oz) can diced chilies
½ tsp. chili powder
½ tsp. Worcestershire sauce
Directions:
In a frying pan, brown the meat with the onion.
Drain the meat and pour into a greased crockpot.
Add remaining ingredients and cover and cook for 6-8 hours until the meat is done.