Last weeks Crockpot Thursday was a success! Thank you to everyone who came to check it out!
Now onto this week's BBQ Beef Brisket recipe:
Have a hankering for some BBQ but don't have the time to slow cook it in the oven? Then this Crockpot beef brisket recipe is the answer to your prayers!
Seriously.
And it's easy.
Don't you love an easy recipe that turns out amazing every time? Despite the fact that this is my second time blogging about BBQ Crockpot Brisket, I don't make it often but every time I do, I fall in love with it a little more. This brisket is so tender and delicious  – sweet, flavorful and yummy.
To make this a MealDiva Approved meal, serve it with a simple side of corn or string beans! Enjoy!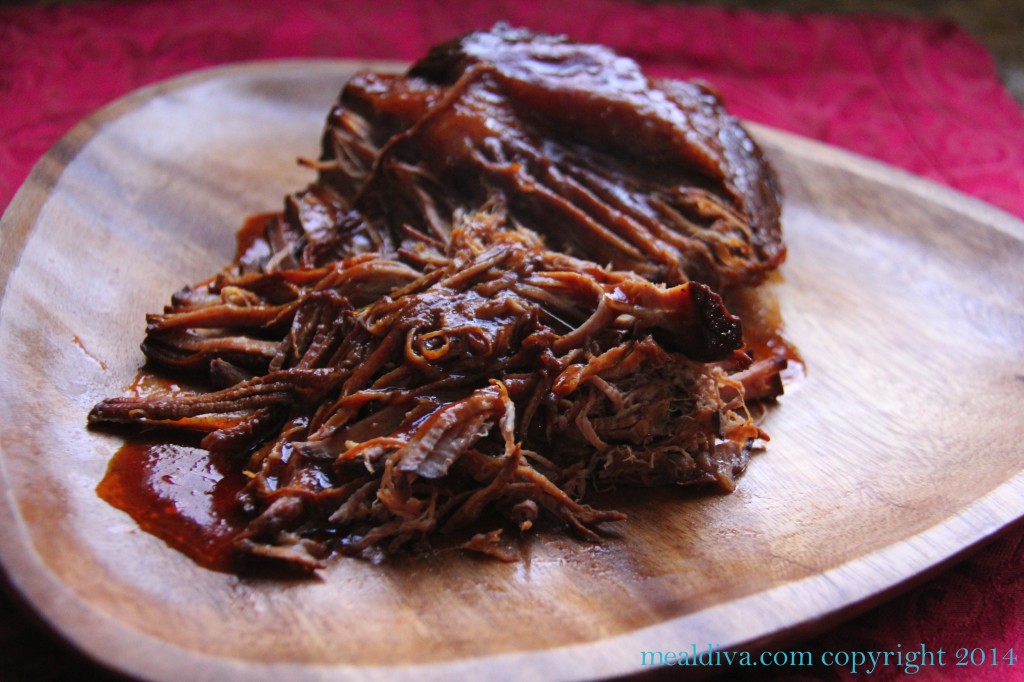 Crockpot BBQ Beef Brisket
Ingredients:
3 ½ lbs. beef brisket, trimmed
1 onion, peeled and sliced
1-cup barbeque sauce
¼ cup soy sauce
½ tbs. cornstarch
1 tbs. water
Directions:
Place onion slices in the bottom of the Crockpot.
Lay the brisket on top.
In a small bowl, combine the soy sauce and barbeque sauce then pour the mixture over the beef.
Set it on low for 6-8 hours.
To test if it's done, use two forks to pull it apart. If it comes apart easily (and I mean EASILY) it's done.
When done, remove the brisket from the Crockpot and shred with a fork then pour the sauce from the Crockpot into a saucepan.
Trim the fat off of the top
In a small bowl, whisk together the cornstarch and water until smooth.
Pour the cornstarch into the saucepan and simmer for 10 minutes.
Pour the sauce over the brisket and serve.