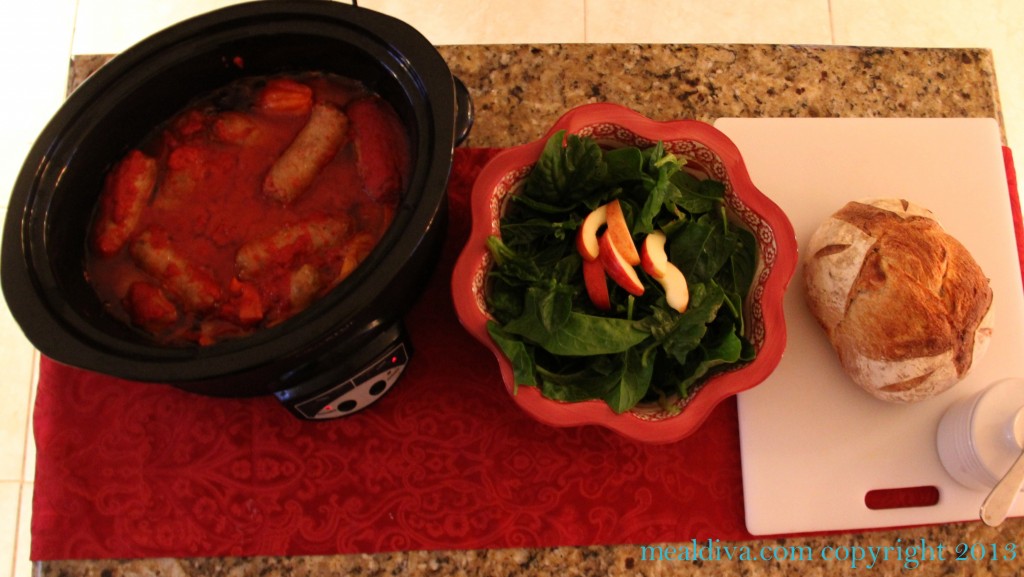 Connect with your family over Sunday dinner. This Sunday, I decided to make comfort food that was easy to prepare and simply delicious.
The Menu:
Appetizer: Phyllo Wrapped Asparagus (recipe is on link below and ingredients are on the shopping list)
Sausage and Peppers
Apple and Spinach Salad
Fresh Bread: Pick it up from your local bakery. Mine is from Christie's in Clinton, NJ
Beer pairing suggestion: LAGUNITAS HOP STOOPID ALE from Bourbon Liquors in Califon, NJ
Dessert: Dark Chocolate Brownies
Phyllo-Prosciutto-Wrapped Asparagus
Crockpot Sausage and Peppers
Ingredients:
1 family-sized package of Sweet Italian Sausages
2 bell peppers, sliced into strips
2 yellow onions, sliced into strips
1 (24oz) can diced tomatoes with Italian seasonings
1 (6oz) can tomato paste
Optional: 2 cloves of garlic smashed
Directions:
In a large skillet, brown the sausages for 5 minutes. This seals in the juice.
Add peppers and onion to the Crockpot followed by the sausages.
Pour can of diced tomatoes and tomato paste over top. If using garlic, add it as well.
Turn Crockpot on and cook on high for 3 hours or on low for 8 hours.
Note: this sausages can be prepared and frozen ahead. See below for freezer meal instructions!
Apple and Spinach Salad
Ingredients:
2 tbs. olive oil
1 tbs. cider vinegar
1 tsp. Dijon mustard
Salt and freshly ground pepper
5 ounces baby spinach leaves (about 5 cups lightly packed)
1 Gala apple
Directions
In a small bowl whisk together the oil, vinegar and mustard
Season with salt and pepper to taste
Toss the spinach with the dressing until evenly coated then divide the spinach among 4 serving plates
Core the apple and slice it into matchsticks. Sprinkle a quarter of the apple pieces on top of each salad
Dark Chocolate Brownies – derived from Alton Brown
Ingredients:
4 eggs
1 cup sugar
1 cup brown sugar
1 stick melted butter
11/4 cups cocoa, sifted
2 tsp. vanilla extract
1/2 cup unbleached flour
1/2 tsp. kosher salt
½ cup dark chocolate chips
Cooking Spray
Directions:
Preheat the oven to 300 degrees F. Spray a 8 inch square pan with non-stick spray.
In a mixer fitted with a whisk attachment, beat the eggs at medium speed until fluffy and light yellow. Add both sugars. Add remaining ingredients, and mix to combine.
Pour the batter into a greased and floured 8-inch square pan and bake for 45 minutes. When it's done, remove to a rack to cool.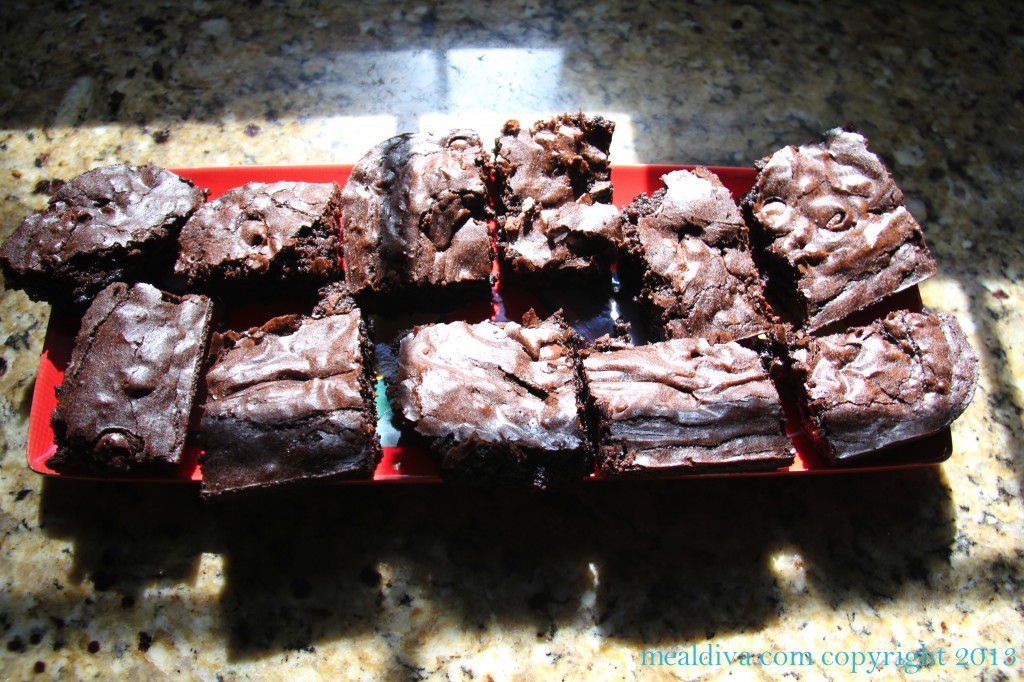 The Shopping List: 
 Liquor
Beer: LAGUNITAS HOP STOOPED ALE: Sold at Bourbon Liquors, Califon, NJ
Grocery:
2 bell peppers (choice of colors)
2 yellow onion
1 Gala apple
5 cups baby spinach
24 asparagus spears
 Meat:
1 family size package of sweet Italian sausages
4 oz thinly sliced prosciutto
 Aisle Items:
1 (24oz) can tomatoes with Italian seasoning
Cider vinegar
 Dijon mustard
Olive oil
Brown sugar
White sugar
Cocoa
Vanilla extract
Unbleached flour
Kosher salt
Dark chocolate chips
Cooking spray
 Dairy:
 Bakery:
Frozen: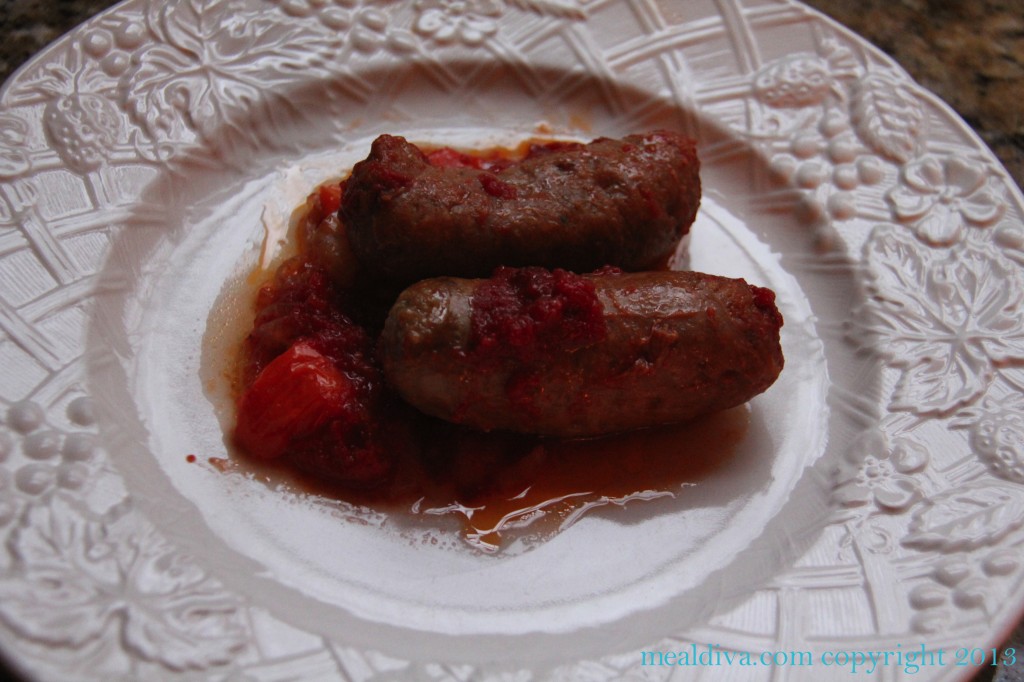 Freezer Meal Crockpot Sausages & Peppers:
Directions for freezing:
1 Mix all the ingredients in a  large zip-lock  bag and freeze.
Ingredients for day of cooking:
1 Defrost in the refrigerator overnight.
2 Place in Crockpot and cook on low for 6-8 hours.
If you like this Sunday Night Dinner idea, be sure to check out Sunday Night Dinner: Italian Inspired as well