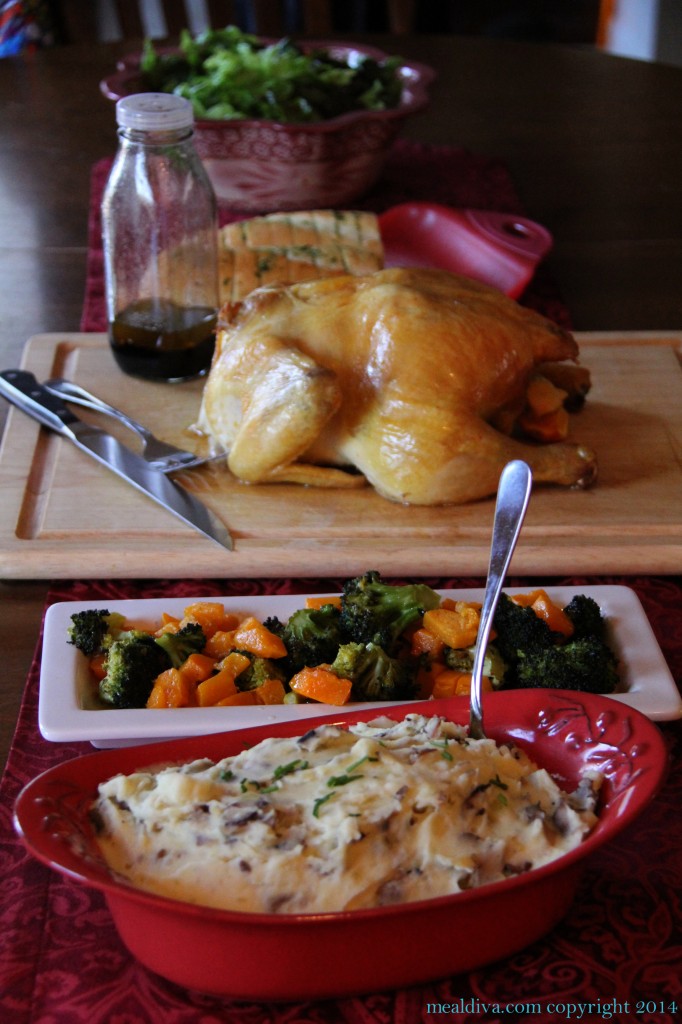 "Come and get it!" This sentence might mean dinnertime, but when was the last time your family sat down and enjoyed a meal together? With music lessons, sports practice, play rehearsal, and work schedules, it can be tough. Rounding up the troops for an evening meal can be almost impossible! However, research is beginning to show that eating as a family has great benefits for your children and teenagers. Why not try and make it happen at least once a week – Sunday is the perfect day!
This month's Sunday Night Dinner with MealDiva is a a delicious chicken with all the fixings and Lemon Bars for dessert. Yum. To take the planning work out of it, I included a grocery-shopping list. Please give this a try and if you do, please, please, please — leave a comment below and let me know how it went! Happy Cooking!
The Menu
Appetizer: Bacon Wrapped Water Chestnuts (click here for directions)
Citrus Roasted Chicken
Mashed Potatoes with Skillet Mushrooms
Roasted Butternut Squash and Broccoli
Salad with Balsamic and Honey Dressing
Garlic Bread
Dessert: Lemon Bars
Wine Pairing Suggestion
The recipes:
Citrus Roasted Chicken
Finger-lickin' good. Wait until you smell this cooking away – delicious!
Ingredients:
1 (5 to 6 pound) roasting chicken
Kosher salt
Freshly ground black pepper
1 orange, quartered
2 lemons: 1 quartered and the other sliced into 4 equal, flat parts (these pieces will be used to hold the chicken up in the roasting pan).
Olive oil
Directions:
Preheat the oven to 425 degrees F.
Remove the chicken giblets. Rinse the chicken inside and out.
Remove any excess fat and pat the outside dry.
Liberally rub olive oil all over the outside of the chicken then salt and pepper the inside.
Stuff the cavity with the oranges and lemon quarters.
Tie the legs together with kitchen string and tuck the wing tips under the body of the chicken.
Lay 4 lemon slices on the bottom of roasting pan and place chicken on top.
Roast the chicken for 1 1/2 hours, or until the juices run clear when you cut between a leg and thigh.
Remove the chicken to a platter and cover with aluminum foil for 20 minutes.
Slice the chicken and serve.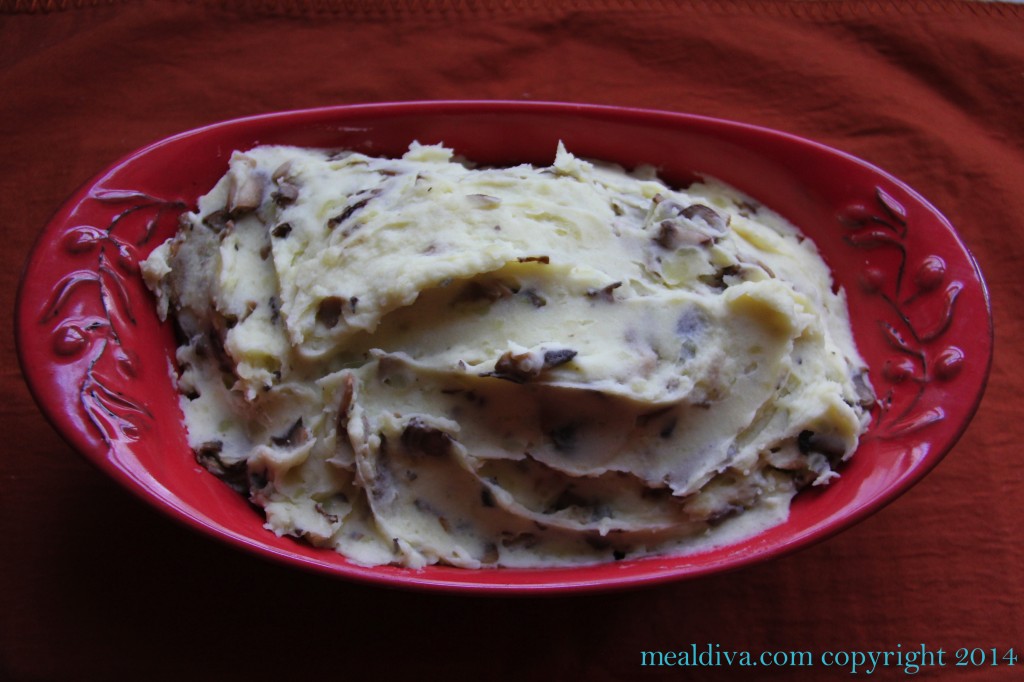 Mashed Potatoes with Skillet Mushrooms
These are a staple in my house: mushrooms and potatoes are just meant to be.
Ingredients:
5 Yukon Gold Potatoes, peeled and cut into cubes
6 tbs. butter
2/4-cup skim milk
1-2 lbs. crimini mushrooms, sliced (use more or less depending on how much you like mushrooms. I usually buy a package of pre-sliced ones at the grocery store)
Salt and pepper to taste
1 small yellow onion, diced
2 tbs. fresh chives, diced
Directions:
Cook potatoes in large pot of boiling water until tender, about 25 minutes.
Drain potatoes and place them back into the same pot.
Add 4 tbs. butter to potatoes; mash well.
Add the milk and mix, (you can add more by tablespoonfuls to reach desired consistency).
Season potatoes to taste with salt and pepper.
Melt 2 tbs. butter in large skillet over medium-high heat.
Add half of mushrooms and sauté until they start to soften, about 3 minutes.
Add remaining mushrooms and onion.
Sauté until juices evaporate and mushrooms brown, about 15 minutes
Season with salt and pepper.
Mix mushrooms into potatoes.
Top with remaining mushrooms; sprinkle with chives.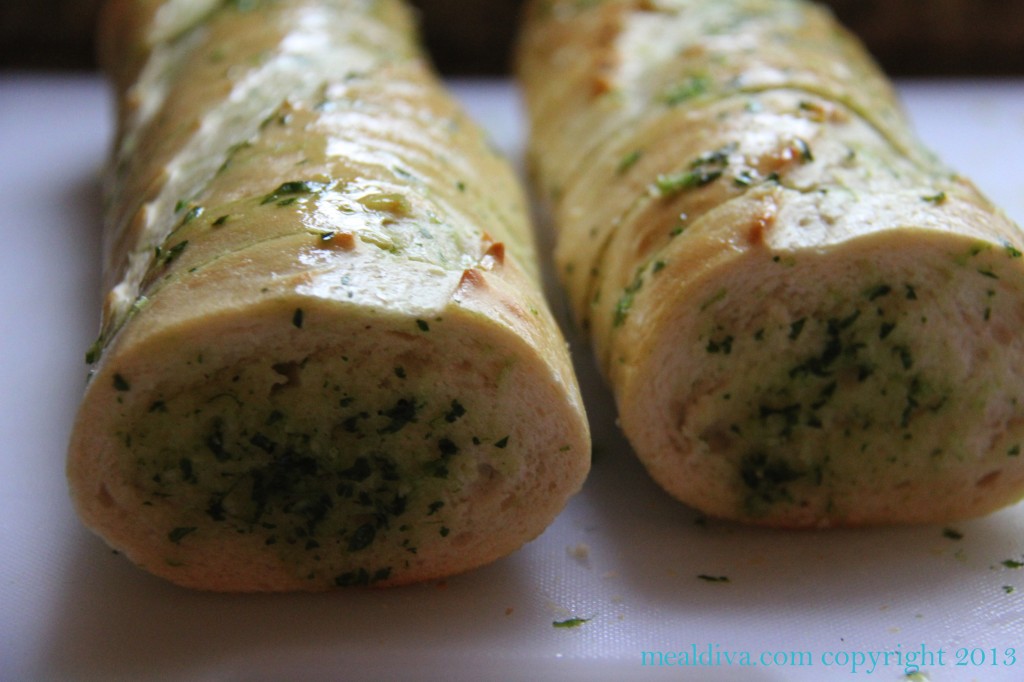 Ingredients:
¼ cup olive oil
2 garlic cloves, mashed to a paste with a pinch of salt and a little extra-virgin olive oil
2 tbs. chopped parsley leaves
2 tbs. chopped fresh basil leaves
Salt and pepper
1 whole-wheat baguette
Extra-virgin olive oil for drizzling
Directions:
Preheat oven to 350 degrees F.
For the bread, in a bowl, stir together the olive oil mashed garlic, and herbs
Season with salt and pepper.
Using a knife, make slits in the bread by slicing it into sections (be sure that you don't cut completely through).
Using a spoon or brush spread the herb-garlic mixture in each slot.
Drizzle the top of the bread with a little olive oil.
Bake for 10 minutes.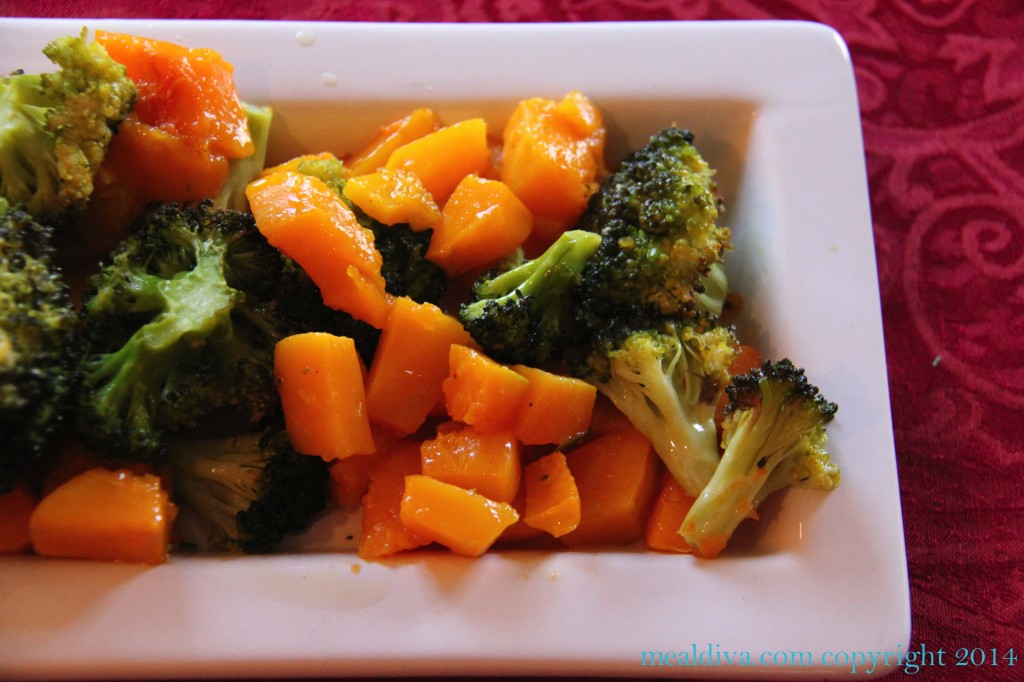 Roasted Broccoli and Butternut Squash
Such a GREAT side dish!
Ingredients:
6 large garlic cloves, peeled and sliced
1 butternut squash, seeded, peeled and cut into small cubes
1 head of broccoli, cut into florets
2 tbs. olive oil
1/2 tsp. sea salt
1/4 tsp. freshly ground black pepper
Directions:
Put the squash, garlic cloves and broccoli into a large baking dish and toss with the olive oil.
Sprinkle with salt and pepper.
Cook for 25 minutes, tossing occasionally to make sure they don't stick to the pan.
When squash is tender when pierced with a fork, sprinkle with additional salt and pepper (if needed) and serve.
Balsamic Vinegar and Honey Salad Dressing
Ingredients:
For the dressing:
1/2 cup extra-virgin olive oil
2 tbsp. balsamic vinegar
1 tsp. Dijon-style mustard
1 tsp. honey
1 clove garlic, minced (optional)
1 shallot, minced
1/4 tsp. salt
1/4 tsp. freshly ground black pepper
For the Salad:
1 head of red leaf lettuce
1 head romaine lettuce
2-3 radishes, thinly sliced
2-3 carrot, thinly sliced
1 cup cilantro, roughly chopped
1 1/3 cups roasted and salted cashews, roughly chopped
Directions:
In a small bowl or dressing jar, whisk/shake all dressing ingredients to combine.
Use immediately or keep, covered and chilled, up to one week.
For the salad, toss together cleaned lettuce leaves, radish, carrot, cilantro and cashews in a large salad bowl. Add dressing and toss to combine.
Add salt to taste and serve.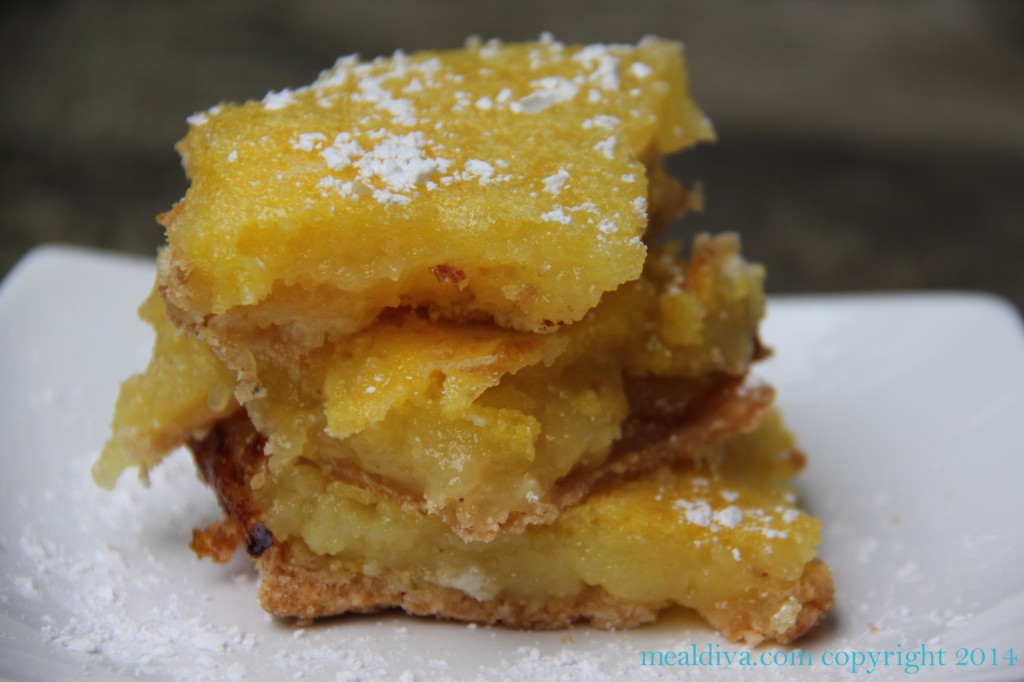 Amazing Lemon Bars
Ingredients:
For the Crust:
1 3/4 cups flour
2/3 cup powdered sugar, plus extra to top the bars with
1/4-cup cornstarch
1/2 tsp. salt
1 ½ sticks butter at room temperature, cut into 1-inch pieces
For the Filling:
4 large eggs
1 1/3 cups granulated sugar
3 tbs. flour
2 lemons, zested
2/3 cup freshly squeezed lemon juice, from 3 to 4 large lemons
1/3-cup milk
Pinch of salt (about 1/8 teaspoon)
Directions:
Place an oven rack in the middle position and preheat the oven to 350 degrees F.
Line a 9X13-inch baking pan with foil or parchment paper and lightly grease the foil/parchment.
Stir together the flour, powdered sugar, cornstarch, and salt (this can be done in a food processor or in a large bowl by hand).
Add the pieces of butter and cut the butter into the dry ingredients using a pastry blender, two knives or your fingers (taking care not to melt the butter too much – you might try freezing the butter and grating it into the dry ingredients on the large holes of a box grater) or process in the food processor for 8 to 10 seconds and then as needed until the mixture resembles coarse meal.
Sprinkle the mixture into the prepared pan and press into an even layer on the bottom and about 1/2-inch up the sides of the pan. Refrigerate for 15-30 minutes.
Bake until golden brown, about 20 minutes.
For the filling, whisk together the eggs, sugar, and flour in a medium bowl and then stir in the lemon zest, juice and milk to combine.
Pour the filling onto the warm crust (it's important that the crust is still warm!) and reduce the oven temperature to 325 degrees.
Bake for about 18-20 minutes until the filling feels slightly firm to the touch.
Cool the bars to room temperature, sprinkle with additional powdered sugar and cut into bars.
Recipe is from Mel's Kitchen Café
The Shopping List:
Wine: Louis Jadot Chardonnay from Burgundy — this is so delicious! Mmmmmm!!!!
Meat:
1 (5-6 lb) Roasting Chicken
1 package bacon
Produce:
1 Large Orange
6 Lemons
5 Yukon gold potatoes
1-2 lbs. crimini mushrooms
1 small yellow onion
Small bundle of chives
1 head garlic
Small bundle parsley leaves
Small bundle basil leaves
Small bundle of cilantro
1 acorn squash
1 head broccoli
1 shallot
1 head of red leaf lettuce
1 head of romaine lettuce
2-3 radishes
2-3 carrots
Grocery:
Salt
Pepper
Olive oil
Balsamic vinegar
Dijon-style mustard
Honey
Roasted, salted Cashews
Flour
Powdered sugar
Cornstarch
Brown Sugar (small)
White granulated sugar
2 cans water chestnuts
Mayonnaise
Chili Sauce (located by the ketchup)
Dairy:
Butter (at least 3 sticks)
Eggs
Skim milk
Bakery:
1 whole-wheat baguette (long thin kind)
Need more Sunday night dinner ideas? Be sure to check out MealDiva's Crockpot Sausage and Peppers Sunday Dinner as well as Italian Inspired Sunday Dinner. So delicious! Also, I am a part of a food blogging community that encourages #SundaySupper. Check them out for some more great recipes:
Join the #SundaySupper conversation on twitter on Sunday! We tweet throughout the day and share recipes from all over the world. Our weekly chat starts at 7:00 pm ET. Follow the #SundaySupper hashtag and remember to include it in your tweets to join in the chat. Check out our #SundaySupper Pinterest board for more fabulous recipes and food photos.
Would you like to join the Sunday Supper Movement? It's easy! You can sign up by clicking here: Sunday Supper Movement.