Oh yes my friends, today I'm serving up a 100 % kid-approved one- pan Skillet Chicken and Ravioli dinner. Let me tell you – my entire family went NUTS over this recipe! The skillet was empty in a flash and my middle-child requested a repeat for the following day. This super yummy #WeekdaySupper features PERDUE® Signature Chicken Stock, rotisserie chicken, cheese ravioli, tomatoes, onions, garlic and asparagus. It's a quick, healthy and super delicious dinner that will be your table in less than 30 minutes!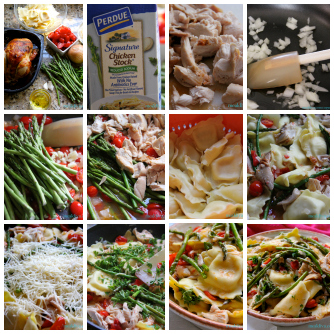 Lets get started. First, get your ingredients ready: pre-chop your onion, garlic and chicken. Speaking of getting ingredients ready, I love the fact that PERDUE® makes chicken stock that is not only delicious but it's is ready to use when I am – just pop the top, use what I need then return it to the fridge to be used on a different day. If you want to learn more about PERDUE® Signature Chicken Stock, visit them at http://www.perduechickenstock.com/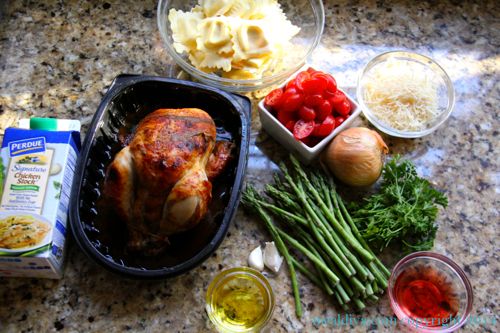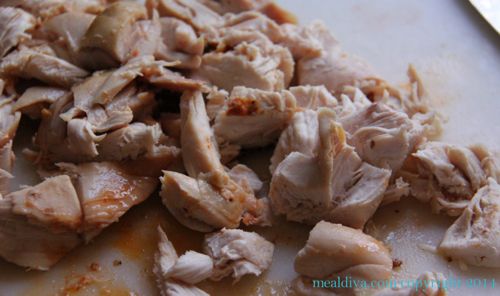 LOVE it!
Once everything is ready, it's time to get a nice pot of salted water on the stove and cook the ravioli according to package directions. I used large ravioli in my recipe but feel free to use smaller ones instead. As the pasta cooks, get your onions and olive oil sautéing and inhale deeply Mmmmmmm– cooking onions are one of my favorite smells.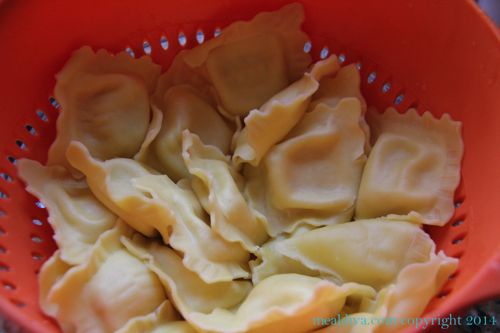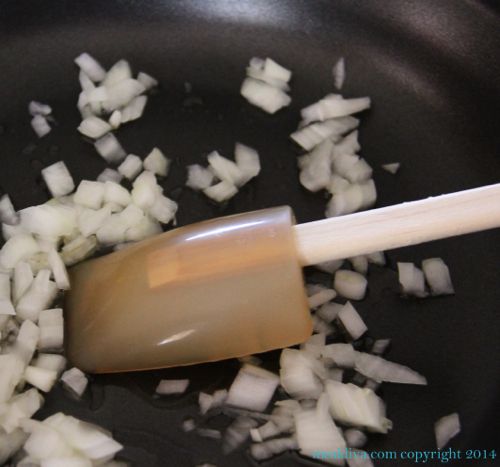 Once your onions are soft and translucent, get the tomatoes, garlic, asparagus and vinegar in the pan. Isn't this pretty?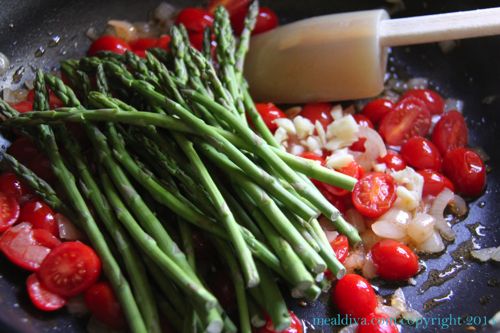 After 2 minutes, add the chicken, ravioli, stock and Parmesan cheese to the skillet and simmer until the stock is reduced by half, about 4 minutes.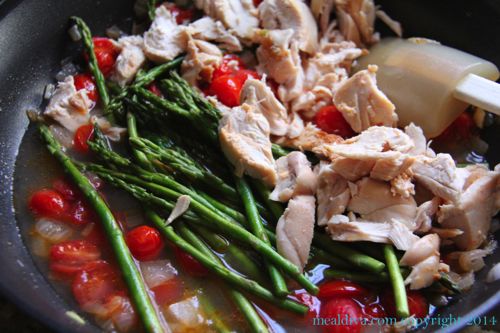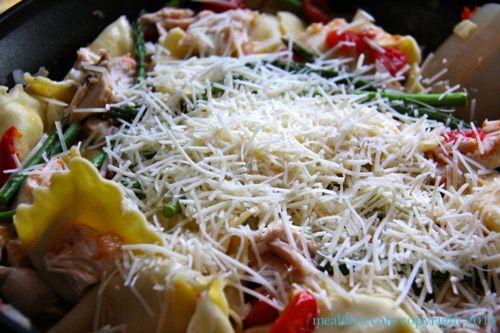 Next, throw a little fresh parsley on the dish and dig in!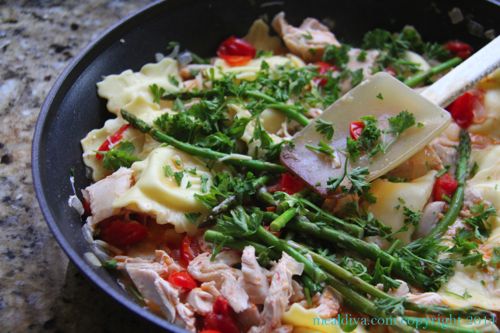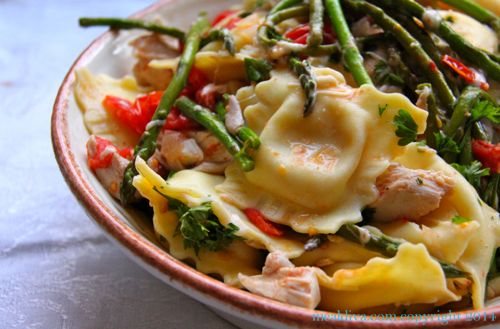 Skillet Chicken & Ravioli #WeekdaySupper
Ingredients:
A pinch of sea salt
1 (9 oz) package large cheese-filled ravioli
2 tbs. olive oil
Freshly ground pepper
1 Store-made rotisserie chicken, cut into chunks
1 yellow onion, roughly chopped
1 cup cherry tomatoes, halved
2 garlic cloves, roughly chopped
8-12 thin asparagus spears, trimmed
2 tbs. red wine vinegar
½ cup PERDUE® Signature Chicken Stock
A large handful of grated Parmesan cheese
1/4 cup chopped fresh parsley
Directions:
Bring a pot of salted water to a boil. Add the ravioli and cook according to package directions.
Meanwhile, heat olive oil in a large skillet over medium-high heat.
Add the onion, season with a nice pinch of salt and a sprinkle of pepper then sauté for 5- 8 minutes, or until they are soft and translucent.
Add the tomatoes, garlic, asparagus and vinegar and cook until the tomatoes begin to soften, about 2 minutes.
Add chicken to the skillet, then add the ravioli, stock and parmesan; bring to a simmer and cook, stirring occasionally, until the sauce is reduced by 1/2, about 4 minutes.
Top with parsley and serve hot.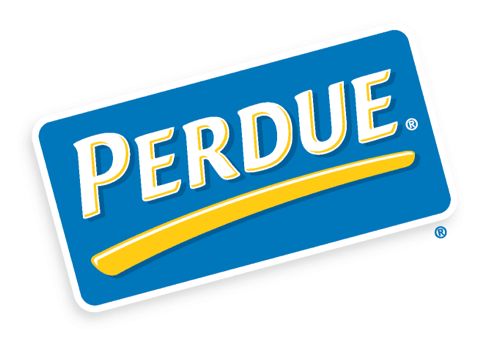 PERDUE® Chicken is working with #SundaySupper for a month long campaign so please be sure to follow the #WeekdaySupper Pinterest board to see the delicious dishes that can be made with this delectable broth. Learn more about PERDUE® Signature Chicken Stock at http://www.perduechickenstock.com and join the Perdue Crew to get some pretty sweet rewards (coupons and specials). Please be sure to check out the Perdue website or follow them to keep up to date on new products, recipes, and happenings on Facebook, Pinterest or Twitter. 
Also be sure to check out these yummy recipes that you can make this week in 30 minutes from the rest of our #WeekdaySupper team:
Monday – Creamy Chicken Barley Soup by Cindy's Recipes and Writings
Wednesday – Easy Chicken with Stuffed Dumplings by Feed Me, Seymour
Thursday – Moroccan-Style Chicken and Couscous by kimchi MOM
Friday – Chicken with Rosemary Sauce by The Life and Loves of Grumpy's Honeybunch
I received PERDUE® Signature Chicken Stock from Perdue in conjunction with a sponsored social media campaign through Sunday Supper LLC. All opinions are my own.