Ground turkey, onions, peppers, spinach and tomatoes create a healthy and kid-friendly dinner in this straightforward, easy to make, delicious recipe for Savory Stuffed Peppers.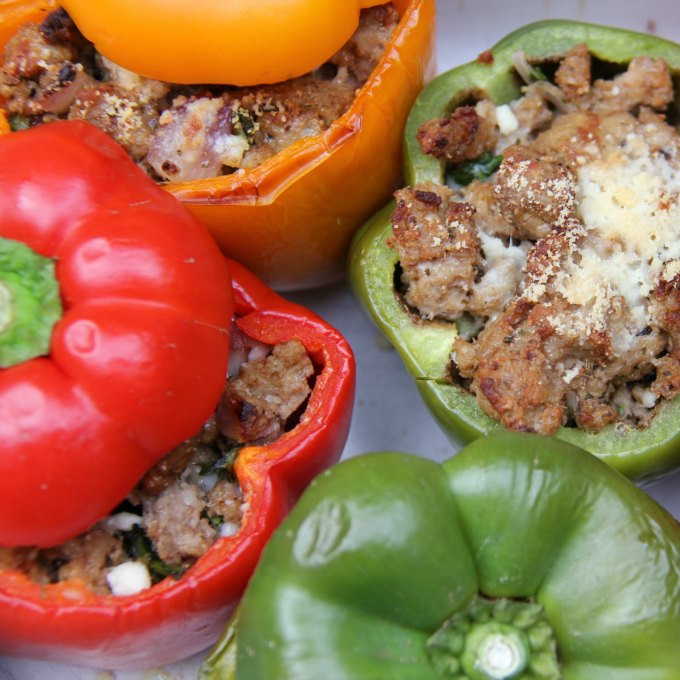 We lOVE stuffed peppers! Personally, I love stuffed Poblano Peppers but the kids prefer the classic bell pepper.
To quote my kids "So. Dang. Goooooooooooood". Enjoy!
Savory Stuffed Peppers
Ingredients:
6 bell peppers (any color), tops removed ( and saved), seeded
1/2 lbs. ground turkey
2 tbs. olive oil
1 red onion, chopped
1 bell pepper, chopped
1 cup fresh spinach
1 (14.5 oz) can diced tomatoes, drained
1 tbs. tomato paste
Italian seasoning to taste
Garlic powder to taste
Salt and pepper to taste
½ cup grated Parmesan Cheese
Directions:
Preheat oven to 350 degrees
Wrap the green bell peppers in aluminum foil, and place in a baking dish. Bake for 15 minutes then remove.
In a skillet over medium heat, cook the turkey until evenly brown then set it aside.
Heat oil in the skillet, and cook onion, peppers and spinach until tender.
Return turkey to the skillet.
Add the tomatoes and tomato paste, and season with Italian seasoning, garlic powder, salt, and pepper.
Stuff the green peppers with the skillet mixture and top with cheese.
Return peppers to the oven, and continue cooking 15 minutes or until the cheese has melted and everything is warmed through.