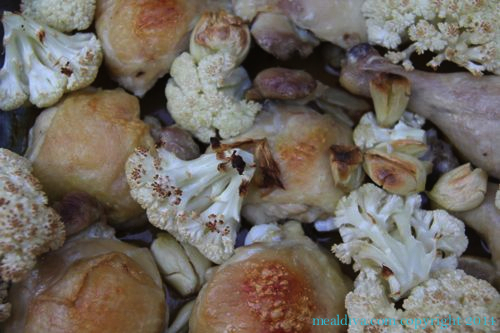 This was a tough recipe to photograph: the raw chicken just didn't look right in the pictures and so, I omitted the step- by- step-instructions. My apologies. The good news is that despite my picture-taking problems, this is one tasty, tasty chicken recipe that you should make RIGHT NOW! Seriously,  it's that yummy! I think that the 12 garlic cloves really catapult this dish into the ultimate tastebud ticking frenzy! Mmmmmm….
Don't you just love a great, easy chicken recipe?
I love to roast my vegetables and chicken so, if you like this yummy Roasted Chicken and Cauliflower dinner, be sure to checkout my other great chicken recipes like my fast Blueberry Chicken or BBQ Foiled Chicken or my kids favorite: 15 Minute Chicken with Peaches.
With 5 simple ingredients, this clean-eating, gluten, nut and egg free recipe is sure to tempt your taste buds and fill you up without the guilt! If only every meal I made was this easy, healthy and delicious! Enjoy!
Roasted Chicken and Cauliflower
Ingredients:
4 chicken thighs, 4-6 chicken drumsticks, skin trimmed but left on
Salt and pepper to taste
2 tbs. olive oil
1 head of cauliflower, broken into florets
12 cloves of garlic, peeled and smashed
Directions:
Preheat oven to 400 degrees.
Pat chicken pieces dry; season with a little salt and pepper.
In a large skillet, heat olive oil over high heat.
Add the chicken, skin side down and cook until browned, 8 minutes then flip it and cook until browned on the other side, 5 minutes.
Transfer to plate.
Add cauliflower to same skillet and cook until the cauliflower begins to brown, about 5 minutes. Transfer the cauliflower to a baking dish and top with the chicken and raw garlic.
Bake until chicken is cooked through, about 20-25 minutes.