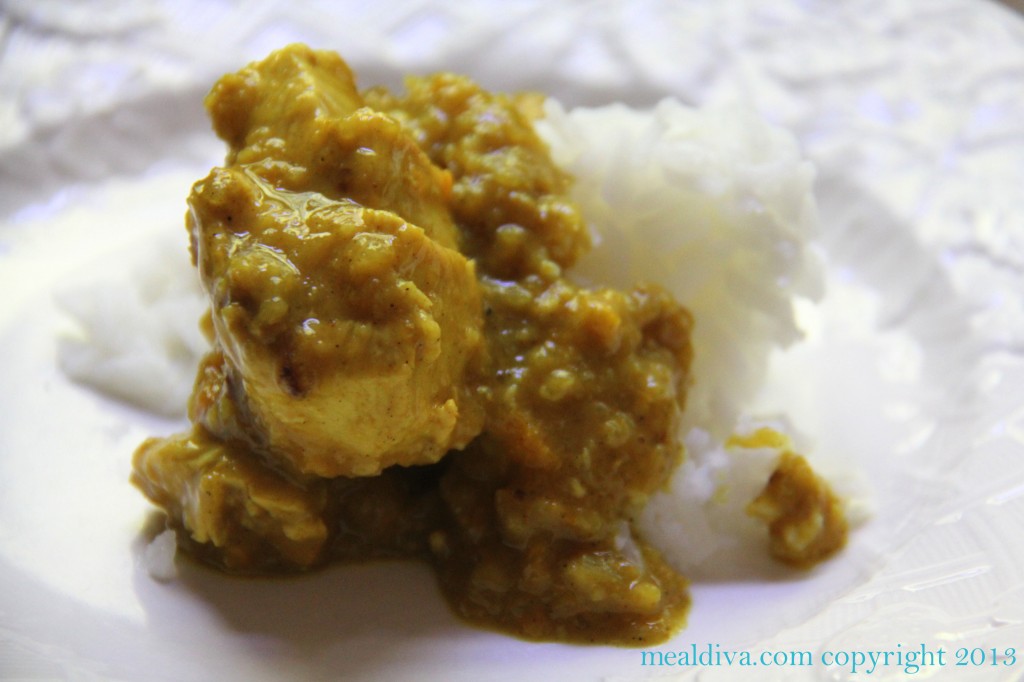 So I'm obsessed with making Chinese, Thai and Indian food at home. Peanut's allergies prevent us from eating out at many foreign-food restaurants and so, I really enjoy making it at home. The Sweet & Sour Chicken is always a hit and so is this Mango-Curry dish.
This chicken dish is a beautiful yellow color and the base of the curry is onion and peppers with flavor punches from garlic and ginger. So delicious!
A cook's note: some like it spicy and some like it sweet. To add spice, add a little siriacha sauce at the end of the cooking time or, to mellow out the sweetness, add a splash more of vinegar. To make this a MealDiva Approved meal, serve it with a side of brown or sticky rice with a side salad, 2 tbs. light dressing. Yum! Enjoy!
Mango-Curry Chicken at Home
Ingredients:
3 tbs. olive oil
1 large yellow onion, chopped
1 bell pepper (color of choice), chopped
3 garlic cloves, chopped
1 ½ – inch piece of fresh ginger, chopped (or 2 tbs. ginger in a jar)
3 tbs. yellow curry powder
1 tsp. ground cumin
2 mangos' pitted, peeled and diced (you can use frozen mango's if you like and the amount comes out to 1 ½ cups or so)
2-½ tbs. apple cider vinegar
1 ¼ cups water
2 lbs. boneless, skinless chicken breasts cup into bite sized pieces
½ cup plus 2 tbs. coconut milk
salt and pepper to taste
Cilantro as a garnish if you like
Directions:
Heat 2 tbs. oil in a large skillet over medium-high heat.
Add onion and sauté for 2 minutes then add pepper and sauté for 5 minutes.
Add more oil if needed and then curry powder and cumin.
Sauté for 3 minutes.
Add ginger and garlic and sauté for 1 minute more.
Add vinegar, water and ½ the mango to the pan and increase the heat to boil.
Lower the heat and simmer for 20 minutes, stirring on occasion.
Remove pan from heat.
Using a blender, food processor or hand-held blender, purée the sauce.
Return sauce to the pan and add chicken.
Simmer chicken for 10-12 minutes until cooked through.
Next, add mango pieces and coconut milk.
Simmer for 5-8 minutes.
Add salt and pepper to taste and serve.