This is a quick and easy to prepare chicken recipe that my family LOVES. The chicken can be served over hot cooked pasta or with potatoes or a side of vegetables or simply with a tossed salad. Clearly, it goes with anything.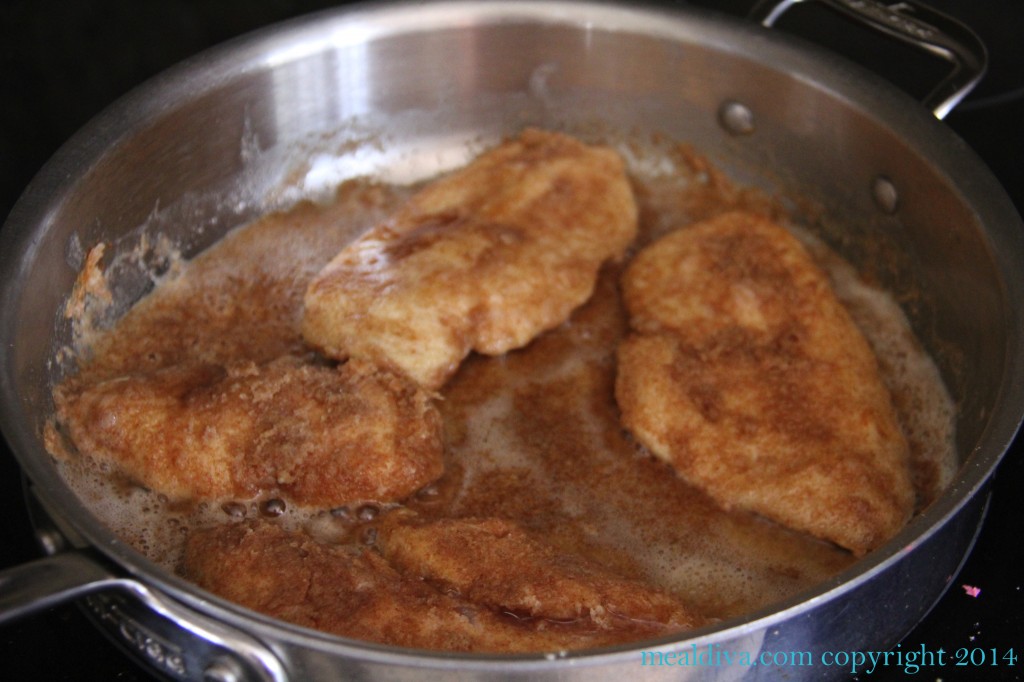 First dredged the chicken in flour then cook it on the stove top. I think that chicken that has been dredged is always tasty –like my Newport Chicken— how about you? Once it's cooked, remove it to a platter. No need to keep it warm because it will be going into the oven.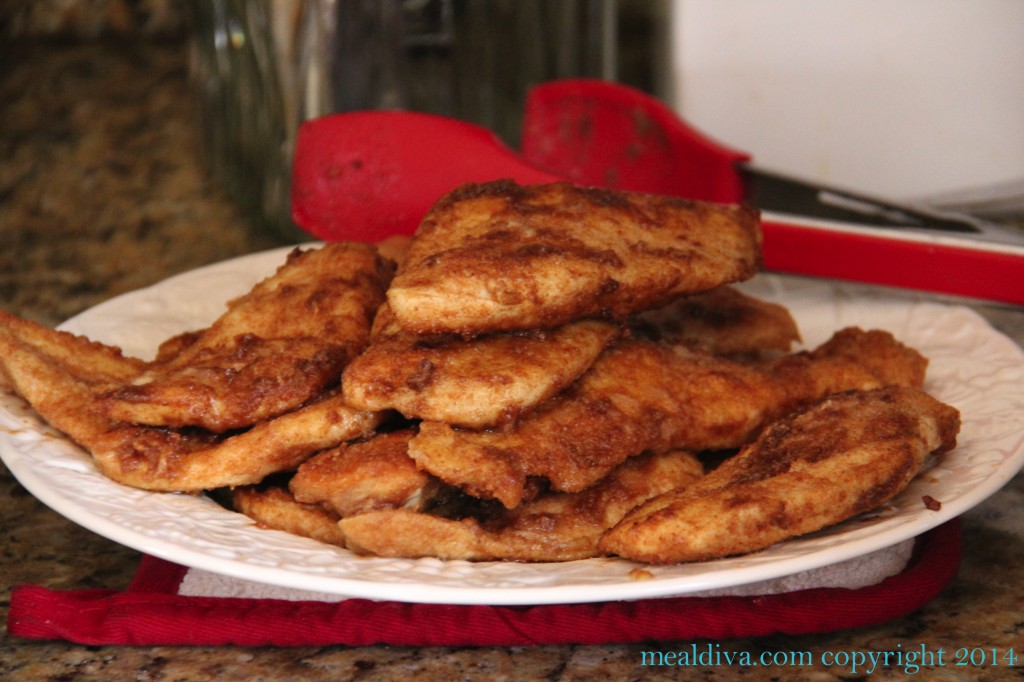 Next, get the mushrooms and onions cooking in the same pan. I really love mushrooms – they are a MealDiva staple. Once the onions and mushrooms are softened, add the remaining ingredients and let the sauce simmer for 15-20 minutes.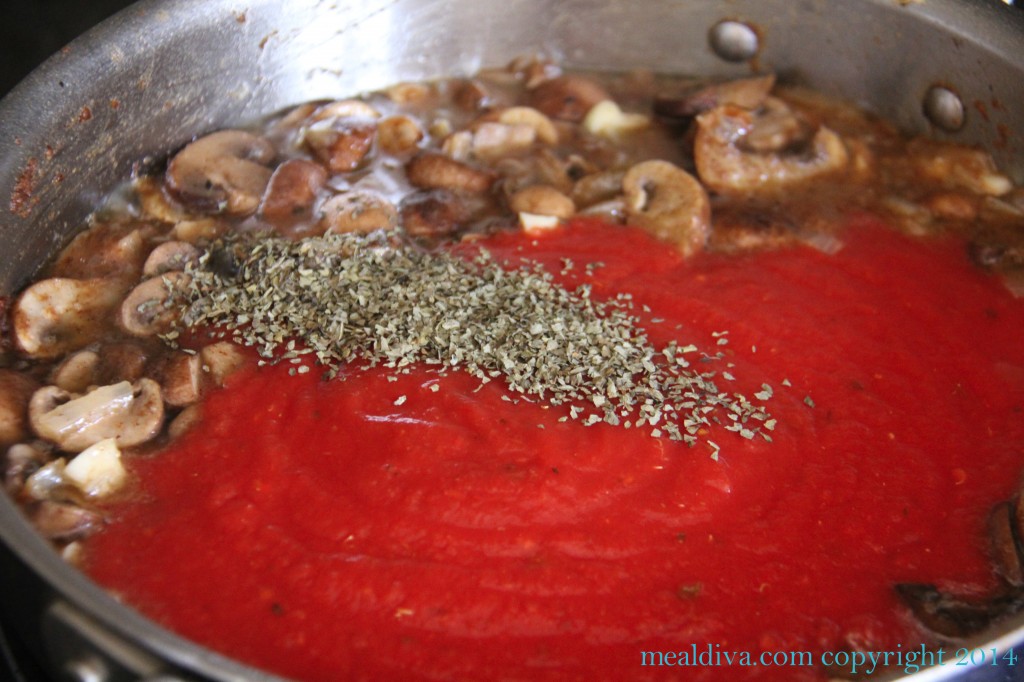 Meanwhile, line the baking pan with the chicken cutlets. I doubled this recipe because I was taking it to a friends house for dinner.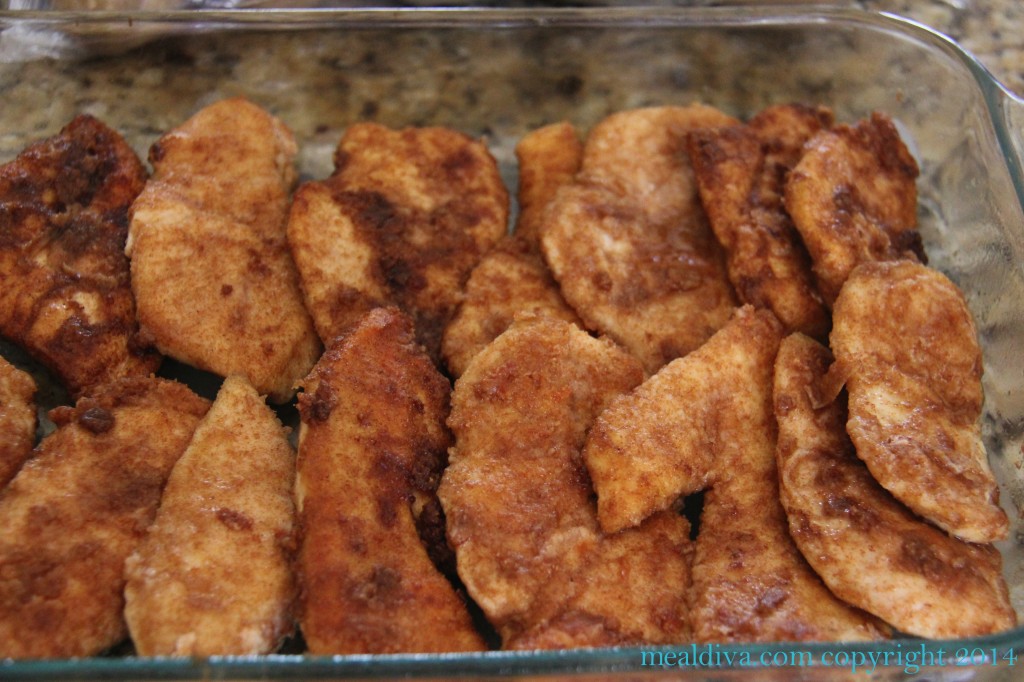 Finally pour the delicious red sauce over the chicken ( if cooking later, put it in the fridge or freezer until your ready to heat it) and bake it in a 350 degree oven for 10 minutes ( longer if refrigerated or frozen and defrosted). Feel free to top with melty cheese as well…Mmmmm…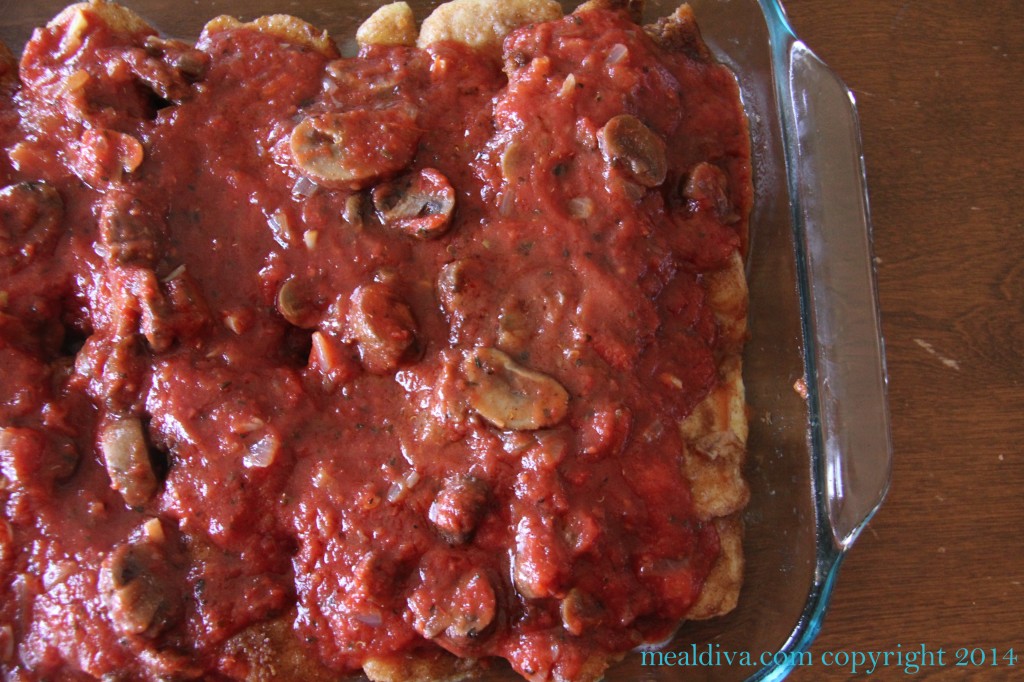 Chicken with Mushrooms and Tomatoes
Ingredients:
6-8 skinless, boneless, thinly sliced or pounded chicken breasts
½ cup flour + 2 tbs., divided
Salt and pepper to taste
¼ cup olive oil + 6 tbs. for cooking
1 yellow onion, peeled and diced
1 package sliced white mushrooms
2 garlic cloves, peeled and minced
1 can (14.5 ounces) diced tomatoes with Italian seasoning
1/2 cup chicken broth
Directions:
In a wide, shallow bowl combine flour with a little salt and pepper.
In another wide, shallow bowl, add the olive oil
Dredge chicken pieces in olive oil then flour, coating thoroughly.
In a large skillet or sauté pan, heat the olive oil (2tbs. at a time as needed) over medium-high heat.
Add chicken to the hot oil and brown for about 3 minutes on each side.
Once the chicken is cooked, remove to a plate.
Add onion and sliced mushrooms to the pan and sauté for 5 minutes, adding additional olive oil if necessary (to keep it from sticking)
In a small bowl, combine the garlic, tomatoes and chicken broth, stir in the remaining 2 tbs. of flour until well mixed.
Pour the mixture over the mushrooms; stir to combine and bring to a simmer. Reduce heat to low, cover, and simmer for 15 to 20 minutes, or until thoroughly cooked.
Spray a large baking pan with cooking spray and line the bottom with the cooked chicken.
Pour the sauce over the chicken and bake in a 350 degree oven until it's bubbly and the chicken is cooked (165° on an instant read thermometer inserted in the thickest part of a chicken breast), about 10 minutes.
Serve the chicken with the sauce.
Looking for more easy recipes like this? Subscribe to my Newsfeed to get them delivered right to your inbox!