Tis' the season for comforting casseroles and hearty soups and stews – anything that maximizes coziness. This Chicken Enchilada with Green Chillies and Sour Cream Sauce is a perfect dish to add to your casserole repertoire!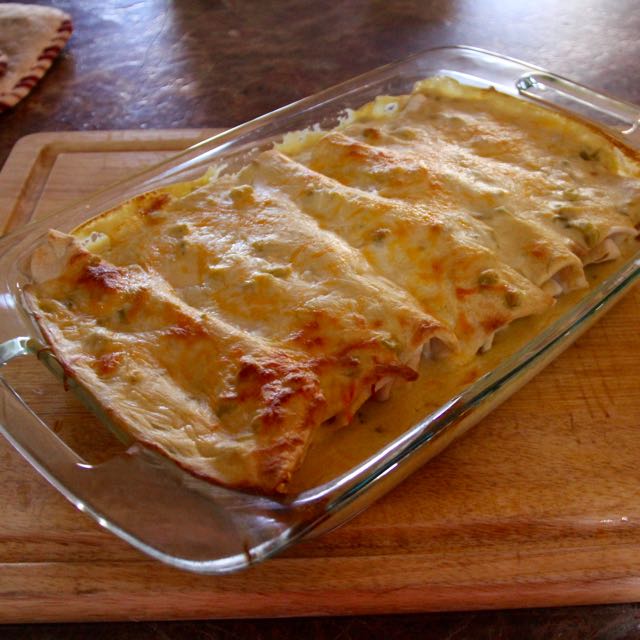 I love dishes like this one because it takes up only one pan, it's hearty and filling and can be made ahead of time. It's down-home deliciousness at it's best. I like to serve it with a Mexican Salad or Spanish Rice. It's also perfect to bring to a potluck because it will shine in the sea of salads and desserts!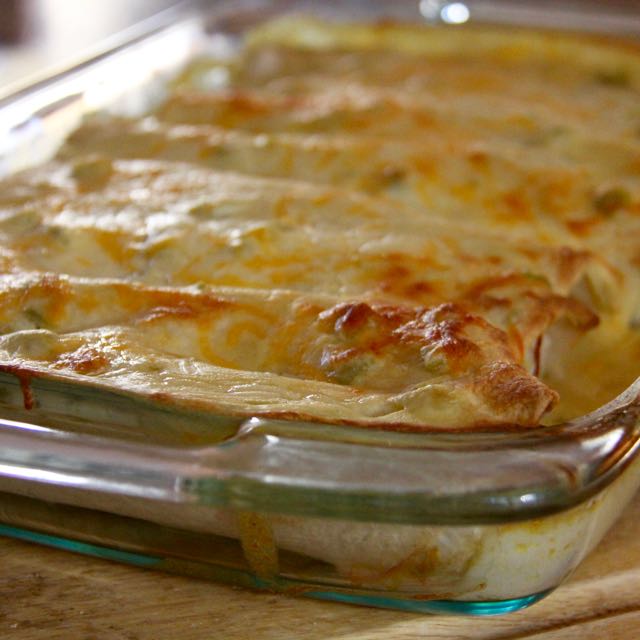 Make this tonight and you'll have dinner ready in an hour! To make it even better, your whole house will smell amazing when it starts bubbling in the oven and your family will come running!
Chicken Enchiladas with Green Chillies and Sour Cream Sauce
Ingredients:
8 soft tortillas
1 rotisserie chicken, shredded
2 cups shredded Monterey Jack cheese
3 tbsp. butter
3 tbsp. flour
2 cups chicken broth
1 cup sour cream
1 (4 oz) can diced green chilies
Directions:
Preheat oven to 350 degrees. Grease a 9×13 pan
Mix chicken and 1 cup cheese then roll them up in tortillas and place in pan.
In a sauce pan, melt butter, stir in flour and cook 1 minute. Add broth and whisk until smooth then cook over medium heat until thick and bubbly.
Stir in sour cream and chilies but DO NOT bring to a boil (you don't want curdled sour cream).
Pour over enchiladas and top with remaining cheese.
Bake 22 min and then under high broil for 3 min to brown the cheese.