Today's #SundaySupper highlights unprocessed food and recipes that can be made in your kitchen. There are many definitions of "unprocessed food" but for me, it simply means cooking with whole-food ingredients that are without a long list of unhealthy, unpronounceable or unrecognizable ingredients like "protein isolate, ferrous fumarte or fractionated palm kernel oil "(I just read these off of the bag of popcorn that's sitting on my counter and I'm feeling a little disgusted now – sometimes it's just better to make my own ).
Hydrogenated, processed, refined and processed some more… ick, gross, ick!
It really hasn't been that long since there weren't any unhealthy options to begin with. It's only been in the last several decades or so that things such as fast food even became an issue. Before that, everything that was consumed was natural because there was no other choice. All recipes were made from scratch, because there were no Super Stores or Fast Food Giants let alone the pre-made any- and- everything that they sell now. In my opinion, it's time that we all get back to basics and eat the foods we all know we should be! It's awesome to see so many #SundaySupper bloggers putting emphasis on unprocessed eating today!
Clearly, I'm excited for today's #SundaySupper!!
Moving onto Chicken and Sweet Potato fun…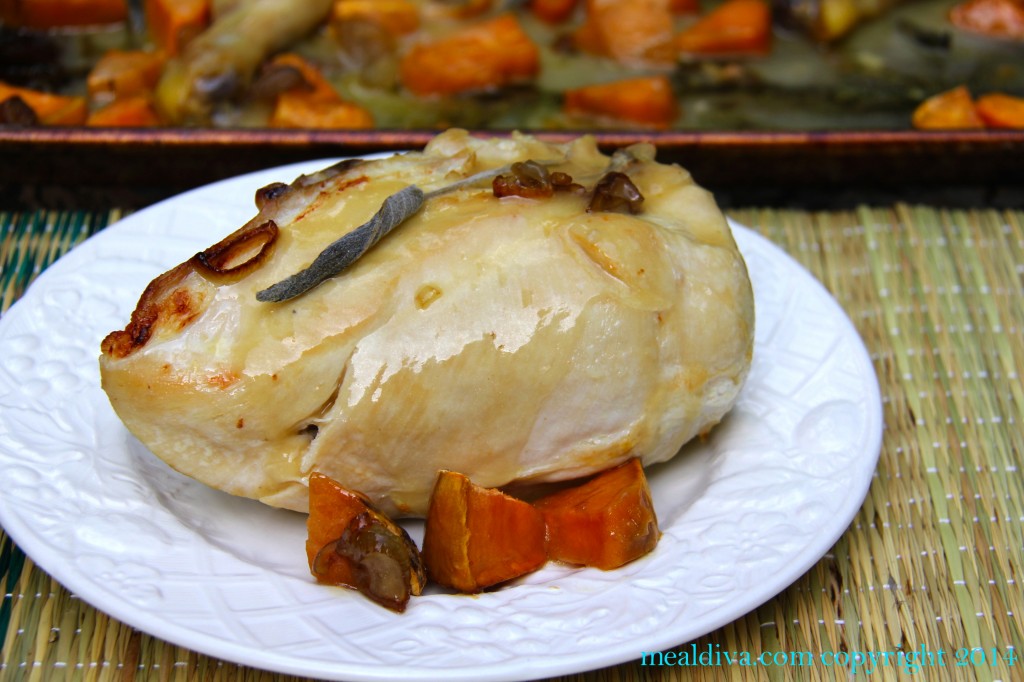 First, I want to thank one of my favorite bloggers, Foodie Stuntman for hosting today's #SundaySupper and I strongly encourage you to check out all of the yummy recipes below!
Today I made a simple Chicken and Sweet Potato dish that combines some gorgeous sweet and savory flavors in an elegant and impressive meal. For the sauce, I used locally made butter and cream as well as 100% pure apple juice, homemade chicken stock and 100% whole grain flour. Locally made, unprocessed ingredients really make for a finger lick'in chicken dinner!
Mmmmmm…lets get started!
First, sear the chicken pieces in butter and olive oil. I know that this is a recently debated topic, but I still believe that searing yields juicer meat.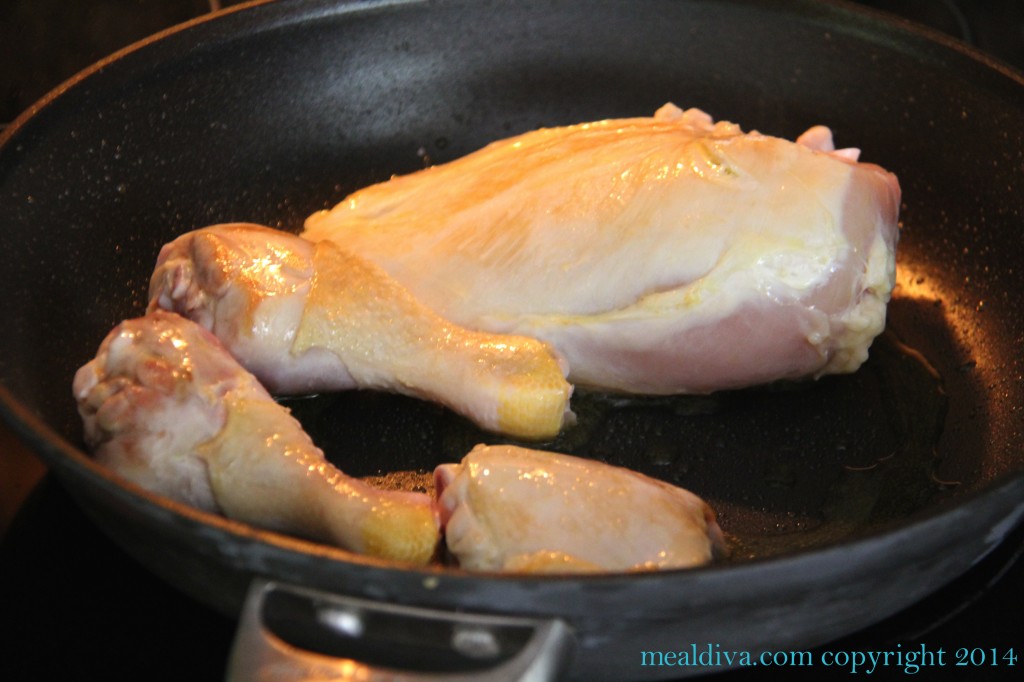 Once the chicken has been seared, remove it to a baking dish and add the sweet potatoes.
Then, immediately return to the saute pan and add the shallots and cook until they are fragrant before adding 1/2 of the chicken broth and 1/2 of the apple juice ( look for apple juice that's not made from concentrate) to the pan, scrapping up any brown bits of tastiness along the way. I really enjoy layering flavors by cooking sauce ingredients in the rendered animal fat and juices – it really makes the flavors POP!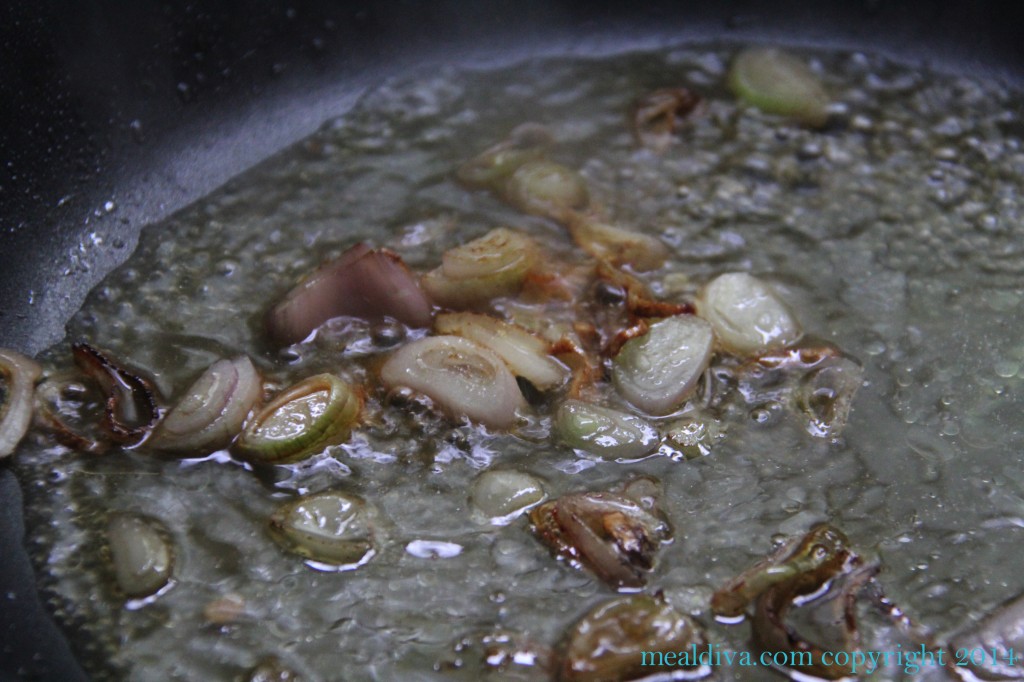 Next, pour the shallot- based -sauce over the chicken and sweet potatoes then sprinkle with salt and pepper and sage leaves. I don't know if you love fresh sage leaves as much as I do – but yum! Pop the chicken into the preheated oven and bake for 45-55 minutes until the chicken is done. Wait until you smell this cooking – your family will come running!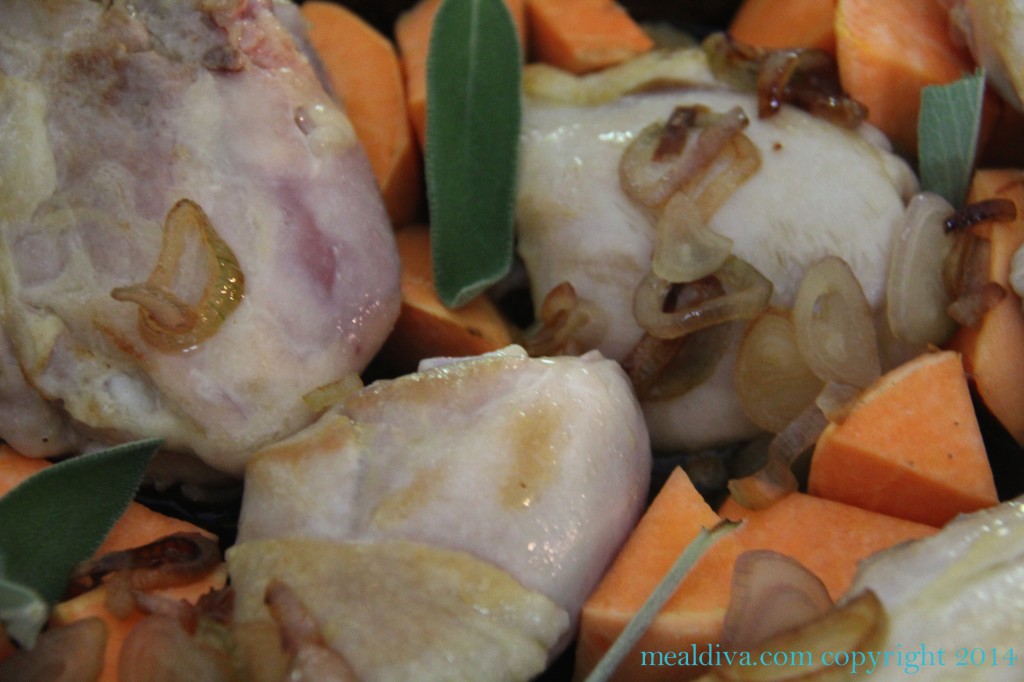 Once the chicken is done, remove it from the pan and gather the pan drippings to use with the finishing sauce.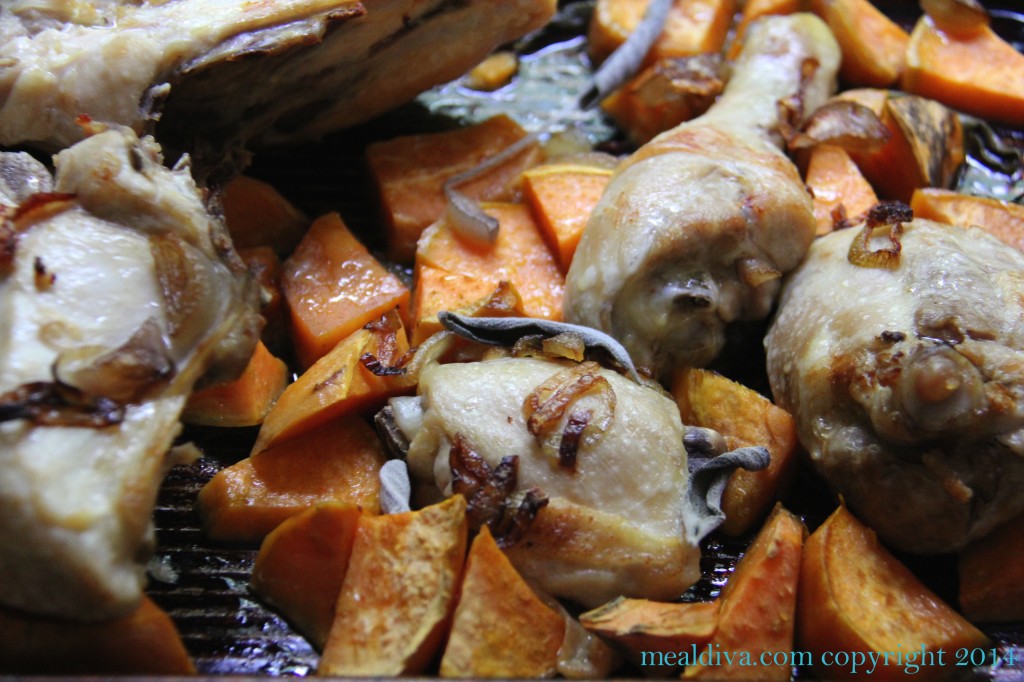 Meanwhile, heat a sauce pan over medium-low heat and melt the remaining butter. Add the flour and whisk for 1-2 minutes before adding the remaining ingredients and the pan juices.  I love any sauce that starts with butter and flour – it just so happens that it's always delicious.
I'm totally salivating right now.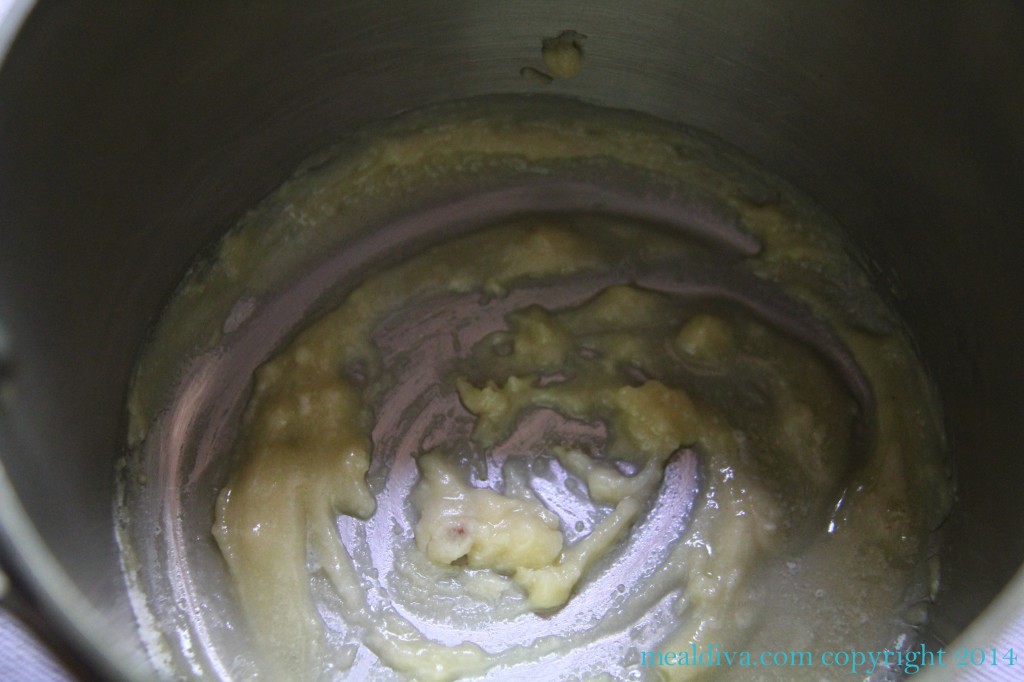 I love this sauce. It's beautiful.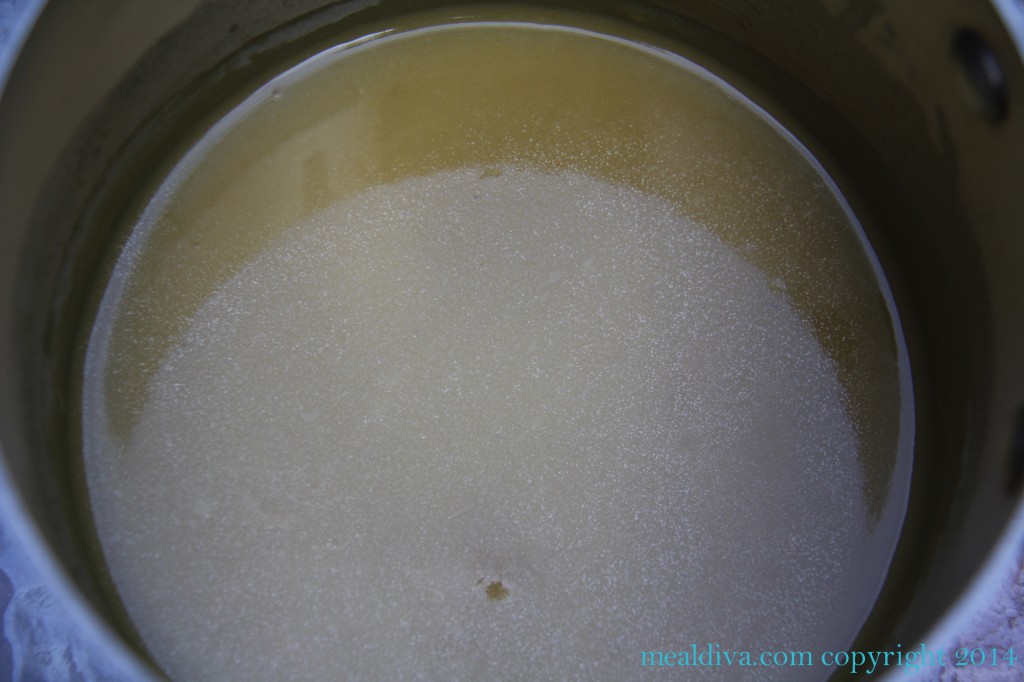 Now pour it over the chicken and potatoes and DIG IN! Enjoy!
Yup – there it is!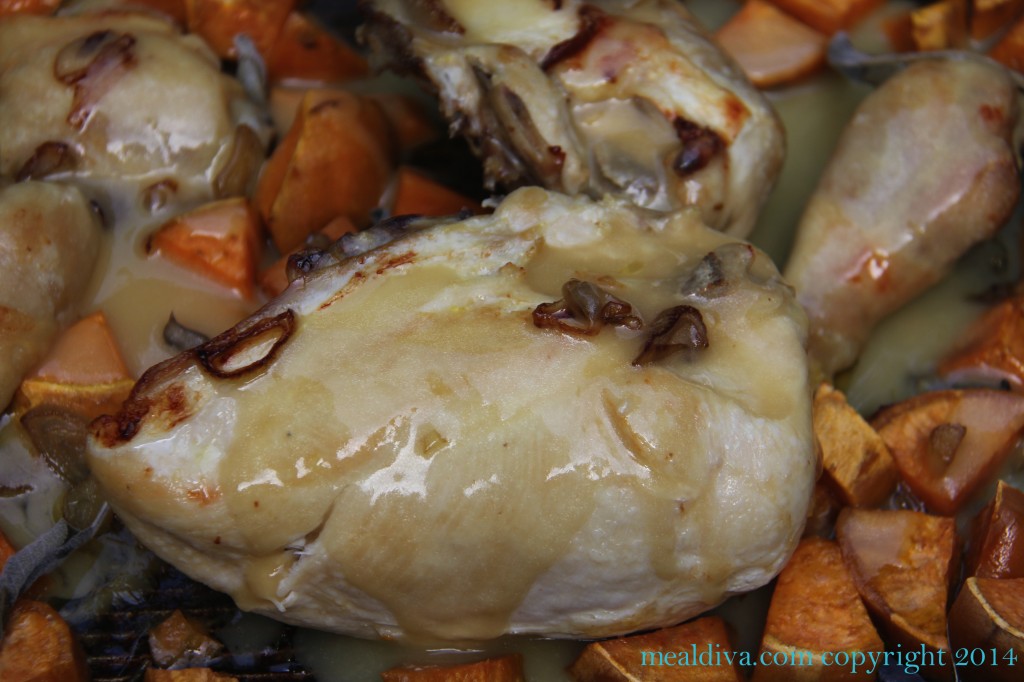 Chicken and Sweet Potatoes #SundaySupper
Ingredients:
1 chicken, cut into pieces (you can usually buy it already cut up or ask the butcher to do it for you), rinsed and patted dry.
3 tbs. butter, divided
2 tbs. olive oil
3 sweet potatoes, peeled and cut into bite sized pieces
1 large shallot, peeled and sliced
½ cup 100 % apple juice
½ cup chicken stock
10 fresh sage leaves
salt and pepper
1 tbs. 100 % whole grain flour
¼ cup light cream
Directions:
Preheat oven to 375 degrees and butter the pan or baking dish that you will be using, set aside.
In a sauté pan, melt two tbs. butter and olive oil over medium-high heat.
Working in batches, add the chicken and sear it on all sides until it begins to brown then transfer it to the baking dish.
Add the potatoes to the baking dish with the chicken.
Reduce the heat to medium-low and add the shallots to the pan. Sauté for 2 minutes and add ½ of the chicken broth and ½ of the apple juice to the pan, scraping up any brown bites from the bottom. Bring the mixture to a boil and then pour it over the chicken. Sprinkle with salt and pepper then top with sage leaves and bake for 45-55 minutes until the chicken is cooked and the juices run clear.
Using a slotted spoon, transfer the chicken and potatoes to a serving platter and cover with foil to keep warm.
Skim the fat off of the top of the remaining chicken juices and transfer to a measuring cup or alternative pouring device.
In a small saucepan over medium-low heat, melt the remaining tbs. of butter and the flour, stirring for 1-2 minutes.
Raise the heat to medium-high and add in the remaining apple juice and chicken broth, whisking constantly to combine.
The mixture should thicken after 3-5 minutes then add the cream, stir and remove from the heat.
Pour the sauce over the chicken and potatoes and serve.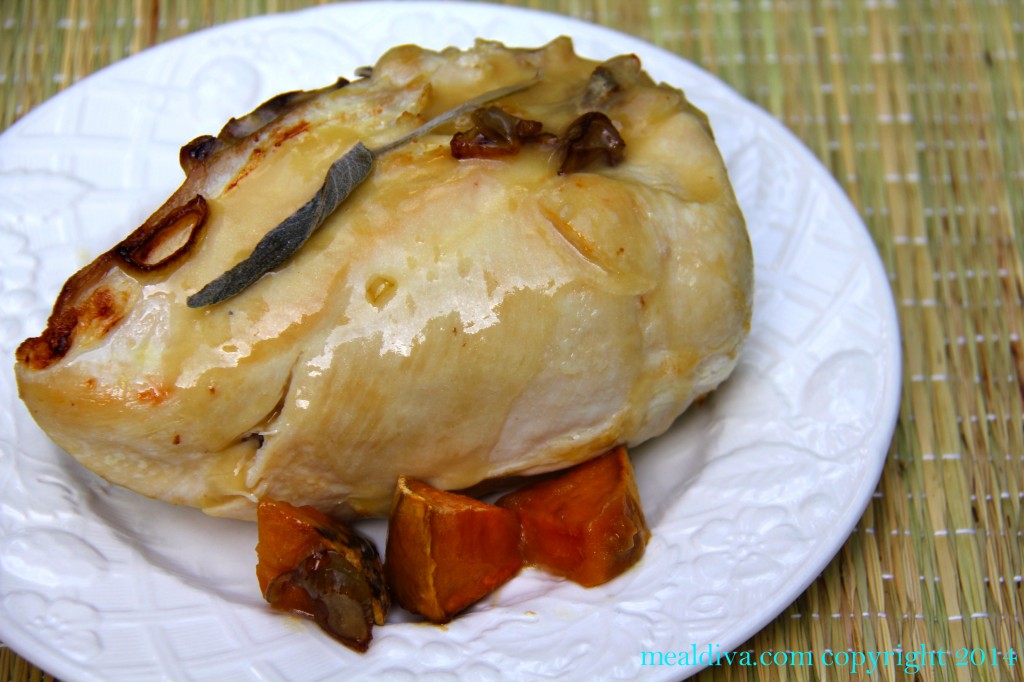 Alluring Appetizers and Stunning Sides
Enticing Entreés
Decadent Desserts
Join the #SundaySupper conversation on twitter on Sunday! We tweet throughout the day and share recipes from all over the world. Our weekly chat starts at 7:00 pm ET. Follow the #SundaySupper hashtag and remember to include it in your tweets to join in the chat. To get more great Sunday Supper Recipes, visit our website or check out our Pinterest board.
Would you like to join the Sunday Supper Movement? It's easy. You can sign up by clicking here: Sunday Supper Movement.