I find it's a difficult time of year for me – it's warm then cold then raining and there are no leaves on the trees….I feel like I'm just waiting on winter…when the weather is grey and gloomy like it is today, I like to make lasagna and we all know that it's not something I often make, but when I do, it's always so yummy!
I've already share my favorite Garlic Chicken Lasagna recipe as well as a delicious Crockpot Lasagna recipe with you but today I am lightening it up ( just a little).
As a side note- why do I always use chicken in my lasagna? I promise to work on that in the future….
Anyway, back to this Chicken Alfredo Lasagna recipe:
I cut this recipe out of a Weight Watchers magazine a few years ago and my family loves it! My daughter Peanut actually took leftovers for lunch the next day ( that's a HUGE deal in this house as my children choose to conform to typical "kids" lunch requests in front of their peers). With a weight watchers points' value of 8 per serving (and there are 10 servings in this recipe), this is a yummy, lightened up comfort food dinner! Dig in!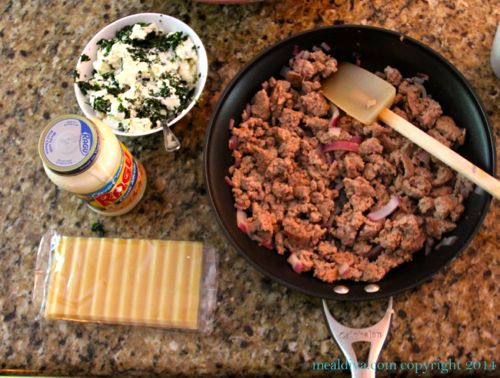 Start by chopping your onion and browning it in the pan with the ground chicken. Add a little salt if you like to enhance the flavors.  Once the chicken is cooked, remove it from the heat and set it aside to cool. While it's cooling, gather your ingredients and mix together the ricotta with a little mozzarella, spinach, salt and pepper.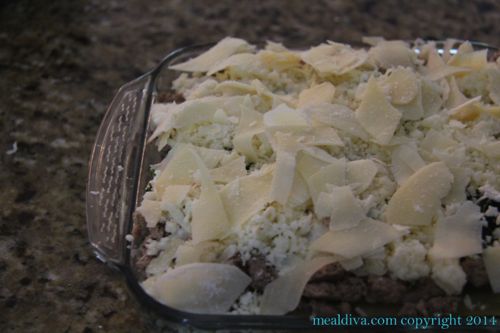 It's a lasagna, so it's time to layer! Start with a little alfredo sauce in the bottom of the pan then add some noodles followed by chicken, ricotta then cheese. Repeat.
Oh yes, this is yummy!
Once you've created the lasagna layers, top it with some mozzarella and parmesan cheese and then place it in the oven to cook. All it takes is 30 minutes at 350 degrees and then it's time for a yummy, yummy dinner!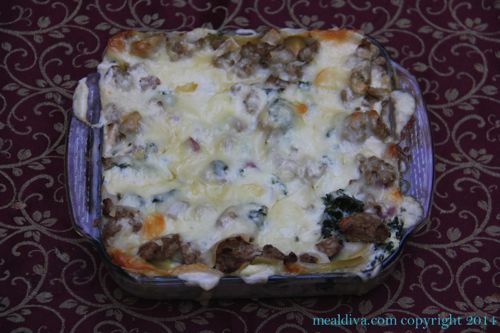 What I love about this is that it delivers big time on flavor: it is 100% comforting and it's really quick to throw together. Enjoy!
Chicken Alfredo Lasagna
Ingredients:
1 tbs. olive oil
1 lbs. ground chicken
1 red onion, chopped
A pinch of salt and pepper
2 cups shredded part-skim mozzarella cheese, divided
1-cup part-skim ricotta cheese
1 (10oz) package frozen chopped spinach, thawed, drained and squeezed dry
2 ¼ cups light creamy Alfredo sauce ( I used Ragu)
1/4 cup parmesan cheese
9-12 no-boil lasagna noodles
Directions:
Preheat oven to 350 degrees and grease a baking dish with cooking spray
Heat oil in a large skillet over medium-high heat.
Add the chicken and cook for 5 minutes until browned then transfer to a dish and set aside.
Add onion to the pan and cook until fragrant and tender, about 5 minutes then return chicken to the pan and season with salt and pepper.
In a small bowl, combine 1-cup mozzarella, ricotta, spinach and a pinch of salt and pepper.
Spread Alfredo sauce in the bottom of the baking dish then arrange 3 noodles over the sauce and top with half the chicken mixture then the cheese/spinach mixture. Repeat layers, ending with noodles.
Sprinkle with remaining mozzarella cheese and then the parmesan cheese then cover with foil.
Bake for 30 minutes then remove foil and bake for an additional 15 minutes until the noodles are cooked and the cheese is browned.
Let stand for 5 minutes before serving.