This Cheeseburger Casserole is cheesy, beefy and saucy – a winning combination for sure!
It's time to warm up and satisfy your soul with this delicious cheeseburger casserole! Pasta, tomatoes, beef and cheese all tossed into an easy to heat and serve casserole dish – it's like homemade hamburger helper -is there anything more delicious?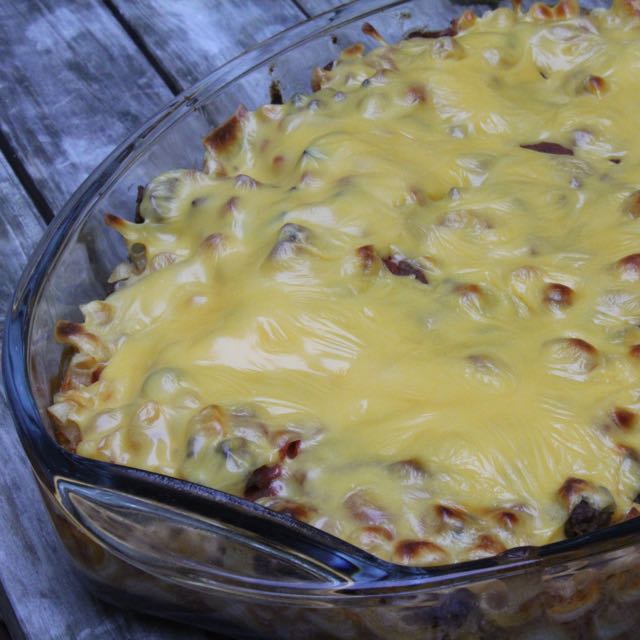 I'm going to be honest here and say that this recipe is deliciousness first and prettiness second. I just couldn't get a great picture of it. Maybe Santa will bring me a new camera…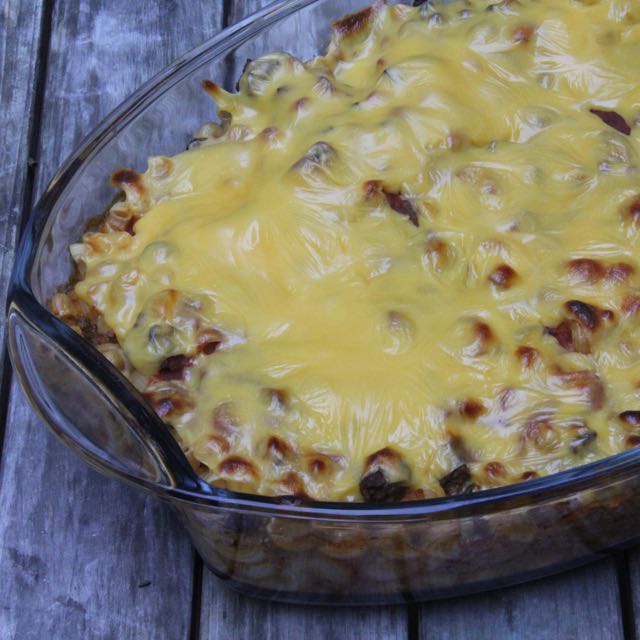 Back to how yummy this is! Seriously, it's one of those recipes that will make you swoon and go back for seconds, thirds…maybe fourths… my family had a total lack of control when I placed this in the middle of our dinner table….
Cheeseburger Pasta Casserole
Ingredients:
12 oz. elbow macaroni
1 tbs. olive oil
1 yellow onion, chopped
1-2 garlic cloves, diced
1 lbs. ground beef
2 (15 oz) cans tomato sauce
1/3 cup dill pickles, diced
1 tbs. Worcestershire sauce
1 tbs. yellow mustard
Salt and pepper to taste
8 thin sliced deli American cheese
Optional: chopped tomatoes and green onions for serving.
Directions:
Prepare pasta according to package directions then strain and set aside, reserving 1 cup cooking water.
Preheat oven to 400 degrees.
Add oil to the now empty pasta pot and heat until shimmering.
Add onion and cook for 5 minutes then add garlic for 30 seconds.
Add ground beef and cook, breaking up the meat, for 5 minutes or until it's cooked through.
Add 1 can of tomato sauce, pickles, Worcestershire, mustard and a little salt and pepper to taste. Bring to a simmer and let bubble for 5 minutes then add pasta, remaining can of tomato sauce and reserved cooking water. Stir to combine.
Transfer to a 12 by 9 inch baking dish and cover with foil.
Bake in pre-heated oven for 25 minutes, stirring 1/2 way through cooking time.
Remove foil, layer cheese over top and bake, uncovered for 5 minutes or until cheese has melted.
Let cool for 10 minutes and top with fresh tomato or green onions if desired.