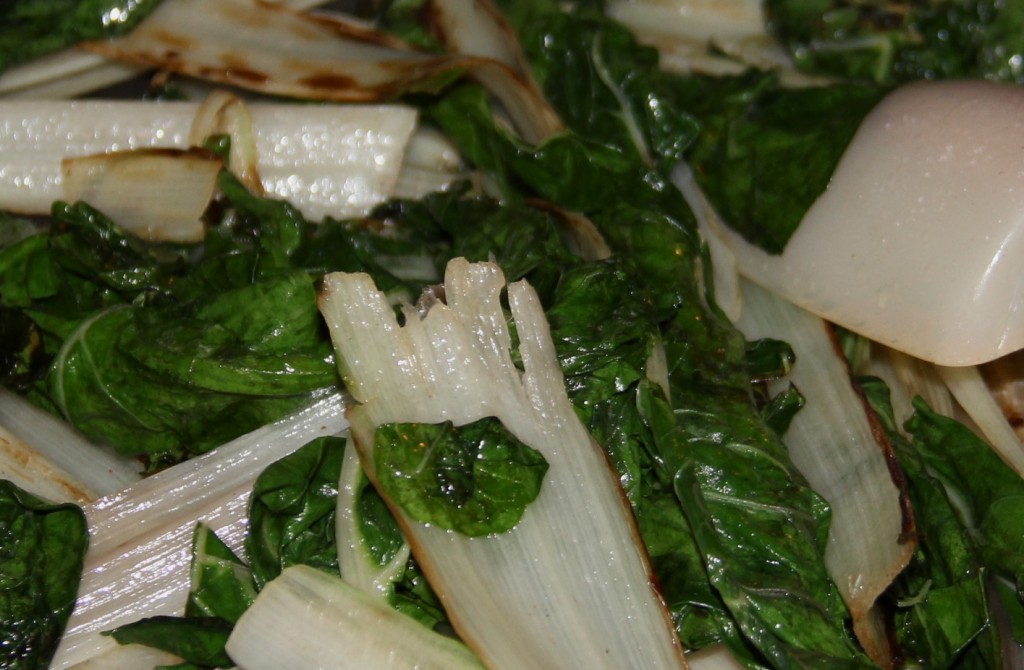 It's Monday. The fridge is just about empty but I don't feel like going grocery shopping and I have about 3 bags of left over CSA veggies that I should really use up. I open the bags and find Bok Choy and Swiss Chard. I search around some more and find a red pepper.
Hmmmm…. What can I make….hmmmmm….I rummage some more and find 1 box of whole wheat pasta. Using up the last of your fresh veggies can sometimes be a challenge, especially if you're unwilling to visit the grocery store with a plan.
Here's a successful recipe that uses up the last of your green veggies. Spinach and Kale can be used instead or in addition to as well. I promise that your kids will even like it: it's pretty mellow in flavor (leave the hot pepper flakes out if they are really sensitive to heat):
Bok Choy, Swiss -Chard and Noodles
Ingredients:
1-box whole-wheat spaghetti noodles
1 tbs. olive oil
1 (1- inch piece) or 1 tbs. ground ginger
1 shallot, diced
Left over Bok Choy, leaves and stems separated and chopped
Left over Swiss Chard, leaves and stems separated and chopped
1 red bell pepper, chopped
¾ cup chicken stock or water or vegetable stock (whatever you have, no need to be picky)
2 tbs. soy sauce
1 tbs. rice vinegar
½ cup unsalted, roasted peanuts (cashews work to)
A pinch or 5 of red pepper flakes, depending on how spicy you like it.
Directions:
Cook pasta according to package directions. Drain and set aside to cool.
In a large non-stick skillet over med-high heat, heat oil.
Add shallot and ginger and sauté for 2 min.
Add bok choy and chard stems, bell pepper and a sprinkle of salt.
Cook, for a minute until peppers are crisp but tender.
Remove pepper/ginger to a side bowl.
In the same skillet, add bok choy and chard leaves, stock, soy sauce and vinegar.
Cook, stirring until leaves are soft and bright green, 2 min.
Add pepper mixture back into skillet and mix.
Put pasta into a large bowl.
Add skillet mixture and toss to combine.
Add peanuts and pepper flakes. YUM!