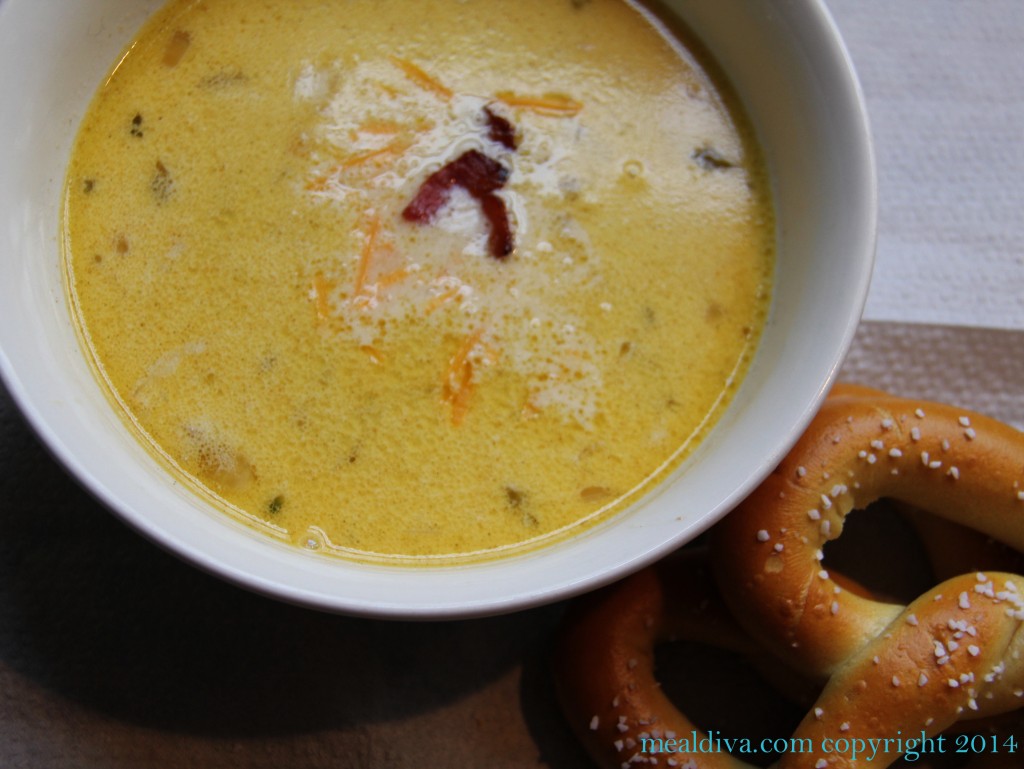 There comes a time in your life when you just have to make cheese and beer soup. Oh yeh.
This recipe is super delicious and enticing— sometimes you just need to enjoy a treat and this recipe is amazing, comforting, satisfying and probably 1 million calories of pure yum!
Here's how it all came about:
This morning, my husband looked at me with puppy dog eyes and said, "Can we PLEASE make beer and cheese soup…with jalapeno's and pretzels." How could I say no? The man was on stay-cation (vacation that doesn't involve travel). That, and my mouth started to water….
Beer and cheese soup is something I've seen on Pub menus….enter Google: I did a few searches to get some ideas (felt inspired by Brown Sugar and My Gourmet Connection) and got to work.
This is a fantastic Beer and Cheese Soup recipe – the only thing you need to make this even better are some hot pretzels covered in salt.
Go ahead and indulge!
Beer and Cheese Soup
Ingredients:
8 thick slices of THICK bacon – Oscar Meyers makes a good one and if you are one of my local followers, check out eatlocalnj.com for some GREAT bacon as well.
1 yellow onion, diced
2 stalks of celery, diced
3 jalapeno peppers, diced (1 unseeded and 2 with seeds – feel free to remove all seeds if your not a fan of spice)
3 large cloves of garlic, minced
3 tbs. butter
1/4 cup of all-purpose flour
4 cups chicken broth
1 (12 oz) bottle of beer –  I used Samuel Adams Boston Lager.
1 cup of heavy cream
2 tsp. Worcestershire sauce
2 ½ cups sharp cheddar cheese, shredded or freshly grated
1 lbs. smoked Gouda, cut into smaller chunks so it melts easily
Salt and pepper to taste
Directions:
In a soup pot over medium- high heat brown bacon until crispy.
Using a slotted spoon, transfer bacon to a plate lined with paper towel to drain and put it to the side.
Spoon off and discard ½ of the bacon drippings in the pot (use judgment here – if you have a TON of bacon grease, remove more. You want about just a little in the bottom of the pot for flavor).
Return the pot to medium heat and add onion, celery, jalapeno peppers and garlic. Cook until vegetables soft, about 8 minutes.
Add butter and continue to cook until the butter has melted.
Add flour and cook for 1-2 minutes, stirring constantly.
Slowly whisk in chicken broth, making sure there are no clumps.
While whisking, make sure to scrape up the bottom of the pot with your spoon to get all the bacon bits on the bottom.
Simmer the soup mixture for 15 minutes.
Add the beer and continue simmering for another 10 minutes.
Add heavy cream and Worcestershire sauce.
Add sharp cheddar cheese then the Gouda cheese and stir until all the cheese is completely melted.
Let soup simmer for 5 minutes then season with salt (if needed) and pepper.
Ladle soup into bowls and garnish with bacon ( I also put a little left over grated cheddar cheese on top).