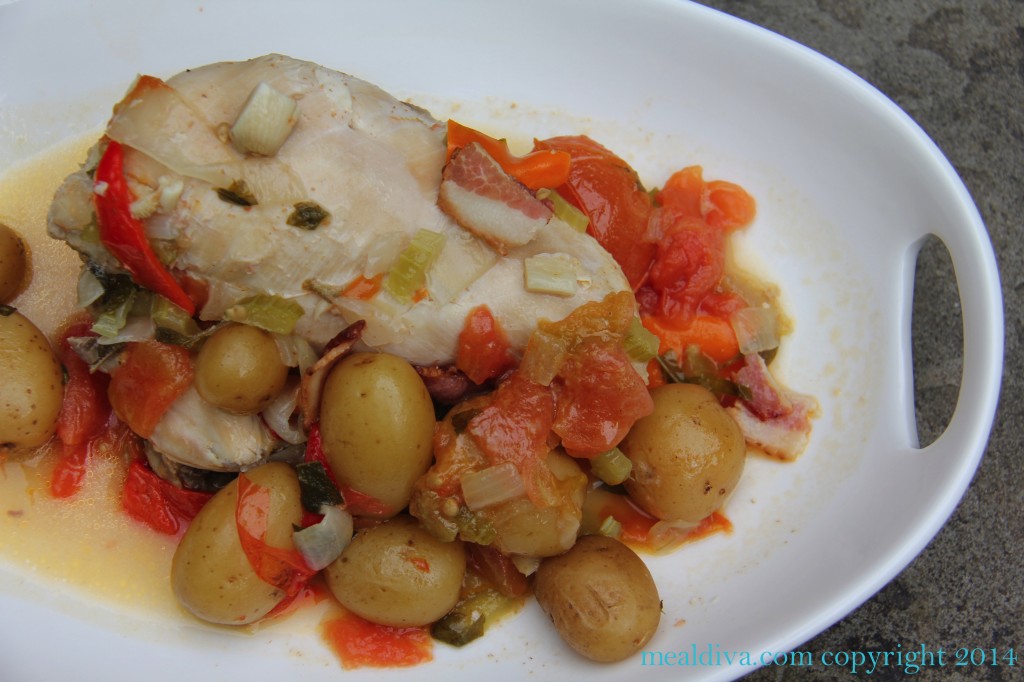 This is my version of a stew that can be found in the Basque region of France. It's full of robust and amazing flavors as the tomatoes, peppers, and bacon come together with the chicken stock and white wine to make an impressive and delightful sauce. It is delicious when served with homemade garlic bread.
This stew goes especially well with a French White Burgundy wine: it's crisp and unoaked and the delicious flavors meld perfectly. I recommend ones from Macon-Village wines. They are good values for an excellent glass of wine.
Mmmmm…. scrumptious dinner and delicious wine…it really doesn't get any better! Enjoy!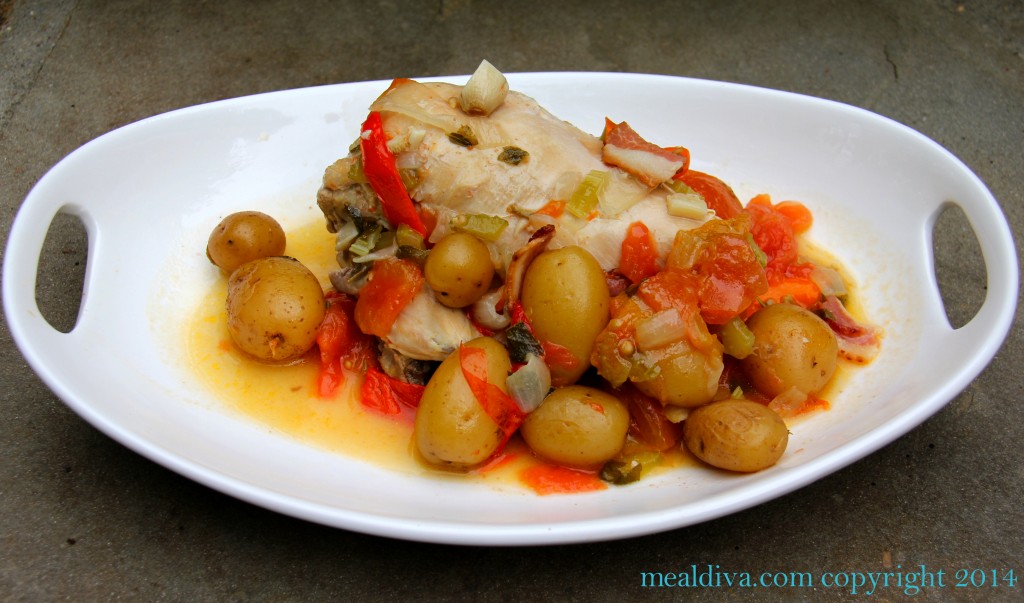 Basque Chicken Stew
Ingredients:
1 red and 1 yellow pepper, cut into strips
1 whole chicken, cut into pieces
3 slices of bacon
3 garlic cloves, chopped
1 yellow onion, sliced
2 ripe tomatoes, chopped into chunks
3 fresh sprigs of parsley, chopped
3 fresh sprigs of thyme, chopped
1 bay leaf
¼ fresh basil, chopped
1 celery stalk, chopped
1 ½ tbs. flour
1 cup white wine
1 cup chicken stock, heated
Salt, pepper and cayenne pepper to taste
Directions:
Remove excess skin from the chicken pieces.
Heat a large skillet over medium heat and cook the bacon until crispy.
Using a slotted spoon, remove bacon to a paper towel and set aside.
Reduce heat to medium-low and add the onion, garlic and peppers and sauté for 6-7 minutes.
Using a slotted spoon, transfer onion mixture to a stew pot.
Add potatoes, tomatoes and celery to the pot.
Return skillet to medium-high heat and sauté the chicken in the bacon fat until lightly browned, about 5-7 minutes on each side then transfer to the stew pot.
Add the flour to the skillet and stir for 1 minute then add the wine and stock.
Continue to stir over medium heat, scraping up any brown bits from the bottom.
Cook until thickened, about 2-3 minutes.
Pour sauce over chicken; add salt, pepper and cayenne to taste.
Add parsley, thyme, bay leaf and basil.
Cover and simmer, reduce the heat, and simmer until juices have increased, about 25 minutes.
Rearrange the chicken and vegetables, re-cover and simmer for an additional 20-25 minutes until the chicken us cooked and "falling off the bone."
Adjust seasoning and serve!