Today's #SundaySupper is especially delicious because we are sharing recipes featuring beef and how to make the most out of it this holiday season! My goodness, there are so many yummy ways to prepare and eat it with the ones that you love! In an effort to highlight all of the wonderful ways you can cook with beef, today's #SundaySupper bloggers are getting together to share with you beef recipes for 5 different occasions: appetizers, main entrees, potluck dishes and brunch/breakfast for a crowd. In addition, be sure to follow the #SundaySupper Beef Pinterest board for more holiday cooking inspiration!
Today I'm sharing one of my all-time favorite appetizers: Bacon Wrapped Filet Mignon. This recipe is my go-to, always makes everybody happy, need a delicious –appetizer-for-the-party-that-everyone-will- love recipe. After all, filet mignon and bacon – is there anything better?
Trust me, this recipe is a little jewel. So print it out and save it for your next party.
Lets get started!
First gather all of your ingredients: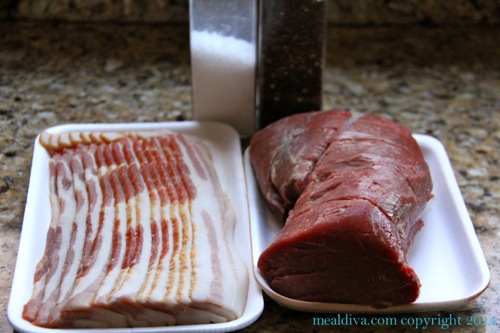 Now prepare the bacon by frying it until it's almost crispy. You want it to be almost done but still flexible enough to wrap it around the meat. If it's over- cooked, it will fall apart in your hands. By frying the bacon first, it ensures that the baking time for the steak will be quick and that the meat will not be over-done. Nothing worse then over-cooked filet mignon!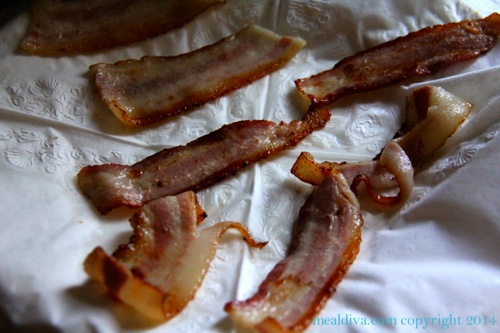 Next, prepare the filet mignon. What I like most about beef is that it tastes delicious with or without fancy ingredients, sauces and marinades!
I purchased filet as a whole tenderloin but feel free to have your butcher cup into tips for you. To do-it-yourself, simply sliced off a ¼ inch piece, cut it in half then cut it in half again so that each slice gives you 4 pieces. Once your pieces are cut, season them with a good amount of salt and pepper.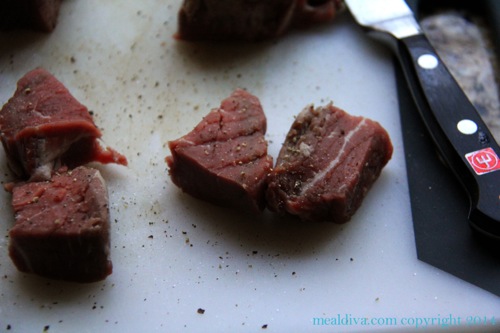 Now wrap each bite-sized morsel in bacon and secure it with a toothpick and place it on a baking sheet. How easy peasy is this?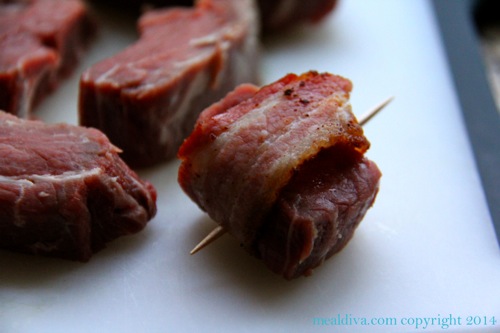 Pop the cookie sheet into the oven and keep an eye on the steaks as you make the horseradish cream (if using).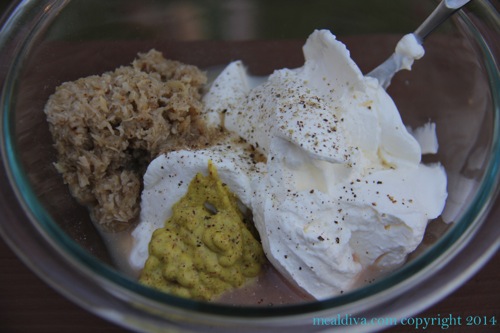 And here it is my friends: Bacon Wrapped Filet Mignon. Enjoy!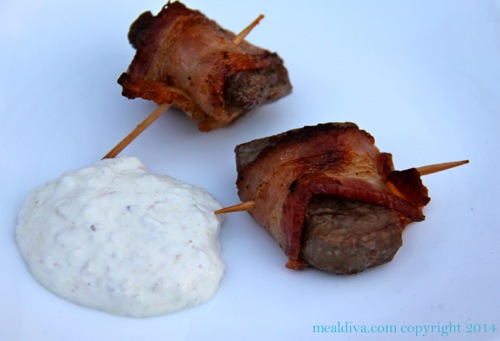 Bacon Wrapped Filet Mignon
Ingredients:
3 lbs. filet mignon, whole tenderloin or tips that are cut into bite-sized cubes by the butcher.
1 ½ lbs. thick cut bacon
Salt and pepper
Toothpicks (colored wooden toothpicks work great, just not the ones
with plastic frill on the ends.)
Horseradish Sauce (directions below).
Directions:
Fry bacon until it's almost crispy then drain on paper towels.
Preheat oven to 450 degrees.
Sprinkle steak with salt and pepper.
Wrap a slice of bacon around each filet piece and push a toothpick through it to secure the bacon.
Place bacon wrapped filet tips on a baking sheet.
Bake for 3-4 minutes; turn and bake an additional 3-4 minutes.
Drain off any grease from the pan and serve immediately with horseradish sauce.
Horseradish Sauce:
Ingredients:
½ cup sour cream
¼ cup fresh horseradish
1 tbs. Dijon mustard
1 tsp. apple cider vinegar
A good sprinkle or salt and pepper
Directions:
Place all of the ingredients into a medium bowl and mix until it's well combined.
This sauce can be made ahead and stored for a week.
Horseradish Sauce recipe is adopted from Alton Brown's recipe on the foodnetwork.com
Don't like horseradish sauce? Serve these with a Raspberry Chipotle Barbeque Sauce, Blue Cheese Dressing, and/or Chile Con Queso instead!
Clearly, the MealDiva house is full of carnivores who salivate at the thought of beef for dinner!! It's just so versatile and easy to cook with! If you're a beef lover, be sure to take a peek at the collection of delicious recipes below! In addition, more Beef Checkoff recipes can be found on Pinterest, Facebook and Twitter. You can also find more delicious ways to cook up beef directly on their website at http://bit.ly/beefss. Happy Holdays!
And now it's time to check out these yummy beef recipes from my fellow #SundaySupper bloggers:
Appetizers
Brunch or Breakfast for a Crowd
Main Dish
Potluck Style
Join the #SundaySupper conversation on twitter on Sunday! We tweet throughout the day and share recipes from all over the world. Our weekly chat starts at 7:00 pm ET. Follow the #SundaySupper hashtag and remember to include it in your tweets to join in the chat. To get more great Sunday Supper Recipes, visit our website or check out our Pinterest board.
Would you like to join the Sunday Supper Movement? It's easy. You can sign up by clicking here: Sunday Supper Movement.
This post is sponsored by The Beef Checkoff. All opinions are my own