How do you celebrate the importance of family and friends? I invite you to try it in the form of an old-fashion Sunday dinner. Whether you plan a mid-day or early evening meal, slowing down and enjoying food with good company is wonderful.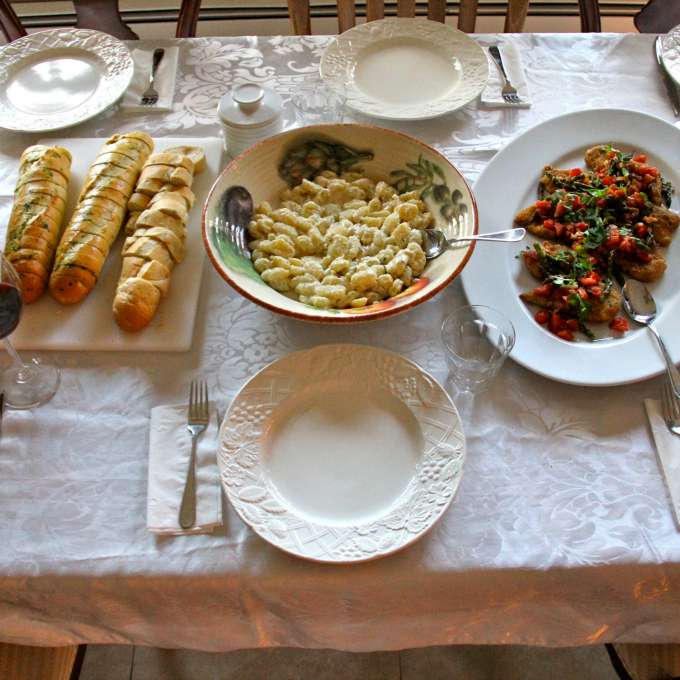 Every Sunday in the MealDiva house, we enjoy a whole-food, beautiful dinner with friends or family (that usually means that there is always a minimum 12 people sitting around our kitchen table). Some Sunday's are classic: a roast with potatoes and veggies while others are a little different like homemade Chinese or Italian. I invite you to join me today as I share our Sunday Dinner meal plan and shopping list with you!
Sunday Dinner: Italian Inspired
This meal can be served in courses or, if you're a mom of three little kids like me, served all at once! Up to you!
The Menu:
For Starters: Cheese from The Valley Shepherd Creamery or some fantastic Italian Cheese like: Bel Paese, Fontina and Mozzarella
Chicken with White Wine, Tomatoes & Asparagus
Blue Cheese Gnocchi
Garlic Bread
Fall Cranberry-Vinaigrette Salad
Wine pairing suggestions: Miali Firr Primativo for a red, Miali Lunalba sparking Chardonnay for white or for a touch of New Jersey, Casi Dulce from Villa Milagro
Dessert idea: Fall Fruit Puff Pastry Pockets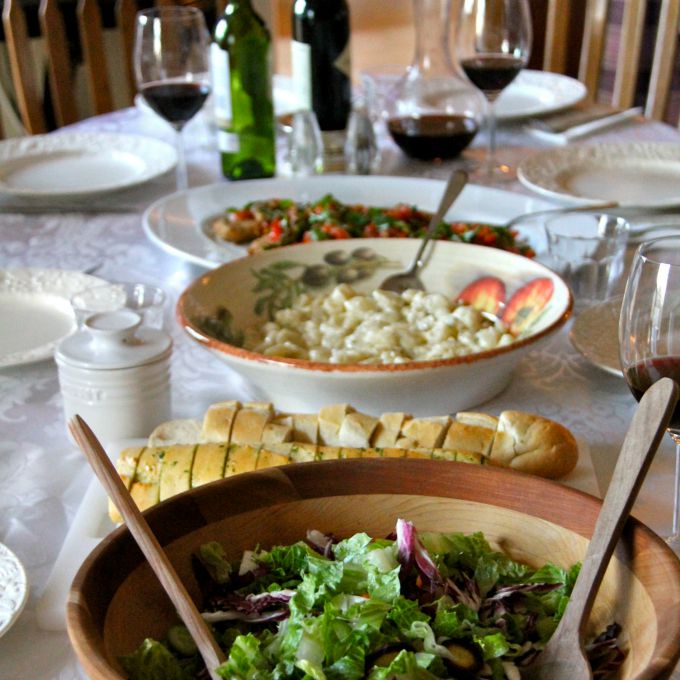 Chicken with White Wine, Tomatoes & Asparagus
This is so simple and so delicious! It even tastes good the next day!
Ingredients:
8 thin sliced chicken breasts (bone-in chicken thighs work as well but require a little more cooking time)
½ cup olive oil (you may need a little more)
½ whole-wheat flour (you may need a little more)
1 tbs. olive oil
1 large yellow onion, diced
4 cloves garlic, minced
1 tsp. dried thyme
1 tsp. fennel seeds
1 tsp. dried oregano
1 tsp. freshly ground black pepper
1 bay leaf
1-cup dry-white wine
6 Roma-tomatoes, seeded and chopped
1 large bunch of asparagus, trimmed (I only use the tops but you could use the whole stalk if you wish)
1 tsp. sea salt
¼ cup fresh parsley and basil, leaves torn
Directions:
Prepare the chicken:
Preheat oven to 400 degrees
Prepare chicken:
Pour olive oil into a small bowl.
Pour flour into a different small bowl.
Dredge the chicken by dipping the chicken into the olive oil then in the flour; making sure the chicken is covered.
Place chicken on a baking sheet and bake for 20-25 minutes until juices run clear.
Prepare the sauce:
Heat olive oil in a large skillet over medium-high heat.
Add onion and cook until softened, 3 to 6 minutes.
Add garlic, thyme, fennel seeds, oregano, pepper and bay leaf and sauté for 1 minute.
Add wine, bring to a boil and boil for 2 minutes, scraping up any browned bits.
Add tomatoes and salt; stir well.
Add Asparagus.
Sauté for 3 minutes: you want the asparagus to still be a little crunchy.
Remove bay leaf and cover to keep warm until the chicken is done.
Remove chicken from the oven and transfer to a platter.
Pour sauce over chicken, top with the fresh herbs and serve.
Blue Cheese Gnocchi
This is so easy and always impresses: it's such a gourmet comfort food! If you have the time and want to make the gnocchi from scratch, message me and I'll send you instructions. If not, just buy it from the store. This recipe makes enough sauce for 1 package of gnocchi. Double it if you need more.
Ingredients:
¾ cup heavy cream
¼ cup dry white wine
4 oz. blue cheese
2 tbs. chives, diced
Directions:
Prepare the water for the gnocchi
In medium sauté pan, bring wine to a simmer.
Add cream.
Break the blue cheese into chunks and gradually add it to the pan, whisking constantly until the cheese melts and the sauce thickens, about 2-3 minutes.
Stir in the chives and season with salt and pepper.
Lower the heat and cover to keep warm.
Putting it all together:
Gently add the cooked gnocchi to the boiling water and cook until firm, about 90 seconds.
Gnocchi floats when it's done.
Using a slotted spoon, transfer the cooked gnocchi to the skillet with the sauce.
Gently toss to coat and serve it HOT!
Garlic Bread:
Ingredients:
1 long, whole-wheat baguette, with slits cut along the top
1 tsp. Italian seasonings or 1-2 tbs. chopped fresh parsley and basil
1 clove of garlic
1 tbs. olive oil
Salt and pepper to taste
Directions:
Using a mini-chop or blender, puree herbs and garlic together.
Stream in olive oil until well combined.
Add salt and pepper to taste.
Using a brush or spoon, put a little infused oil in the slots on the bread.
Wrap in foil and add to the oven for the last 5 minutes of chicken cooking time.
Fall Cranberry- Vinaigrette Salad
Ingredients:
2 heads of romaine, rinsed, dried and torn into bite-sized pieces
2 medium heads of endive, wash, dried and chopped
2 ripe pears cut into bite-sized pieces
½ cup toasts walnuts
½ cup crumbled Gorgonzola cheese
½ cup cider vinegar
½ cup cranberries
¼ cup olive oil
2 tsp. sugar
1/8 tsp. salt
A pinch of pepper
Directions:
In a saucepan, combine vinegar and cranberries.
Cook over medium heat until cranberries soften.
Remove from the heat
Add olive oil, sugar, salt and pepper.
Place in a blender and blend until smooth.
Place in the refrigerator until ready to serve.
In a large bowl combine salad ingredients.
Drizzle with dressing and toss to coat. Enjoy!
Dessert Idea: Fall Fruit Puff Pastry Pockets  (items for dessert are not on the shopping list)
The Shopping List:
Liquor
Dry-white wine
Wine to serve with dinner
Aisle Items:
Olive oil
Fennel seeds
Dried oregano
Dried thyme
Black pepper
Bay leaf
Cider vinegar
Sugar
Whole-wheat flour
Sea salt
Walnuts
Gnocchi
Meat:
8 thin sliced chicken breasts or bone-in chicken thighs
Dairy:
Small container of Heavy cream
4 oz. Blue cheese
Gorgonzola cheese (to crumble into salad)
Produce:
1 large yellow onion
1 Head of garlic
6 Roma tomatoes
1 large bunch of asparagus
Fresh parsley
Fresh basil
Fresh chives
1 long, whole-wheat baguette
2 heads of romaine
2 medium heads of endive
2 ripe pears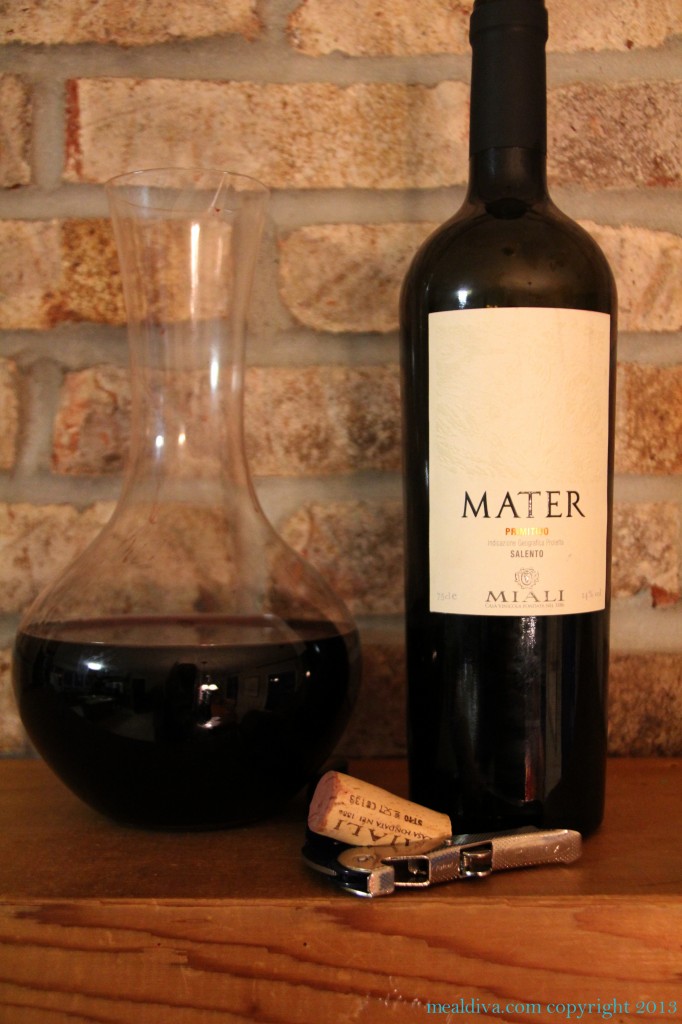 If you like this idea for a post series, I would LOVE to hear from you: please leave a comment under "speak your mind" below: