I do make a mean Beef Ragu – this is a once-a-year meal. And I make it every year around the same time – call it tradition – maybe coincidence or is it the cold weather? Either way, it's delicious!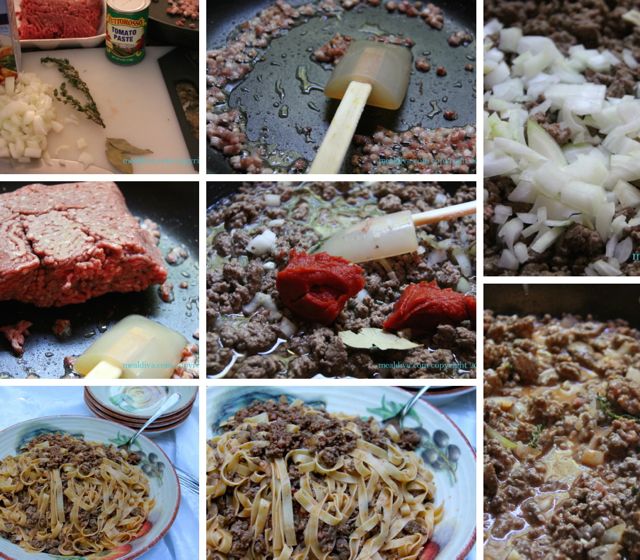 The flavors come from the salty pancetta and the earthy thyme – two of my favorite things! Combine them with garlic, onions and beef and voila! Deliciousness has been made!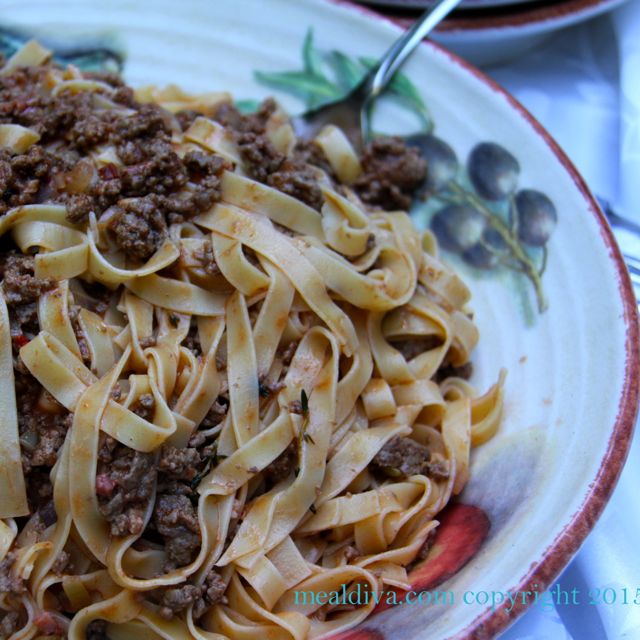 Seriously, this is one of my all time most flavorful and favorite pasta recipes! And it's highly addictive! Ready to dig in? I am! To make this a MealDiva Approved dinner, serve it with a healthy salad  or some leafy greens and homemade salad dressing! Enjoy!
Addictive Beef Ragu
Ingredients:
2 tbs. olive oil
1/4 lbs. pancetta, chopped
2 tbs. chopped fresh thyme
2 bay leaves
1 lbs. ground beef
1 medium yellow onion, diced
2 – 3 large clove garlic, diced
Salt and pepper
3 tbs. tomato paste
2 cups beef stock
1 lbs. fresh pasta, linguine or other
Freshly grated Parmesan cheese
Directions:
Bring a large pot of water to a boil.
In a deep skillet or large saucepan, heat the olive oil over medium-high.
Add the pancetta and cook until the fat melts, 2 to 3 minutes.
Add the thyme and bay leaf then the ground beef and cook, breaking up into small pieces until browned, 4 to 5 minutes.
Add the onion and garlic; season with salt and pepper.
Partially cover the skillet and cook ( with a lid or foil), stirring occasionally, until the onion softens, 5 to 6 minutes.
Add the tomato paste and stir until fragrant, about 1 minute.
Stir in the stock, then reduce the heat to low and let the sauce simmer while the pasta cooks.
Salt the water and cook the pasta until al dente.
Drain, reserving 1/2 cup of the pasta cooking water.
Add the pasta and the cooking water back to the hot pot. Toss with half the ragu sauce and season with salt and pepper (if desired).
Serve the pasta in shallow bowls topped with the remaining sauce and cheese.