When my kids were babies, I thought I was busy. As they have grown, I realize that I was sadly mistaken. Over the past year, between soccer, Girl Scouts and LAX, homework and starting my own small business, I realized that my household is NUTSO.
I've expanded my recipe arsenal of easy to make dinners that can be made in a jiffy. Like extra quick – so quick that I barely have time to photograph them – like this 10 minute homemade, no sugar red sauce.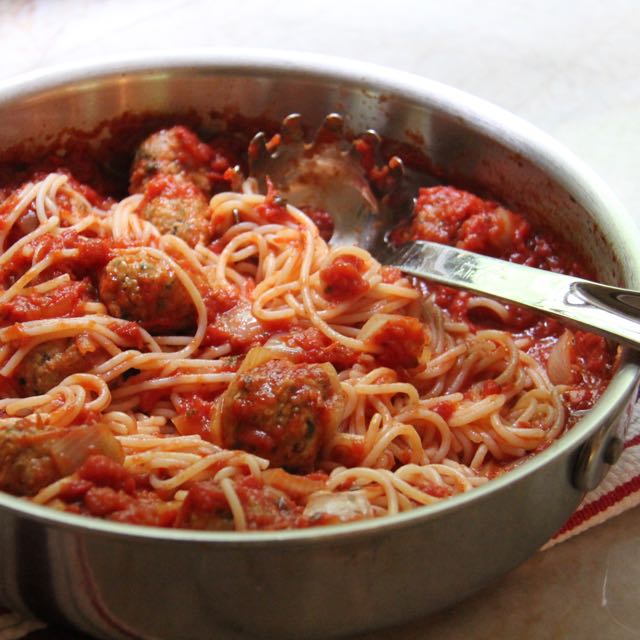 Here's a few tips on how I get dinner on the table SUPER QUICK:
I fill my pasta pot with water in the am before I leave the house so that it's easy to turn on when I get home.
I leave the pasta out on the counter along with the tomatoes.
Sometimes I use pre-chopped onion and garlic.
I leave the meatballs ( if using) in the fridge to defrost all day.
Basically, if your properly prepped, you should be able to start this red sauce as you set your pasta water to boil and it will be done almost at the same time. Side note – the meatballs aren't homemade – they are the Costco brand Gluten-Free ones – so good. Enjoy this recipes!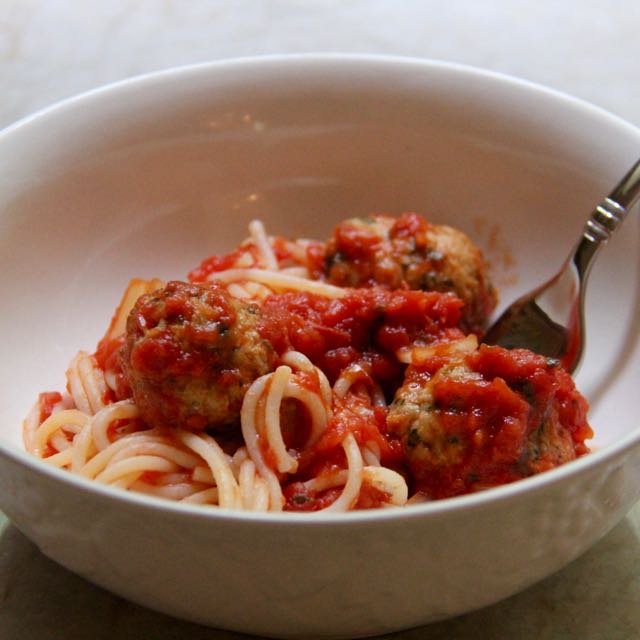 10 Minute Freshly "Canned" No Sugar Red Sauce
Ingredients:
2 tbs. olive oil
1 small yellow onion, diced
3 cloves fresh garlic or 2 tbs. pre-minced garlic
1 (28oz) can crushed tomatoes with basil
Sea salt and pepper
Optional: small handful fresh basil
Optional: Ready made meatballs
Directions:
Add olive oil to a saucepan over medium heat then add the onions.
Cook until the onions 3 minutes then add the garlic, sauce for 1 minute and season with salt and pepper to taste.
Add the tomatoes and simmer for 7-10 minutes.
Add basil and meatballs if using and give it a good stir before serving over hot pasta of choice.