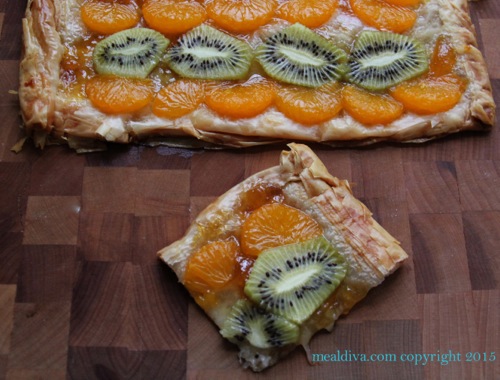 My kids have become kiwi groupies and together we came up with this phyllo tart to show case it's sour, juicy, sweet and sassy flavors.
And it's EASY to make!
Enjoy!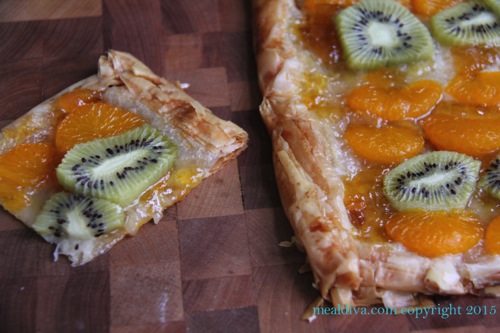 Tangerine and Kiwi Phyllo Tart
Ingredients:
7 sheets Phyllo dough, thawed
5 tbs. butter, melted
5 tbs. sugar
3 tbs. marmalade
2 tangerine fruit cups in light syrup
2 kiwi, peeled and sliced
Directions:
Preheat oven to 375°. Line a large cookie sheet with parchment paper and spray paper with cooking-oil spray.
Lay 1 sheet phyllo on paper and brush lightly with a little melted butter. Sprinkle all over with 1 tbs. sugar. Repeat layering 5 more times (with phyllo, butter, and sugar), pressing each sheet firmly so it sticks to sheet below.
Lay the last phyllo sheet on top, brush with remaining melted butter, and spread marmalade over the surface.
Place tangerines and kiwi across phyllo.
Bake until phyllo is golden brown, 30 to 35 minutes. Cool 10 minutes, then serve.