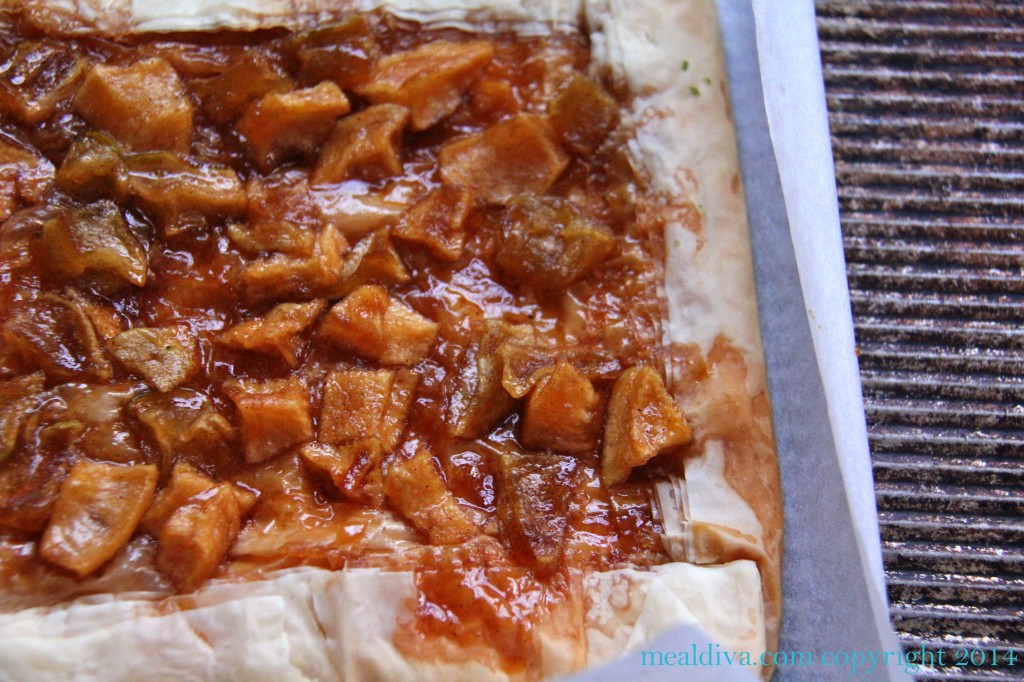 Abundant, back-to-school, breezy, colorful, deciduous, golden, fireside and vibrantly unpredictable – these are all words that I use to descibe fall. In celebration of my favorite season, I made this Phyllo-Apple Tart. I used farm fresh Melick's apples and a basic frozen dough from the store to make this amazingly tasty fall treat.
What's your favorite season?
Enjoy!
Easy Phyllo-Apple Tart
Ingredients:
3 gala apples, peeled, cored and diced into bite sized pieces
½ cup water
½ cup sugar
2 tbs. fresh lemon juice
4 tbs. butter, divided
1 package frozen phyllo dough, thawed
Directions:
Prepare apples and transfer to a bowl.
Bring water, sugar, lemon juice, and 2 tbs. butter to a boil in a small saucepan, stirring until sugar is dissolved, then pour over apples.
Toss the apples in the sauce and then drain in a colander set over a bowl, reserving liquid.
Preheat oven to 350 degrees.
Melt remaning butter in the microwave.
On a parchment lined baking sheet, arrange 1 sheet phyllo dough with a short side facing you and brush with some melted butter. Repeat, layering 3 more sheets of phyllo and more butter in same manner.
Brush edge with remaining butter, folding up the sides and arrange apples on phylo dough.
Bake the tart in the middle of the oven for 25-30 minutes, checking it to make sure it doesn't burn.
Boil reserved liquid in saucepan until reduced to about 1/3 cup, then brush on baked tart.
If desired, serve with vanilla ice cream.
For more apple recipes ideas, click here.