Perfect for the holidays: Beef Infused Salted Caramel Chocolate Cupcakes. Could there be anything more sinfully delicious?
Using the recipe for Hershey's "Especially Dark" chocolate cake, my talented friend Samantha De Cou showed me how to make these incredibly rich, moist and perfectly chocolatey beer infused cupcakes.
I love having such a talented friend!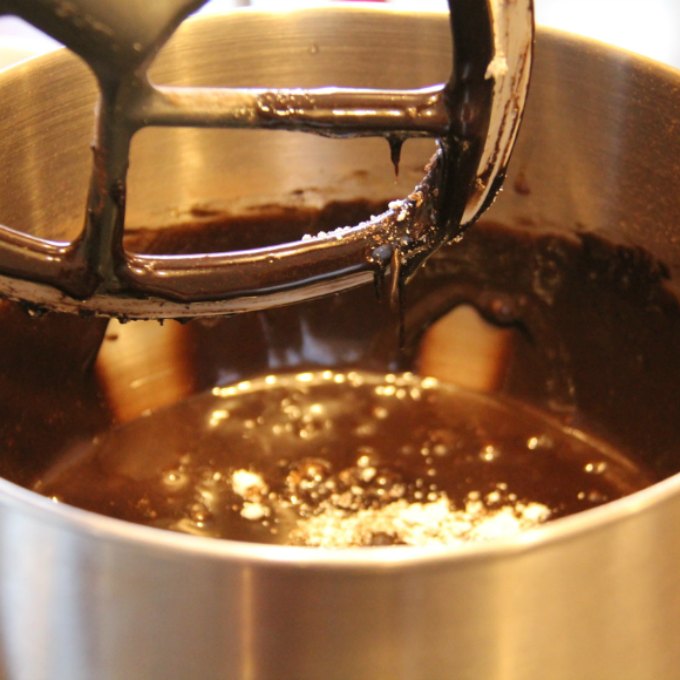 De Cou started by reducing a can of Guinness to 1 cup by boiling it on the stove top.  You can use almost any kind of beer for this recipe but I suggest you stay aways from anything fizzy, yellow, flavorless, brewed from corn or "light." Please use real beer that's brewed with hops and malt.
Using beer as an ingredients in baking can add a whole new dimension of flavor to any recipe, just like adding salt or spices.
After you have boiled the beer down to a concentrated form, set it aside to cool and prepare the batter.
Once the batter is made and the concentrated beer has been added, it will be very thin. Don't be concerned, they will bake up perfectly!
Fill each cupcake case to about 2 thirds full then bake in the oven for 20 minutes or until a skewer inserted into the middle comes out clean.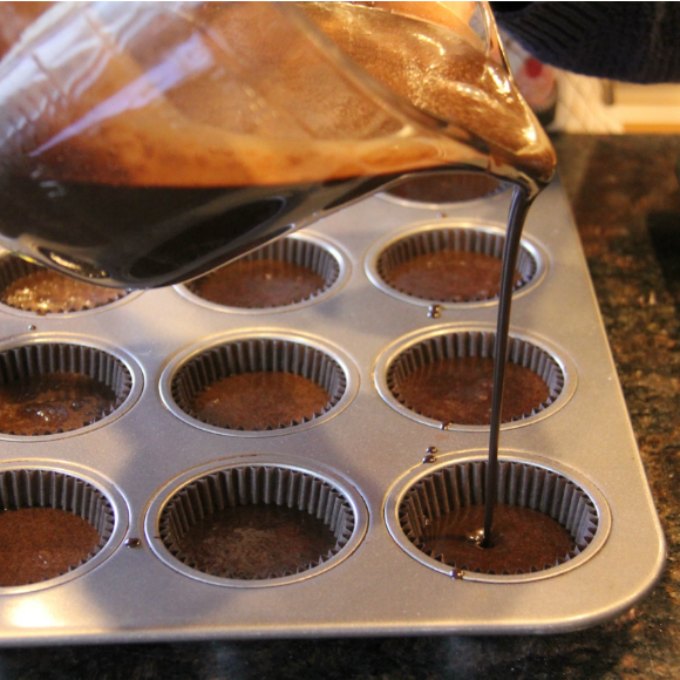 When the cupcakes are done, transfer them to a wire rack to cool while you make the frosting and caramel.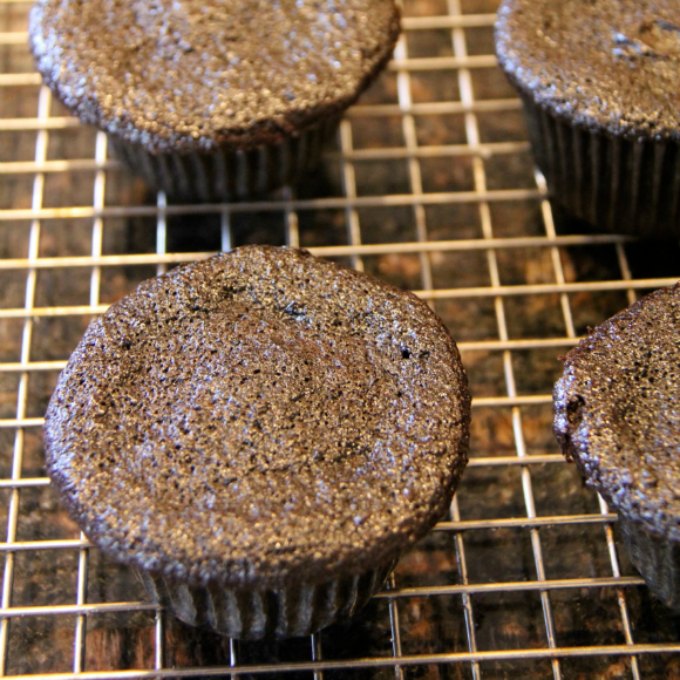 De Cou can multitask while she bakes so she made the caramel sauce while making the cupcakes. If you are new to baking, I suggest you take the time to make them separately.
This caramel sauce is so sweet and perfectly salty that you will want to make it again and again ( it's GREAT on ice-cream too)!
Heres' how De Cou made her addictive caramel: In a large pan ( the beer bubbles and may bubble over if you don't use a larger saucepan), she brought the Guinness to a rapid boil and reduced it to ¾ cup. It took about 10 minutes.
Keeping the heat the same, she added the butter and gave it a good stir to combine. Then she added the sugar but did not stir. She continued simmering the combination until it became a luscious, thick concoction and reached a temperature of 235 degrees.  If you don't have a candy thermometer, De Cou suggests that you "add a splash of water to the caramel and if it turns into a ball, it's done".
In went the the heavy cream and I watched in awe as it began to simmer and thicken up. The longer it simmers, the thicker it will be. The last step was to add in the salt and vanilla.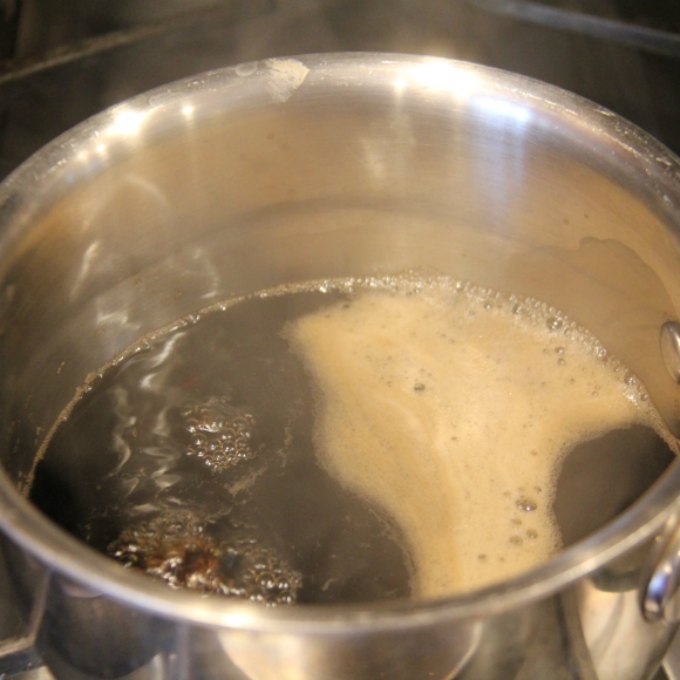 Now transfer the caramel sauce to a glass container to cool.
Heaven.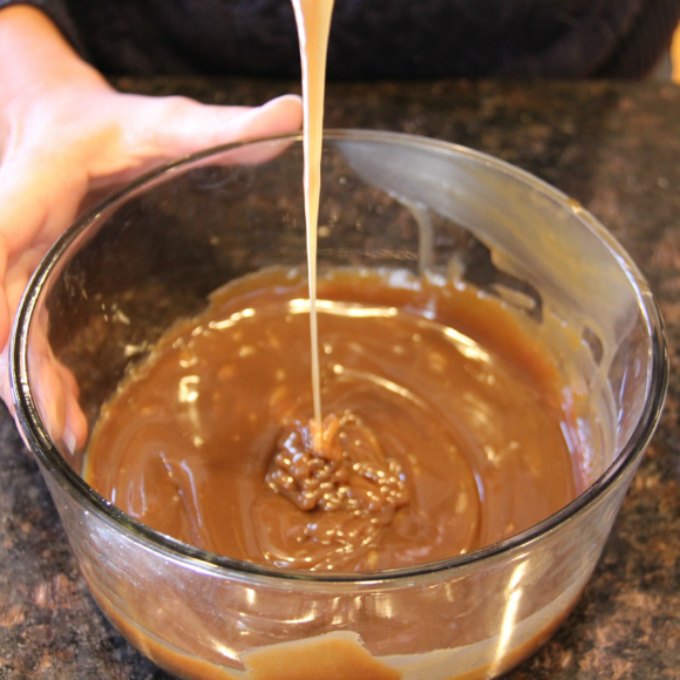 Now for the icing: the key to making this delectable icing is to really "whip it good." In addition, De Cou suggests that you add extra cream if the icing needs to be thinned out or add extra sugar if the icing needs to be thicker.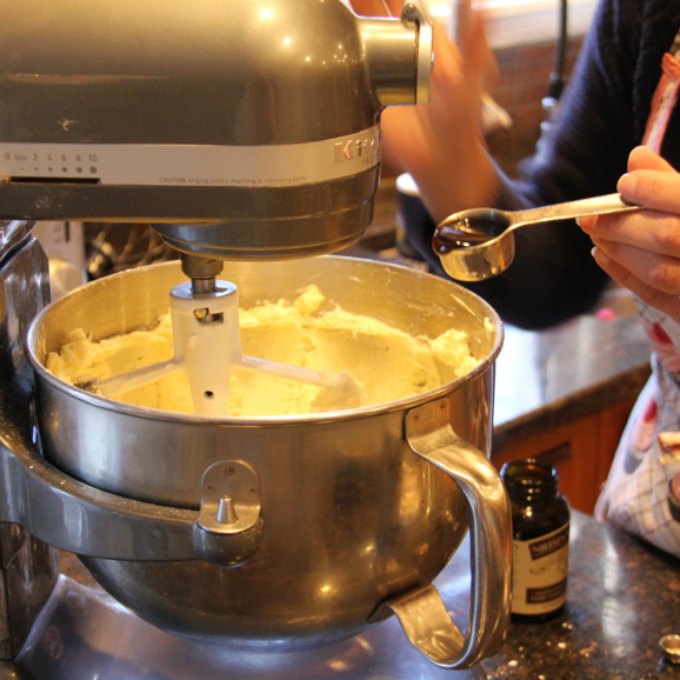 This buttercream icing is so good that I licked the bowl clean.
Now it's time to start icing the cupcakes: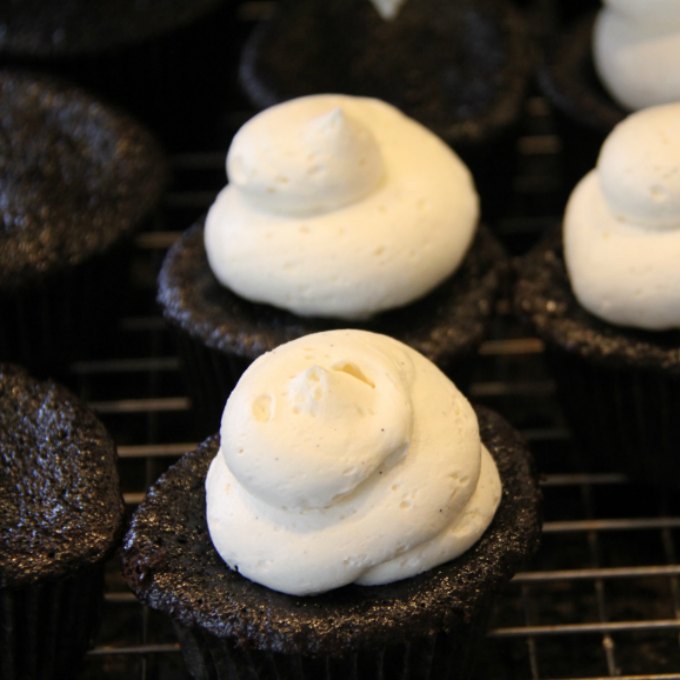 These were so pretty I couldn't stop taking pictures…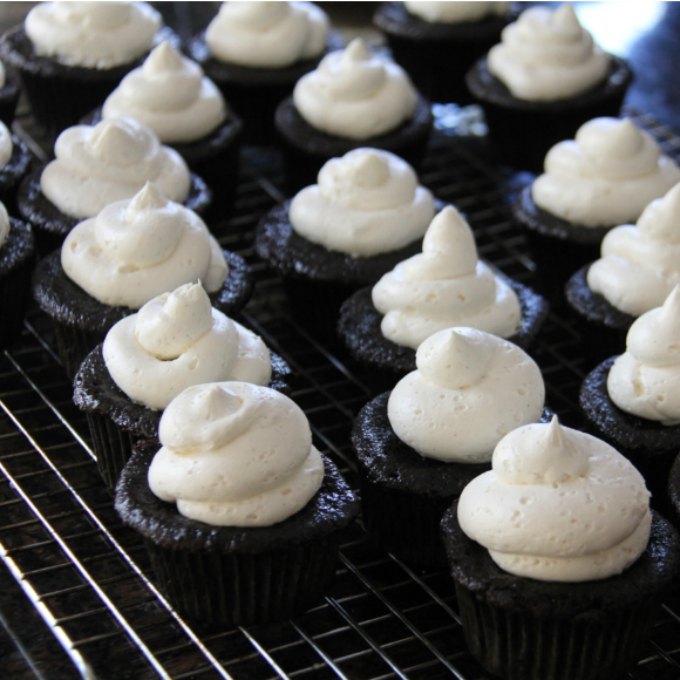 And now for the salted beer caramel….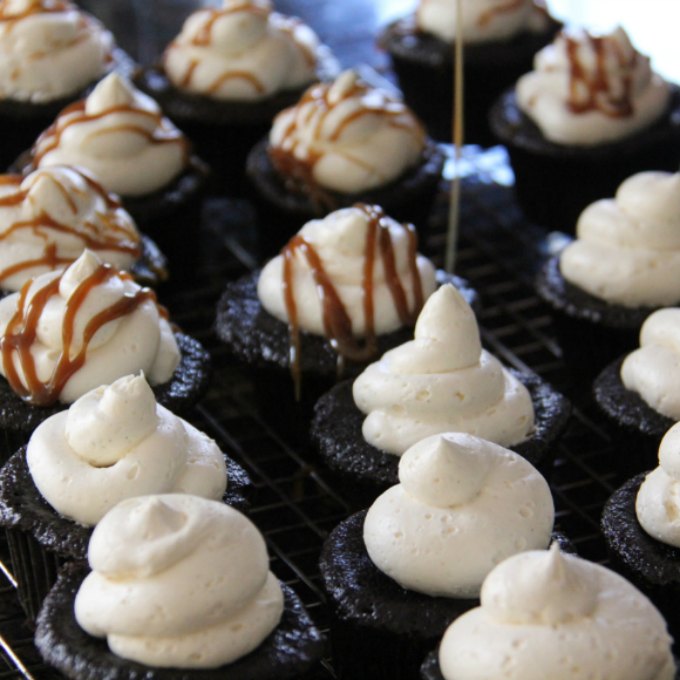 Drooling yet? These cupcakes are so delicious that you shouldn't wait for a special occasion to make them.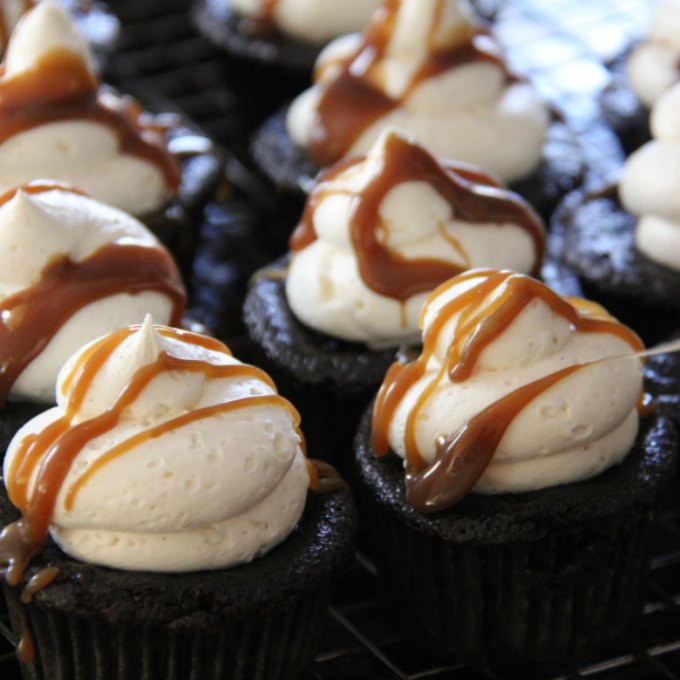 My goodness, my Guiness! These are simply amazing cupcakes. Enjoy!
Beer Infused Salted Caramel Chocolate Cupcakes
For the cake:
Ingredients:
2 cups sugar
1 ¾ cups all-purpose flour
¾ cup Hershey's Special Dark Cocoa
1 ½ tsp. baking powder
1 ½ tsp. baking soda
1 tsp. salt
2 eggs
1 cup milk
½ cup vegetable oil
2 tsp. vanilla extract
1 cup concentrated Guinness beer ( directions below)
Directions:
Boil 1 (12oz) bottle of Guinness beer until it is reduced to 1 cup and the flavor is concentrated.
Preheat oven to 350 degrees
Grease and flour muffin pan.
Beat together sugar, flour, cocoa, baking powder, baking soda and salt in a large bowl.
Add eggs, milk, oil and vanilla and beat on medium speed of mixer for 2 minutes.
Stir in beer (batter will be thin).
Pour batter into prepared pan.
Bake 20 minutes or until a wooden spoon pick inserted in the center comes out clean.
Cool on a rack
For Caramel:
Ingredients:
1 (12oz) can of Guinness (or beer of choice)
2 tbs. unsalted butter
½ cup dark brown sugar
1 cup white sugar
Directions:
In a large pan, bring the beer to a rapid boil and reduce it to ¾ cup, takes about 10 minutes.
Add butter and stir
Add sugars but DO NOT stir.
Once ingredients are added, continue to simmer on medium but do not stir.
Continue cooking on medium heat until it thickens or reaches 235 degrees.
Stir in heavy cream and let reduce a little longer (more time = thicker caramel).
Add vanilla and salt.
Place in a glass container until cool.
Extra caramel can be kept refrigerated for up to 2 weeks.
For the Icing:
Ingredients:
3 sticks unsalted butter
5 cups confection sugar, measured and sifted
¼ tsp. salt
1 tbs. vanilla bean paste or 1 tbs. vanilla
¼ cup heavy cream
Directions:
Whip butter for 2 minutes on high
Add ½ the sugar and continue whipping on medium speed of mixer

Once combined, add the remaining sugar and continuing whipping.

Add salt
Add vanilla
Slowly add the cream and whip on high for 6-10 minutes.
Icing should be fluffy
Love Samantha De Cou's recipe? Be sure to check out her Pink Peppermint Cupcakes and leave a comment below!